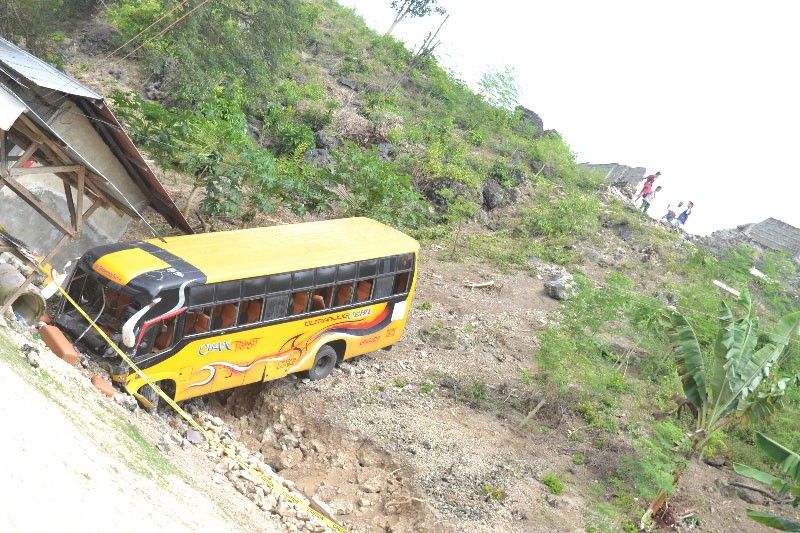 A minibus plunged into a ravine in Barili, Cebu Sunday evening.
Contributed Photo
10 injured in Barili bus accident
CEBU, Philippines — At least 10 people were injured, including a barangay official, after a minibus fell into a 30-foot ravine in Barangay Sayaw, Barili, Cebu Sunday evening.
The bus driven by Jenifer Manigsasa, 28, was heading to Dumanjug town when allegedly lost control and hit a concrete fence before falling.
Senior Police Officer 1 Rommel Patalinjug, traffic investigator, said the victims told him that the driver was very reckless. He had been overspeeding and counterflowing traffic since they left Cebu South Bus Terminal.
"Ang biktima niingon nga kusog kaayo og padagan gikan sa Cebu. Pag-abot sa Carcar nisamot kakusog ang padagan niya sige daw og counterflow bisag asa nalang nga lane maadto," Patalinjug said.
Patalinjug said the driver claimed he lost control of the vehicle because the engine accelerated on its own.
"Ang alegasyon sa driver nga nag-wild daw ang makina," Patalinjug said.
The victims were identified as Mauro Ybañez, 51, a native of Barangay Kanyuko, Dumanjug;
Elmer Oraga, 42, of Barangay Minolos, Barili; Maria Fe Delumbar, 55, councilwoman of Barangay Sayaw, Barili; Robinson Campo, 41,Tabunok, Talisay; Jovie Timblor, 45, of Libertad, Negros; Analyn Zamora, 21, Barangay Doldol, Dumanjug; Junard Gomez, 28, Libertad, Negros;Rommel Besario, 25, of Guihulngan, Negros Oriental; a 17-year-old female passenger and a 2-year-old girl.
Three of the victims, including Delumbar, were referred to a hospital in Cebu City while the rest were brought to the nearest hospital in Barili. The bus driver suffered bruises and contusions.
Manigsasa is now detained at the Barili Police Station while criminal charges for Reckless Imprudence Resulting in Multiple Physical Injuries and Damage to Properties are being prepared for filing against him. (FREEMAN)