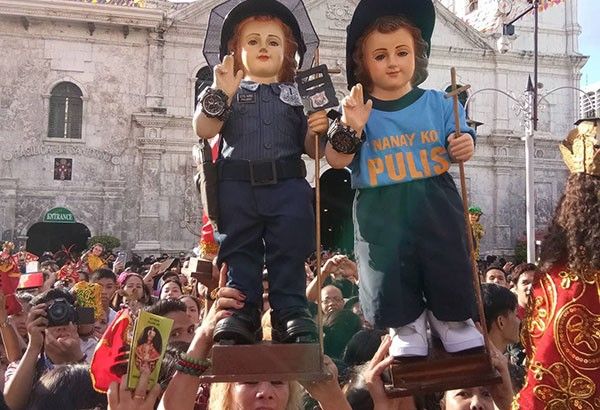 Images of the Santo Niño dressed in police uniforms were attractions at the Basilica del Santo Niño during yesterday's launch of city government activities for Sinulog 2018.
Aldo Nelbert Banaynal
Most Ouanos willing to accept token from Augustinian priests
CEBU, Philippines — Some members of the Ouano family in Mandaue City are willing to accept the token from the Augustinian priests contrary to earlier reports that the entire clan is rejecting the present from the Basilica Minore del Sto. Niño.
A member of the Ouano family who requested anonymity clarified yesterday that only a few of the members of the clan are not accepting the token.
"The majority of the family is issuing this statement to correct whatever misimpression Mr. (Rex) Fernandez statement may have caused," read the press statement sent to The Freeman.
"We're shocked why they come up with that statement. That (token) should be appreciated. A token is actually a simple form of appreciation," said the family member in a phone interview.
Lawyer Rex Fernandez allegedly did not have the authority from the entire clan to speak on their behalf.
Fernandez earlier issued a statement claiming that Ouanos is not accepting the token from the Augustinian priests because they were not consulted about the c hanges in the fluvial parade.
According to Fernandez, the Ouanos were insulted by the sudden change of the fluvial activities without them being consulted.
The image of the Holy Child will no longer pass the Ouano residence during the fluvial procession this year. From the national shrine of St. Joseph in Mandaue City, the image will be brought to Lapu-Lapu City will the annual fluvial parade will kick off.
Over the past four decades the Ouanos in Mandaue City had been hosting the image before the fluvial. (FREEMAN)