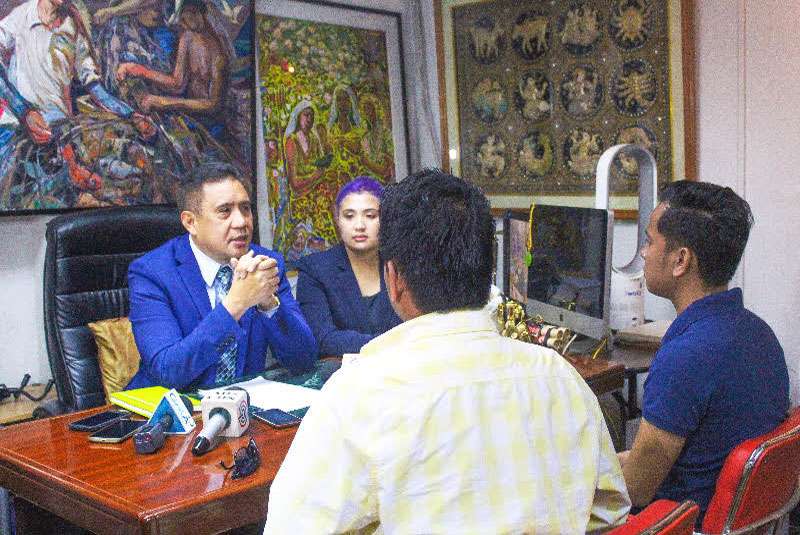 Wilson Hoylar (back to camera) and Brian Sayson talk to their lawyer, Inocencio Dela Cerna (left), after getting linked to the kidnapping and murder of Bien Unido, Bohol Mayor Gisela Boniel. Mary Grace Baoy
Search for mayor yields blanket: 3 'suspects' surface
CEBU, Philippines - Three men suspected to have connived with Bohol Provincial Board Member Niño Rey Boniel in allegedly kidnapping and killing the latter's wife, Bien Unido Mayor Gisela Boniel, surfaced yesterday.
Edgar Tapere, Niño Rey's driver in Cebu City, surrendered to the police yesterday.
On June 7, he allegedly drove Niño Rey to the Boniel's residence at Monterrazas Subdivision in Barangay Guadalupe from Lapu-Lapu City in Mactan. Gisela's body was reportedly dumped into the waters off the island after Niño Rey allegedly shot her on board a boat.
Yesterday, Tapere underwent interrogation but was not presented to the media. PO1 Rolly Campion of the Regional Special Operations Group-7 told reporters Tapere has yet to talk to his lawyer.
Meanwhile, Brian Sayson and Wilson Hoylar faced the media together with their lawyer, Inocencio dela Cerna.
They said they were concerned of their safety after police tagged them as personalities "at large" after one of the witnesses in the case, Gisela's best friend, Angela Leyson, named them as conspirators.
Dela Cerna has described the police's tag on his clients as reckless.
"It is very reckless to tell the public that this people are fugitives. The RID (Regional Intelligence Division) is irresponsible and should consult their lawyers. We don't have to sway the public that the manhunt is on-going because this will endanger the lives of my clients. It doesn't fall to the hot pursuit," he told reporters.
Sayson 24, allegedly arranged Gisela's stay at the dive camp to where Gisela and Angela were allegedly brought and kept after getting kidnaped.
Hoylar, 30, was the one who allegedly called Gisela and told her in pretense that she had documents to sign at the dive camp.
He denied doing so.
"How come niingon si Angela nga ni call ko nga we are with Mayor on that day. Not all giingon ni Angela kay tinuod… some sa iyang mga linya, I don't think so," Holyar said.
He said that as mayor, Gisela indeed had documents to sign, including those of a P13 million worth of development project for Bien Unido.
He said he was with Gisela afternoon of June 6 for her court appearance in a cyber libel case in Tagbilaran City.
Sayson, for his part, said he wondered why he was dragged into the controversy. He said, though, that he slept at Room 5 at the camp.
The room is situated right in front of Room 10 where Gisela and Angela were allegedly brought to the day before Gisela was killed.
He said he was asleep the whole time together with Angela, 17-year-old son and did not hear any commotion from the other room.
He said he was Gisela's personal assistant and stayed close to her whenever she was in Bien Unido.
Dela Cerna said he suspects that a high ranking personality is behind the case, citing that Niño Rey was brought to Cebu on board a private plane.
Police Regional Office (PRO)-7 Director, Noli Taliño, however, denied the insinuation. He said it was one of Niño Rey's friends who lent the plane.
His text message to The Freeman reads: "Wala un, magkaibigan ang mga Boniels at may ari ng private plane pati mga police. We seek the help of the owner of the plane and voluntarily extended support. Kathang isip lang nila un."
De la Cerna is also the lawyer of Lubo Boniel, a relative of Niño Rey who allegedly owned the pump boat allegedly used to bring Gisela's body to sea.
The police have recovered the pump boat and have placed under DNA matching the traces of blood found there.
Blanket
In a related development, divers yesterday recovered a blanket 118 feet from the surface, about two kilometers from the spot where Gisela's body was reportedly thrown.
"Dili pa gyd nato ma-ascertain… kaning blanket, amo pa man ni i-submit ngadto… amo ihatod sa crime lab nya mao ipa-identify sa witnesses… basta ang usa sa nawagtang, kato man blanket," said Chief Insp. Junnel Caadlawn, deputy commander of Task Force Boniel.
Yesterday was the 10th day authorities scoured the sea. It was reportedly nearly midday after the second dive when the Navy's Side Scanner detected the item.
Niño Rey's lawyer, Gerardo Carillo, however, wasn't convinced, pointing out that the absence of Gisela's body despite 10 days into the search may be an indication that she is actually alive and is hiding.
"That means she's alive and she doesn't want to be found," Carillo said.
Taliño responded, "That is their presumption but the police have witnesses to prove that Mayor Gisel was killed and dumped in the sea."
"Yung may mga alam sa kaso, they better come out and voluntarily surrender otherwise pati sila baka madamay sa kaso. We will wait for the warrant of arrest of Wilson Hoylar and Brian Sayson before we can arrest them," Taliño said. (FREEMAN)