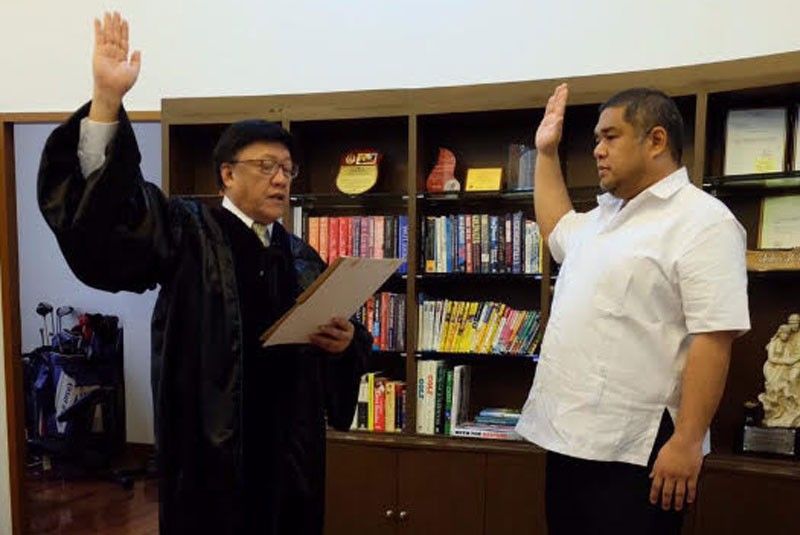 Chris Escario (right) takes his oath before Court of Appeals Associate Justice Andres Reyes shortly after the Commission on Elections in Manila proclaimed him as new mayor of Bantayan, Cebu.
Photo courtesy: Teena Escario - Guierran
As VM backs disqualified town's chief exec: New Bantayan mayor sworn in
CEBU, Philippines - After it disqualified Arthur Despi from the mayorship in Bantayan, the Commission on Elections (Comelec) En Banc proclaimed Chris Escario as the town's new mayor at its central office in Manila yesterday morning.
Escario also took his oath at the Court of Appeals before Presiding Justice Andres Reyes, Jr. about the same time Vice Mayor Antonio Montemar, an ally of Despi, filed a petition for quo warranto before the Regional Trial Court in Bogo City in Cebu.
A quo warranto is a special form of legal action used to resolve a dispute over whether a specific person has the legal right told the public office that he or she occupies.
"Escario is not a qualified mayor because he is a repudiated loser maong ni file ang VM og quo warranto. Wa man gilagda sa decisions sa Comelec nga Despi out, Escario in. Buot-buot pud ning Comelec," Despi told The Freeman.
The Supreme Court has yet to resolve Despi's petition supposedly for it to issue a Temporary Restraining Order against Escario's proclamation.
Montemar and Despi believe Escario should not be proclaimed mayor because he was not elected by the people. Instead, by virtue of succession, it should have been Montemayor who should assume the mayorship, granting the court will not reverse the Comelec's ruling.
Despi won with 16,494 votes compared to Escario's 12,043 in the May 2016 elections, but the Comelec En Banc revoked his Certificate of Candidacy (COC) for "material misrepresentation" because he "falsified" his certificate of nomination and acceptance (CONA).
Process
In an interview with The Freeman, Escario said he will have to wait for the Department of Interior and Local Government (DILG) to implement the Comelec order for him to assume office.
Comelec-Cebu election supervisor Lionel Marco Castillano said the disqualification order needs to be implemented by DILG before Escario can dispense of his duties officially as new mayor.
And the wait might be longer than expected.
DILG Provincial Director Jerome Gonzales said he is yet to receive a copy of the order. He also said he will have to follow protocol, which reportedly allows the Comelec to decide whether the order should be implemented by DILG.
Gonzales said the order would have to be forwarded to the DILG secretary who will forward the same to the regional office.
Here, it will be DILG-7 Director Rene Burdeos who will decide which office would implement the Comelec order.
While saying he is not in a hurry to assume office, Escario said he will, nevertheless, furnish the DILG regional and provincial offices, as well as the regional and provincial police offices, copies of the Comelec and Supreme Court rulings.
Don't resist
Escario said he does not want Despi to spoil his return to office as he already missed a year of service.
"Ako naman ang mayor. It is up to him kun iyang supakon ang order or ang decision sa comelec basi'g makiha na sad siya og lain nga kaso," Escario said.
"Pildi man ko sa una, gidawat nako akong kapildihon ug nihawa ko kay wa man ko'y gitagoan sa munisipyo. Gipa-audit nila tanan and na-prove wa ko'y tinonto diha. Nganong di man siya mohawa? Naa siguro siya'y gitagoan nga dili sya gusto ma diskobrehan or what?" he added.
Despi told The Freeman, however, that he will abide by the order once implemented by DILG albeit still optimistic that the courts will take action on the cases filed.
He also asked his supporters not to pursue – if any – plans to stage rallies to avoid trouble.
Bantayan Police chief Stephen Amamag-id said the situation in the town remains peaceful but he has asked for augmentation forces in case conflict breaks out.
He said his station is coordinating closely with DILG on the implementation of the disqualification order.
Weak basis?
Despi said earlier he was disqualified because his former political group, ABAG-Promdi, disowned him and accused him of forging the signature of the group's chairman, something that he said handwriting experts have reportedly proven otherwise.
He said the cancellation of his CoC is tantamount to disenfranchisement of the 57.09 percent of the voters in Bantayan. He has argued that the Comelec disqualified him based on Section 77 of the Omnibus Election Code (OEC) on invalid substitution and not under Section 78 in relation to Section 74 of the OEC on material misrepresentation.
"Had I been disqualified under Section 78, I would just have stepped down and passed the leadership to Chris Escario because my Certificate of Candidacy (CoC) would be void from the beginning," Despi said.
In a statement, Despi said, "My 10 months or so in the position of Mayor of Bantayan has been a very fulfilling year. The job of a mayor is a very challenging one. It is a heavy burden made lighter in seeing our town prosper and the municipio able to deliver services in a proper and efficient manner." (FREEMAN)