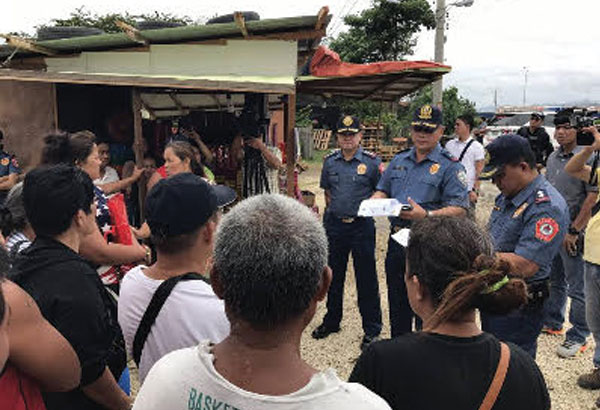 Police Regional Office-7 Director Noli Taliño and Cebu City Police Office Director Joel Doria inspect the stalls of vendors selling firecrackers and fireworks at the South Road Properties. Photo Courtesy Of Cebu City Police Office
Firecracker, pyrotechnic vendors at SRP promise to follow rules
CEBU, Philippines - To ensure safety, vendors have assured authorities they will heed the directive not to display firecrackers and pyrotechnics together.
"Mas okay kay sa safety man ni namo… mo-comply mi," Elsie Romarate, one of the vendors at the South Road Properties, told The Freeman.
She said, though, that they learned of the directive from the Philippine National Police only last Thursday and that this is the first time such directive was handed down.
The police will confiscate the products of vendors who will not comply with the directive.
Yesterday, no less than Police Regional Office-7 Director Noli Taliño and Cebu City Police Office Director Joel Doria inspected the 32 stalls at the SRP.
"Nakikita natin na nagsamasama so dapat ihiwalay at saka may division dapat more or less fire proof siya kaya hindi masusunog within two hours," he said.
Vendors started displaying their products on December 21 and, so far, sales have reportedly been slow, Romarate said.
"Mingaw gyud kaayo karun compare last year. Wa pa kaayo mi halin. Wa sad mi supply sa tubig… nangayo nalang gani ko sa Bureau of Fire," she said.
They can display at the SRP until December 31, New Year's Eve.
Councilor David Tumulak, chairman of the City Council committee on public order and safety, said cops have patrolled the city to ensure no firecrackers and pyrotechnics are being sold illegally.
"Nakita nato nga hawan kaayo ang atong mg kadalanan. Nagpasalamat pud ta sa atong mga kapulisan human nato gipahibaw nila nga tuyukon gyud ang sa kada police station," he said.
Nagiel Bañacia, head of Cebu City's disaster team, said all stalls at the SRP have at least one fire extinguisher. Each stall is also required to be at least six meters away from each other and testing of firecrackers at the area is prohibited.
He advised the public to stay safe.
He said enforcement of the rules governing firecrackers and pyrotechnics now lies with the police.
"We just provided the place but on the strict implementation, following sa rules, it will be the Philippine National Police, the other one is Bureau of Fire Protection," he told reporters yesterday. (FREEMAN)