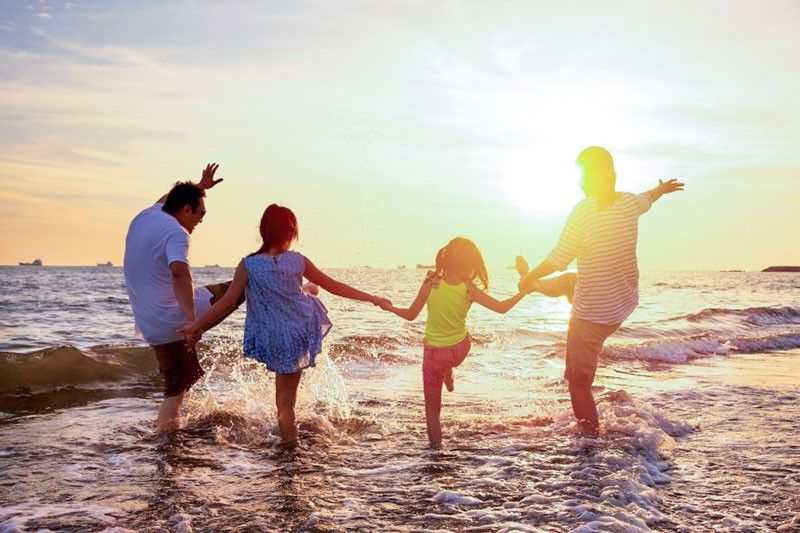 CEBU, Philippines — The weatherman says the summer season has started. And so people's minds are filling up with thoughts of fun and frolic. It's time for the carefree spirit to be out.
It's so easy then to forget essential things in the process – health and wellbeing, for example. It's ironic, because as the days heat up potential health hazards also emerge. Thus, amid the high spirits and fun activities people need to take care of themselves more.
Summer today is not like how it used to be. The global climate is warming up. And summer temperatures have turned from warm to searing!
The traditional summer health routines that carried over from the past generation may not be enough anymore. Grandma's skin-protective shawl may still do, or Mom's stylish hat and shades – but there's need for more now. Everyone needs to face up to the challenge of the times.
Aside from being hotter, the dry time may also be longer this year. The hot days of summer are forecasted to continue with the coming of the "El Nino." Bottom line is, more than ever before people have to make sure that they're protecting themselves – their skin, and their overall health – during these hottest months of the year.
Even the short religious trips during the Holy Week – like the "Visita Iglesia" and the afternoon processions – are not spared from the threats of the summer sun. As people slip into profound reflection, they may simply forget about sun protection. Young children and the elderly are particularly vulnerable during these times… as so does everyone else.
The website https://alliancehf.org shares a few things to keep in mind:
1. Use sunscreen – but not just any sunscreen. Wearing sunscreen, especially when the sun is at its peak between 11 a.m. and 2 p.m., is an important first step. But choosing the right sunscreen makes a big difference. Opt for a "broad spectrum" sunscreen that protects from both UVB and UVA rays. This will give you the most even protection and will be most likely to protect against sunburn.
Apply sunscreen before leaving the house (at least 15 minutes before you go outside), to allow it to be absorbed into your skin and provide full protection. Be careful not to sweat off part or all of your sunscreen, which doesn't absorb as well when the skin is wet.
2. Drink plenty of water. Also avoid dehydrating foods. Just how much water should you be drinking varies for each person, depending on your diet, weight, level of exercise, and a variety of other factors. In regular temperatures, the general consensus is at least three liters per day. This number goes up during hot months when you are losing more water through perspiration. Carry a glass or metal water bottle with you when you go out to ensure that you're drinking water regularly.
While water is an excellent baseline, you can also incorporate other hydrating liquids that are low in sugar and high in electrolytes and eat water-rich foods like fruits and veggies. Try coconut water, natural fruit juices (not from concentrate and not containing added sugars), and lots of fruits and vegetables. On the other hand, try to avoid beverages and foods that are dehydrating, particularly coffee and dairy products.
3. Choose your timing wisely. During the summer months, the height of the day is the hardest on your body. With solar rays at their peak, you are more susceptible to dehydration, sunburns, and fatigue.
If possible, plan your outdoor activities for the morning (before 11 a.m.) or later in the afternoon (after 2 p.m.). This practice will help you to avoid long-term sun exposure when the sun is at its peak.
4. Avoid direct sun exposure when possible. When it's hot out, we tend to pull out our tank tops, shorts, and anything else that gives our skin some breathing room. But light, breathable clothing that covers more can often keep you cooler while protecting your skin from the sun.
Recommended fabrics for hot days include linen, rayon, and cottons, because they're "breathable" and allow for air circulation but still protect the skin from absorbing heat from the sun. Plan to wear a hat too. It will protect your scalp, and if it has a wider brim, your face and eyes will be covered as well.
5. Know your limit. Fun in the sun is great… until it isn't. Listen to your body and look out for signs of overheating or too much sun exposure. Headaches, muscle aches, and general fatigue are all signs that it's time to take a break, drink some water, and rest in the cool shade.
6. Look out for those at risk. Everyone shall be careful in the sun, but especially those who are at greater risk. Elderly family members and neighbors, especially those who live alone and are a fall risk, should be checked on regularly.
Children and infants are also more susceptible to heat-related illnesses and complications and should be kept out of direct sunlight during peak hours. They must have sunscreen (if over six months old), plenty of water, and a hat or umbrella if possible.
7. Choose to be in cool places, where possible. The air-conditioned malls are a great place to hang out during the hottest points of the day during summer. These places are open to the general public, providing different amenities for entertainment and relaxation. An hour or two inside the mall may be enough to let the heat outside subside.