Hit US series 'Blindspotting' puts spotlight on Fil-Ams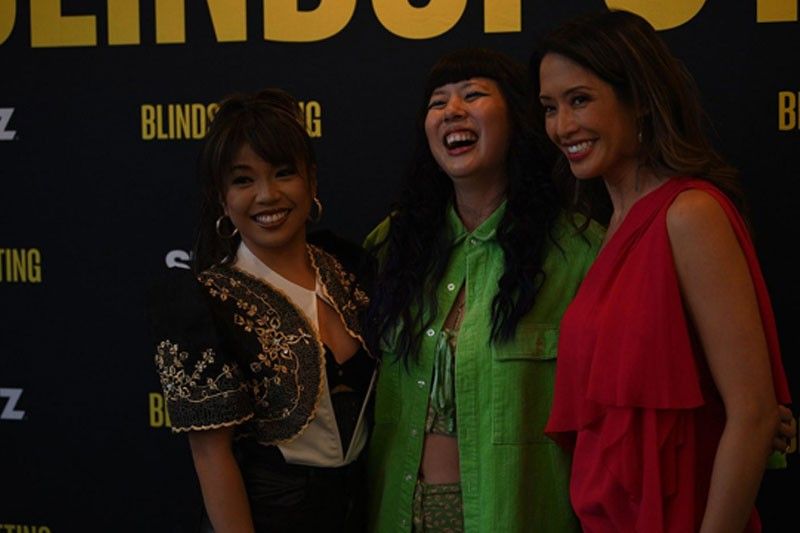 CEBU, Philippines — FilAm Creative, Bianca Nepales Gervacio (Director of Diversity, Equity and Inclusion for Lionsgate), and Lionsgate brought together members of the entertainment and Filipino community last April 28 in celebration of Starz' hit show, "Blindspotting", featuring a screening of episode 204, "By Hook or by Crook", which highlighted Filipino-American actress April Absinth (Jacque) as she introduces her boyfriend to her father, played by Filipino-American veteran and "Hook" star, Dante Basco.
The episode also features Ruby Ibarra, a Filipina scientist turned rapper, and Chuti Tiu as Jacque's relatives. The episode gives viewers a glimpse into the Bay Area Filipino community, one deeply familiar to Blindspotting's co-creators and showrunners, Daveed Diggs and Rafael Casal.
Rafael said in the Q&A panel, "For us, it was hard to find other reference points of Fil-Am content that's being made. We don't have the credibility to do a whole show on it, but maybe we can just expose people a little bit more to a community that I feel doesn't get a lot of shine on television, but played a huge role in all of our lives."
"Blindspotting" sparks numerous conversations about gentrification, class war, and the prison industrial complex all through the lens of its leads, played by Jasmine Cephas Jones, Candace Nicholas-Lippman, Jaylen Barron, Benjamin Turner, and Helen Hunt.
Rafael added, "Hopefully the episode creates a reference point for other Fil-Am creators" to make more material.
The screening was hosted by Gervacio, and moderated by Yong Chavez, a member of Hollywood Critics Association, Critics Choice, and the Golden Globes. "At the Season 2 premiere, I brought Mark Labella, 2023's FilAm Creative's Executive Director, as my guest, and after working the red carpet we spoke with Daveed and Rafa, who immediately said yes when I mentioned doing a screening/panel for the community."
Labella says, "As soon as Yong introduced me to Diggs, I started to connect the dots and blurted out how important this is for the Fil-Am community. We had to glorify this piece. There are very few Filipino stories and representation in American media today despite being the country's second-largest AAPI [Asian Americans & Pacific Islanders] population."
"One of our Directors at FilAm Creative, Christian Bustamante, was the Casting Associate for Season 1. Together, we contacted Bianca Gervacio who really championed the idea. Yong, Bianca, and Christian have raised the tide for this event, our operating motto at FilAm Creative, and we have so much to thank them for. Joel Handler and Drea Castro, and the FilAm Creative team as well."
Fil-Am Creative (FAC) is a non-profit supporting Fil-Am and AAPI artists for 13 years. It promotes a more culturally-integrated and diverse entertainment industry by providing educational and community-oriented programming and resources. — (FREEMAN)