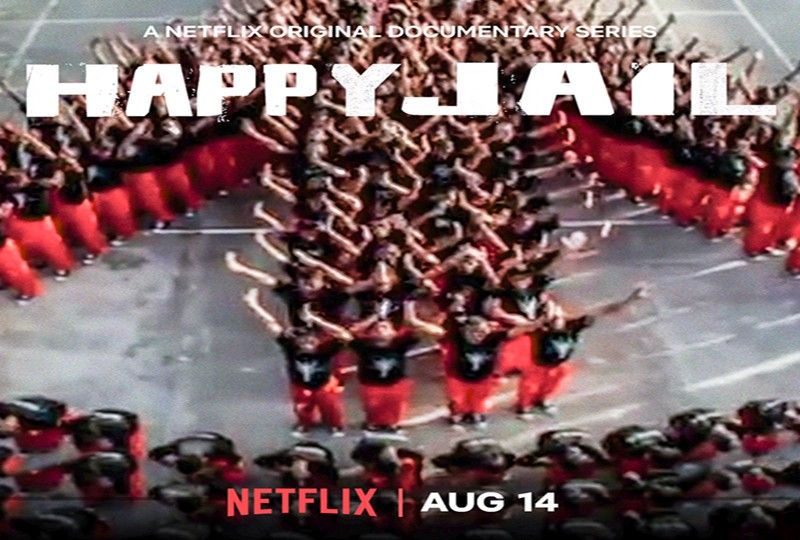 Netflix docu on CPDRC Dancing Inmates to premiere Aug. 14
CEBU, Philippines — After the "Street Food Asia" Cebu episode and all the uproar that it brought last May, the province will once again be in the spotlight with a Netflix treatment of one of its (formerly) world-famous attractions: the Cebu Provincial Detention and Rehabilitation Center (CPDRC) Dancing Inmates.
Titled "Happy Jail," the five-part documentary series is directed and executive produced by Emmy award-winning Filipino-American Michele Josue. Her fellow executive producers are Liam Mcniff and Joe Amodei.
Josue's critically acclaimed feature film debut, "Matt Shepard is a Friend of Mine" is a winner in the 10 Best Documentary and Audience Choice Awards from festivals worldwide and boasts a 100 percent rating on Rotten Tomatoes. The film also won the Daytime Emmy Award for Outstanding Special Class Special in 2016.
"Happy Jail" goes inside CPDRC, where dancing was part of the inmates' exercise and rehabilitation. It shot to worldwide fame when its 2007 performance of Michael Jackson's "Thriller" went viral, but 10 years later faces intense scrutiny when an ex-convict is hired to run it.
"I believe that our personal stories have the power to help shape a more compassionate, empathic world, one in which we can talk about differences and similarities, and recognize pieces of ourselves in others. As a Filipina-American filmmaker, it's incredibly important to me to share stories that can connect people, regardless of difference, and with the case of 'Happy Jail,' hopefully usher Filipino stories into the mainstream," said Josue in a statement sent by Netflix to The FREEMAN.
Josue's parents immigrated to the U.S. from Sagay, Negros Occidental, when they were in their 20s. She said their family both flourished and struggled in the U.S., and all the while, her parents instilled in them siblings a pride and love of their Filipino heritage. She feels grateful for the opportunity to return and reconnect to the Philippines and to create "Happy Jail," describing it as an honest, humanistic portrait that amplifies the stories and voices from her homeland.
Josue said that seeing the Dancing Inmates perform with such joy and unity, she felt that familiar Pinoy pride and immediately recognized that this extraordinary program was perfectly emblematic of the Filipino people and their love of music, dance, and performance.
"My team and I were determined to tell the inspiring story of these resilient, hopeful Dancing Inmates as representative of the Filipino spirit," she said.
"But little did we know that our project would take a surprising turn and deepen in ways we never could have anticipated. Our filming began in 2016 around the same time as the drug war began. Our cameras were there when CPDRC was suddenly thrust into this new era, and its staff was overwhelmed with an influx of inmates and the pressure of it all. Over the next three years, we witnessed the jail change in meaningful ways."
Josue said that what began as a rather straightforward film about the Dancing Inmates soon transformed into an in-depth, humanistic document of the complexities of life at CPDRC.
"Suddenly, we were going beyond the dancing, stepping into the lives of those behind bars and those who strive to improve their quality of life. 'Happy Jail' was and is so much more than what we were expecting," said Josue, who has traveled around the globe with "Matt Shepard is a Friend of Mine" as a guest speaker for universities and organizations, and represented the US government overseas as a U.S. State Department Speaker.
She said that filming "Happy Jail" was a once-in-a-lifetime experience filled with surprises and moments that embody both the heartbreaking and beautiful things about being human.
"I am a better person for it. It was a true gift to get to know the CPDRC inmates and staff and the Cebu government officials. It was an honor to bear witness to such a monumental chapter of their lives and to be entrusted with telling their story in the honest, sensitive, and respectful way it deserves to be told. We are proud of 'Happy Jail' and how it gives a voice to the most vulnerable section of the Philippines' population and tells the world that these voices and these stories matter."
"Salamat po sa ating kababayan sa Cebu, sa CPDRC inmates sa tiwala sa amin at ngayon ay makikita na rin ng buong mundo. Sana ay magustuhan ninyo," she said.
"Happy Jail" will begin streaming on Netflix on Aug. 14.