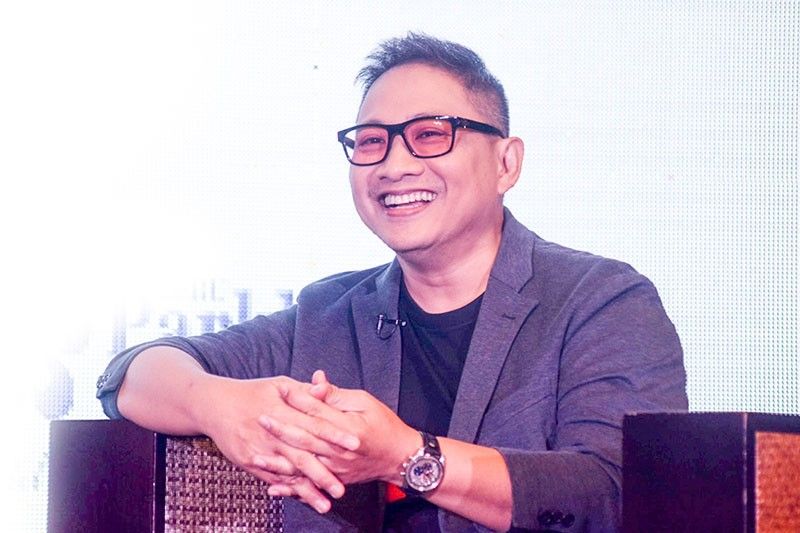 How to be a comedian according to Michael V
CEBU, Philippines — Michael V talks about an American family he once read about in a book the title of which he failed to mention, but we assume is an educational read for aspiring comedians.
It was Thanksgiving and the brood of three was about to sit down for the traditional dinner of turkey and such. The mother was adamant to have a proper dinner, with everyone seated and honoring the meal by being present in both body and mind. The dad wanted to watch the big football game on TV while having his fill. So he wheeled into the dining room the house's sole idiot box. In anger, missus hurled the turkey on the floor, to their only son's distress. Dad, in all his calm glory, uttered, "At least I don't have to carve the turkey anymore." Unbeknownst to them at that very moment, that possibly scarring domestic scenario became the source of a comedic script years later. "The most effective comedy materials come from real grief and misery," the content creator and multi-awarded comedian shared.
These were just a few of the anecdotes and tips that Michael V, aka Bitoy, shared to the audience of students, teachers and media during the recent GMA Regional TV Balitang Bisdak Conversation held recently at Cebu Parklane International Hotel to promote his directorial debut, "Family History," which is currently in theaters.
Below, we publish the speech of Oliver Victor Amoroso, Vice President and Head of GMA Regional TV, as he introduced the "Bubble Gang" genius to the audience:
"He may never have imagined making it big in showbiz, but has always dreamed of doing something with his life. A shy kid who grew up in a simple, not so privileged community, he showed an early interest in his craft. As young as 10 years old, he dreamed of entertaining people. Getting his auspicious start from joining school plays in his elementary years and then eventually in his college days. Such dream and belief in what he can do served him well through the years especially when he finally found his way into the industry in the '90s.
After graduating with a MassComm degree from the Pamantasan ng Lungsod ng Maynila, he aspired to become a rapper. He jumped at the chance to showcase his talent in a rap contest on 'Eat Bulaga.' Not to long after, his music demo landed with the recording label OctoArts. He scored a hit with the tongue-in-cheek song 'Magandang Piliin.' From that big break, he worked on not just being a rapper. The dream was to become a total entertainer. But getting there was no laughing matter.
He survived a cutthroat entertainment industry by being always creative and innovative.
Finding a home with GMA, he founded and developed Philippine TV's longest-running gag show 'Bubble Gang' and the long-running sitcom 'Pepito Manaloto,' winning the ratings game for both shows. He invented and popularized disguises and impersonations on Philippine TV that he was tagged the Philippine King of Parodies. His brand of comedy eventually brought him international validation. He won the Asian Television Awards for Best Comedy Performance by an Actor multiple times. He also had the honor of becoming the second Filipino to grace the cover of the prestigious Reader's Digest magazine after President Cory Aquino.
About thirty years into his career, there's no doubt he deserves to be called entertainer extraordinaire. Comedian, actor, impersonator, director, host, composer, singer, rapper, voice artist, visual artist, vlogger, online creator…What's admirable about him is he never stops learning. Always teaching and challenging himself in ways you may not expect from someone who has reached his stature. And so he surprises us yet again by going into filmmaking, producing and directing for the first time, at the same time, writing and starring in the movie "Family History."
On top of it all, Beethoven "Michael V Bitoy' Bunagan is a proud family man who keeps himself grounded as a father of four and as a husband of 25 years."
Here are excerpts of Bitoy's Conversation with Balitang Bisdak anchor Cecille Quibod-Castro, edited for brevity:
You named yourself after your role models Michael Jackson and Gary V. For the youth today, what makes a good role model?
Kasi pangit pakinggan yung Gary Jacskon, hindi bagay…I think you have to be a positive influencer. All of us have a base line of right and wrong. There are times when we want to cross a line. Like me, I'm always tempted if red light at wala namang tao…But if you're willing to be a positive role model, even the small things, kung tama, tama. Kung mali, mali. Basic lang. Just do the good things as much as you can.
How did you bridge the generational gap between you and your parents back then and now with your kids?
Hindi ganoon kahirap before eh kasi we're all sharing the same things, and ang knowledge namin about things, like technology for example, hindi mahirap i-bridge. Unlike now, na sobrang haba, pang San Juanico bridge na, ganoon kahaba. I believe na mas mahirap ngayon. Yet nagkaroon na siguro ng realization ang parents kasi before, napakastrikto ng magulang eh, sarado. Dahil magulang ako, ako ang masusunod, ako ang tama, wala kang say. Pero ewan ko kung nakatulong ang dawn of the internet sa generation ngayon, na parang namumulat na tayo sa tamang sistema, sa tamang gawi. Hindi na ganoon kahirap i-communicate yung gusto mong sabihin sa parents mo. Mas madali na sila umintindi, tsaka hindi na ganoon kadaling manakit. Dati pag nagkamali ka, palo ka talaga. Ngayon may mga batas na. I would say nag-evolve na yung mga tao, kaya hindi na ganoon kahirap makipag-communicate sa mga anak. Iba na ang generation ng parents. Alam natin yung ayaw natin na ginagawa sa atin ng mga magulang natin at yun ang ayaw natin gawin sa mga anak natin.
Social media connects us digitally, but it also disconnects us. When you feel out of place, not able understand others, misunderstood and unappreciated, how do you rise above all this?
Ang dami kong outlet for that. I have my songwriting, I have my drawings. Kailangan magkaron ka ng outlet. Kaya ka nape-pressure na ganoon minsan dahil may things na hindi mo ma-control. When you do something you're able to control, nare-renew ang confidence. Kung nakapagdrawing ako, nakapagsulat na ako, okay na ako. Something I did by myself na walang tulong ng iba. Palalakihin, i-expound mo yung capability mo to control these things and pag in-apply mo sa bigger picture, mare-realize mo na, "Oo nga pala. I can't control everything but at least I can control a little bit of something." And that makes you feel better.
If you were to talk to a 16-year-old who feels uninspired and hopeless, what would you tell him/her about creativity and how much it can open limitless opportunities in spite of certain insecurities?
Gagawin kong example yung paggawa ko ng parodies. Ngayon, ang dali na gumawa ng parodies, di kagaya before na wala kang access sa lyrics, sa music video and stuff. Kapag gagawa ako ng parody, I make sure na walang kagaya. Nire-research ko muna. Let's say "Buwan" by JK Labajo. I have to research about it and check the internet kung anong klaseng parodies na ang nagawa. Andami na eh, ang gagaling, napaka-witty. So I have to take another approach. Same thing with creativity. When you're creating something, as much as possible huwag ka na manggaya. Be different, be unique. Kung manggagaya ka, dapat mas maganda pa sa ginaya mo para ikaw ang evolution ng pinanggayahan mo. At this point, ang hirap eh. Parang wala ng original, lahat ng concepts nanggaling na sa concept na luma. For example, "Family History." I wouldn't say it's a huge premise, I wouldn't say that the characters are unique, even yung artista napanood niyo na sa roles na ganito sa iba. Yet put them together, shuffle a little, add a little, makaka-create ka ng something. Sana you get to put your touch on it. Find that thing that inspires you most, the thing that makes you happy kasi kapag sa ginagawa mo hindi ka nag-eenjoy, hindi nagtatagal. If you want to be that creative, create something you enjoy. Ang bilis makahanap ng reason to quit. Pero the reason to keep going, kapag nahanap mo, dere-deretso na.
If you were part of the audience, what would you need to hear from Michael V about time management?
Prioritize. You have to learn to prioritize and accept the things na magagawa mo kaagad at yung hindi mo kaya gawin. The things na mas importante sa buhay, yun ang talagang kailangan unahin. Kung hindi mo alam ang value ng gagawin mo, ang hirap mag-prioritize. If you go back to childhood, dati ang basic lang ng kailangan natin: kain, tulog, TV. Ang ginagawa ko, I use technology. I use a smartphone to make a to-do list. Be true to yourself, alamin mo yung gusto mong gawin and priority mo sa buhay mo. If you do, ang dali dali mag-categorize.
What's the one big lesson a young adult should learn about rejection?
Never give up. Kung sa relationship, there's always someone that's meant for you. Sa iba madaling malaman kasi the compatibility right away, nag-eemerge. Pero pag hindi, that doesn't mean na wala kang mahahanap na partner for life. Magkakaroon eventually. You just have to be patient. Biruin mo, magkasama kami [wife] nung college all the while, hindi naman kami nagligawan. Buong college kami magkakilala pero hindi nangyari yung relationship at that time. After na ng college.
Looking back on your college days and the success you have now, what advice would you give a teenager pursuing their dreams?
I think you have to go back to your childhood. If you're trying to pursue a career, make sure that it's something that you thoroughly enjoy. Find that one thing that you really like doing and make something out of it.
What makes a joke funny?
It has to be true. It has to hit a nerve. I learned that from Direk Edgar Mortiz. Nagkasama kami before sa "Tropang Trumpo." That's one thing I learned from him: play for truth. When you're acting, don't overact. Jokes essentially, it has to be true, it has to hit home. Maraming jokes na hindi mo ma-gets eh, because you've never been in that situation. If you watch "Bubble Gang," our sets are school, bahay, mall, park, canteen…relatable. If you're planning to write jokes, base it on your own experience.
What were your struggles dealing with different personalities as a director?
This is the good thing about being an artista, because I've worked with a lot of people. Alam ko na yung mga ugali nila. I've worked with all of them – from the pinakamabait hanggang dun sa pinaka maldita. So I know exactly how to handle these personalities. Most of the time they have a soft spot. You just have to figure out what that is and hit them there. Find their kryptonite. Ang hirap na may sinimulan kang project and not everybody is on the same page. It won't succeed. Now since cinema is a controlled medium, you have the privilege of choosing the people you work with. Pero yung Dawn Zulueta, medyo na-starstruck ako. Pro na to eh. Kay Dawn [Zulueta] ako medyo nahirapan. Buti nalang hindi siya maramot when it comes to making the film better. She suggests a better attack or a different approach sa pag bibitaw ng linya. And the movie turned out really beautiful because of those little things.
How do you make serious scenarios funny?
Actually that's the best formula. Joey de Leon said once, 'Ang normal, gawin mong abnormal, nakakatawa.' I also read in a book somewhere na ang humor madalas nakukuha sa misery ng tao. So the more miserable you are, the more funny ideas you can get. If you get to laugh at the bad things that are happening in your life, then a have the formula. Most of the effective comedy materials come from real grief and misery. So if you're a miserable person and you're not funny, look how blessed you are!
How did your journey for "Family History" begin?
Matagal ko ng gustong gumawa ng movie. May mga sinulat na ako before. Yung "Yaya and Angelina" and "Rubberman" kasama ako sa writing team. The thing about writing a movie right now, hindi mo na ma-determine kung ano yung gusto ng tao. Naisip niyo siguro kung gagawa ng pelikula si Michael V, I think you would have guessed na parang mga Vice Ganda style, laugh-out-loud. Pero dahil ayokong mahulaan niyo anong gagawin ko, this is what I came up with. First, I had to consider my audience. Sino ba yung totoong mga followers ko? Sino ba yung mga nanonood ng mga shows ko? I would say na mas malakas ang impact ng "Pepito Manaloto" sa audience ko kesa sa "Bubble Gang." I think mas maraming solid "Pepito" viewers than for "Bubble." The foundation of "Pepito" viewers are families. If you're familiar with "John En Marsha – which I grew up watching – it's about a family na mahirap. Ganoon kami dati eh, pamilyang mahirap, so nakaka-relate kami. We watch a TV show, magkakasama kami as a family. Now the scenario is different. May Internet na. We may be together in the dining table, but may kanya-kanya kayong ginagawa. What I wanted to do was, create a TV show na makukuha ko ulit yung feel na mararamdaman ko yung ginagawa namin before. I made "Pepito" with the family in mind, gathered around the TV, watching the show. So if this is my audience, I thought of doing something similar. I had to figure out too what the millennials wanted so I watched a lot of new, millennial movies. I had to suffer a lot, ha? (laughs) Ang dami kasing indies na "indi" maganda eh. Aminin niyo! With that in mind, I asked a lot of people what they liked and did not like about these indie movies. I had to sort out what may work or may not work. "Family History" then is really for my "Pepito" audience – a fan service – and at the same time, the movie-going public. This is something you'd like to watch more than once. I made sure, para kumita! There are many layers, so the second time you watch it, you get to appreciate those tidbits. In filmmaking kasi, you never waste a second, you never waste a shot, a line…The second time, you will realize, 'Ah, kaya pala niya sinabi yun dahil ganoon pala sa ending,' 'Kaya pala ganoon ang reaction niya sa start.' Mahilig kasi ako sa Easter eggs.
One of the lines of Nonie Buencamino's character in "Family History" is "Minsan, mas mabuti maging mabait kesa maging tama." Please expound on this line.
Linya yan ng asawa ko. Kasi madalas there is pressure at work. Production eh, and you're dealing with showbiz people. Sometimes I get frustrated because I want everything to be perfect. There are times na gusto ko na magsalita ng hindi maganda, dahil mali sila and deadset ako na tama ako. I've proven a lot of times na tama ako. Etong mga taong ito na gusto mong pagalitan, if you think about it, they're also going through a lot. Sometimes, the weight they carry might be heavier than mine. A little bit of understanding will help you a lot. Madalas, mas mabuti maging mabait kesa maging tama. Ganoon din sa inyo, hindi lang sa mga kaibigan niyo, particularly sa mga magulang niyo. Diba kapag tumatanda, kumukulit na yung parents niyo? The tendency is to retaliate. Gusto mong sumagot, mangatwiran, you want to prove them wrong. But respect, because they are your parents.