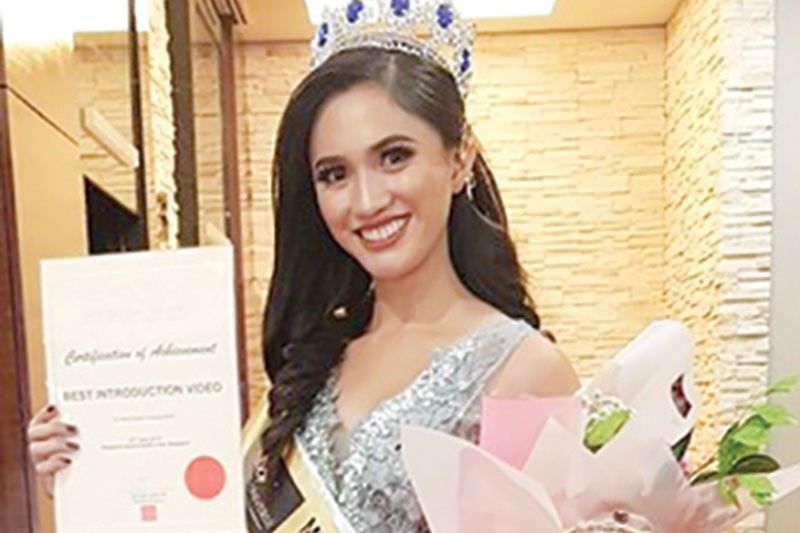 Danao native is 3rd runner-up at Miss Global Universe
Karla Rule
(The Freeman) - June 26, 2019 - 12:00am
CEBU, Philippines — Danao City, Cebu's Letelle Sabas Perez finished third runner-up and earned several awards at the Miss Global Universe 2019 pageant, held Sunday, June 23, in Singapore.
Letelle, an Airline Management graduate from Indiana Aerospace University in Lapu-Lapu City, competed against 19 candidates from Kenya, Malaysia, USA, South Africa, Mexico, Indonesia, China, Algeria, Japan, Thailand, Borneo, South Korea, Ghana, Myanmar, Russia, France, Singapore, India, and Belgium.
She also took home special honors as Miss Lumiere International, Miss Social Media Queen, Queen of People Choice Award, and the Best in Intro Video Award.
The Miss Airline Management 2017 and Karansa Festival Queen 2015 title-holder is currently a passenger service agent and has witnessed firsthand the potential of the tourism industry to help locals.
She added this advocacy towards tourism during the question and answer segment where she was asked about the role of beauty queens in society.
Letelle, who prides herself for her fighting spirit and purpose, talked about the responsibility of being a beauty queen in response to the question.
"The role of a beauty queen is to be a responsible person. A beauty queen is not just about how beautiful or smart you are, it is about having a good heart to help other people. I joined this pageant not for myself. I am joining for my people and my country. And to raise my advocacy which is to promote my country, the beautiful places of the Philippines, provide livelihood for locals, pursuing basic education for the suppressed, sharing basic aid to feed the hungry and survive against malnutrition. All of these are possible if tourism prospers. I may be little in your eyes, but I have a big heart, bigger dreams, and biggest mission to the universe," the 21-year-old said.
Letelle told The FREEMAN how much she had fun exploring the many islands in Batam, Indonesia, as well as tasting their cuisine and learning about their culture.
"I feel so blessed after winning. I honestly didn't really expect it because I'm the smallest of all the candidates. But Señor Sto. Niño allowed it to happen. The memories are beyond measurable," she added.
Taking home the Miss Global Universe 2019 crown was the bet from the United States of America, with Miss Mexico as first runner-up, Miss France as second runner-up and Miss China as fourth runner-up.
Miss Global Universe 2019 dubs itself as a "globalisation gateway to women empowerment."