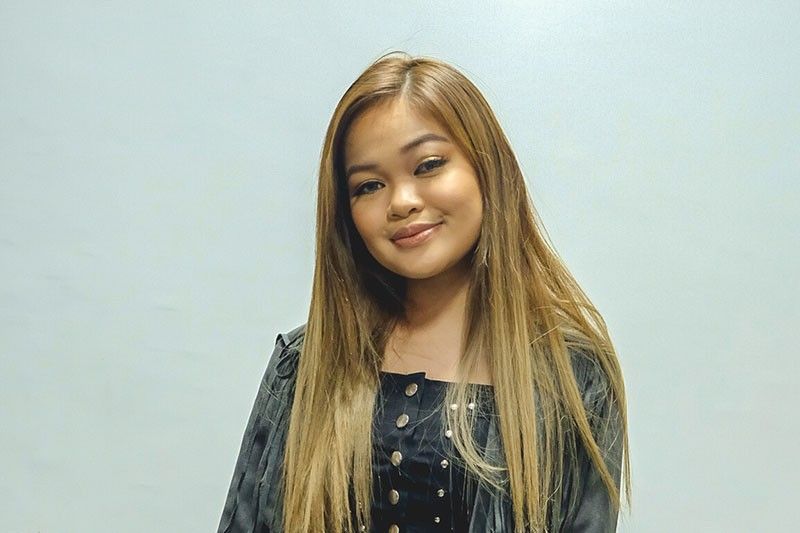 Janine Berdin
Clark Panugalinog
A year after TNT win, Janine Berdin learns to believe in herself
Next month, it'll be a year since Janine Berdin was hailed "Tawag Ng Tanghalan" Season 2 champion, but the Cebuana singer feels she's been in the industry much longer because of the opportunities that have kept her busy left and right.
She is particularly happy to have been recently made a regular host on the online segment of "It's Showtime," which used to be just manned by the show's groups, Hashtags and the GirlTrends.
"I'm actually enjoying it very much. As someone who is Bisaya, especially when I was just starting, naka-feel jud ko sa language barrier. We have a different way of joking, for example," Janine told The FREEMAN when she was in Cebu last month for that controversial concert held at IC3 Convention Center which also saw her fellow Cebuano artists, Juan Karlos "JK" Labajo and Karencitta, perform.
"Bisaya jud baya kaayo ko. I'm happy that I can mingle and joke with them now. You're with the same people everyday so I've also made new friends."
With JK and Karencitta having hit singles to their names, "Buwan" and "Cebuana" respectively, Janine was shyly apprehensive when asked if she was open to collaborating with the Bisdak singers.
"They are hit-makers and they are known songwriters, and I have yet to release my self-composed song," said Janine, who plays the ukulele and the guitar.
"I was still a student and I was a super fan of Karencitta. When 'Cebuana' came out, it was such a big deal and everyone was shocked with the influence that she made. I hope to become like her someday, to contribute in the flourishing of Vispop."
Janine's hit-making mettle will soon be put to the test as the 17-year-old from Lapu-Lapu City is set to release a self-penned song titled "Wala Ako Niyan," which she said talks about "not being enough."
"I'm very excited but also very nervous for people to hear it because it is my song and I don't know if people will receive it in the way that I want them to receive it," said Janine, hinting at a surprise that will accompany the single's release.
Janine of course wants to come out with Bisaya compositions, but said it is her management's call that her first self-composed release be in Tagalog.
"I have a single under my label, 'Biyaya,' it was released July last year. I also have a single under Himig Handog, and another one, the theme song of Kadenang Ginto, 'Nasa Puso,'" she listed off.
With her daily online "It's Showtime" commitment and her Sundays reserved for "ASAP Natin 'To" where she is a mainstay, Janine has been finding it harder to fly home for a quick visit.
"Basin naay show, so dili ko tugtan dayon. Tugtan lang ko kung Holy Week, Christmas break…" she said.
It is but a price she has to pay for fulfilling her dreams, one of which is sharing the stage with Philippine music stalwarts who she used to just admire from afar. Now, she has the bragging rights of calling them colleagues, with some even telling her they are fans of her unique voice.
"To be honest, sila tanan," said Janine when asked which celebrity she has been most intimidated with. "Katong gi-meeting mi nga apil ko sa 15 mainstays...Lima man mi nga gi-dub nga Younger Gen – ako, TNT Boys, Moira dela Torre, Darren Espanto and Iñigo Pascual. When I look at the lineup, ma-insecure jud ko. Until now, I think about it a lot. Five months na mi running sa 'ASAP Natin 'To,' but wala jud nila gipa-feel nga lahi ko nila. Family lang jud mi ba, that we're just enjoying music every Sunday and we're singing for everyone. Happy jud kaayo ko."
She singled out Regine Velasquez-Alcasid as the star she has been most awestruck with. The "Idol Philippines" judge has advised her to listen to old songs, because this is where she can explore the diversity in music.
"Lahi ra jud ang iya nadala sa ABS-CBN. To be with her when she returned to ABS-CBN, and we're in the same show, part of the same family, is such a big honor," she shared. "The first time we did 'ASAP,' grabe jud kaayo ang feeling. Super starstruck. She is very approachable. Kiligon jud ko when she tells me nga nindot daw akong pag-perform. When we have a production number, she always compliments me on how unique my voice is, the same thing with Sir Ogie [Alcasid]."
Janine was an insecure 15-year-old when she decided to audition for "Tawag ng Tanghalan" again last year, hoping that restaurant owners would see her and book her for gigs. Having joined singing competitions since she was eight, the petite teenager had been discouraged because her raspy voice wasn't appreciated as people often preferred belters.
Starting off her TNT journey with a rendition of Eraserheards' "Magasin," Janine found herself winning the daily rounds, then the semi-finals, taking it all the way to the grand showdown.
Her unique take of rock songs by Eraserheads, Kamikaze, Sampaguita and Bamboo, among others, earned her fans from all over the country, brought judges to tears and had Pop Rock Princess Yeng Constantino calling her "the new sound of OPM."
Even then, Janine said she still lacked belief in her capabilities, perhaps still scarred from rejections of her past. Not now though, as Janine is beginning to come into her own.
"Even when I already became a regular on 'ASAP,' wala pa jud koy salig sa akong self ato. Karon na-realize nako because of all the people who continue to believe in me, with all the blessings nga musulod bisag wala najud ko nag expect kay grabe najud ang naa nako karon, slowly I've realized nga naa jud koy salig sa akong self dapat."