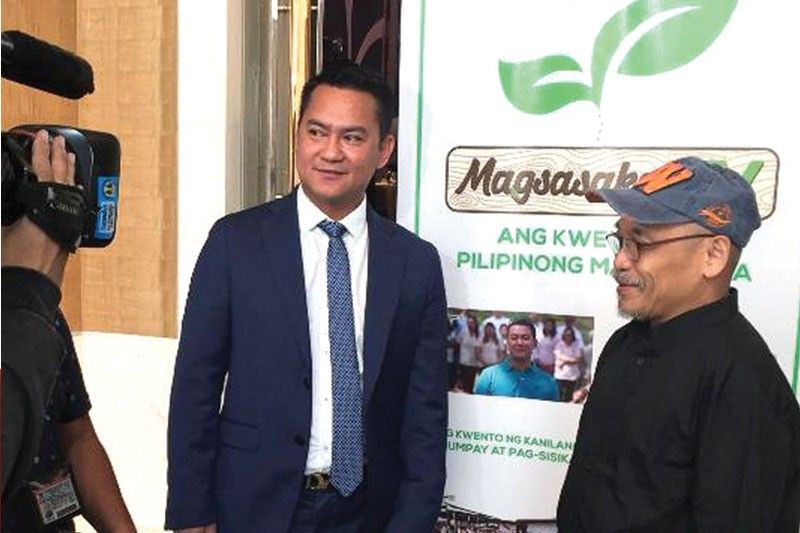 Dex Villamin and Gary Granada
'Magsasaka TV' season 2 to air soon
The second season of "Magsasaka TV," a program empowering the cause and livelihood of farmers in the Philippines, will broadcast soon on one of the leading local networks.
Previously airing on PTV-4, the coming season ensures a wide reach and mainstream approach in delivering a show embracing agri business and tourism through the immense possibilities and power of farming.
"Magsasaka TV," launched to the press Tuesday afternoon, Jan. 22, at the Grand Ballroom B of Shangrila At The Fort, boasts a new format and treatment that emphasize further the beauty and sense of its entrepreneurial and social advocacies.
The program, anchored on the shoulders and vision of revolutionary agriculturist Dex Villamin, is complimented with a theme song that best sends its overarching message of hope and success across: "Tagumpay Nating Lahat." The popular tune is penned and lent for Magsasaka TV's cause by the iconic singer-songwriter Gary Granada.
Voices from the ever-growing and now-empowered Filipino farming community warmly interpret the now-classic track from the same talent who wrote the Metropop winner "Mabuti Pa Sila" and that unforgettable Ginebra fan anthem that both came out in the late 90s.
Villamin, head of DV Boer Farm International Corp. that boasts over a hundred sub-farms, noted: "For a Filipino to know about agriculture is everything. It's like the Arabs embracing the potential of their oil reserves. We have to align ourselves with our resources, which is agriculture, so as to synchronize ourselves with the natural flow of life in our country."
Through "Magsasaka TV," DV (how Dex Villamin is fondly called by people familiar with his advocacies and initiatives) and his team of dedicated professionals take televiewers and radio listeners to various places in vast farmlands all over the country. It also serves as a vehicle in sharing and showing the developments taking place in modern farming corporation DV Boer Farm International that practically spearheads the program through its sub-company, Magsasaka Inc.
Allow DV and his farming associates to expound on the background, current status, and future plans of DV Boer and its fast-increasing number of sub-farms and Magsasaka Inc. Hear also their take on "Tagumpay Nating Lahat" which perfectly voices out the inspiring vision of their advocacies for the Filipino community and OFWs eyeing for jobs and livelihood to keep them happily home for good.
"Para makinabang ang lahat sa tagumpay, you have to reach to the farthest possible areas. The wider the reach, mas magkakaunawaan tayong mga Pilipino," said Granada.
"Magsasaka TV" began as a result of DV's hope of reaching more Filipinos to educate them even more on the great potential of farming for self-sustaining communities, providing livelihood to alleviate poverty among the underprivileged, and empowering OFWs and individuals with entrepreneurial spirit towards the fundamentals and benefits of farming.
Watch "Magsasaka TV" and be witness to Filipino farming empowered and revolutionized.
***
One thing he always remembers after experiencing a lot of failures is that there is life, there is a "best me." Myke Celis is a definition of sweet victory from sour experiences.
He is an internationally certified life coach under The Life Coach Training Institute (Texas, USA) and Organizational Change Consultants International Inc.
He is the first ever Filipino certified life coach to penetrate TEDx internationally.
He became a best-selling author, with several inspirational titles under his name: "100 Life Lessons for Success: Shout Outs for One's Sensibilities," "#bestmeever: Of Positivity and Possibilities" and
"#bestmeever: Of Moving On and Forward." But guess what: he is coming out with more titles soon.
He also became a multimedia personality. He is a radio talk show host and the face and host of Multimedia Life and Inspiration as its resident certified life coach.
On the side, he is oftentimes tapped as a resource person for various TV, radio, print and digital media. Others call him a celebrity life coach. But at the end of the day, he's still the same Myke Celis who dreamed big and followed his heart.
His love for talking and inspiring people opened new doors for him. He officially became a speaker and a sought-after certified life coach and motivational speaker for various companies and the academe, here and abroad. He was excited to be included in this prestigious group of global influencers with ideas worth spreading.
He also became a serial entrepreneur because part of his vision is to be able to help provide jobs for people. He is the owner of four thriving businesses: PerCX Advertising, Events and Casting Agency, Smell Chic Home and Body Care Luxury Line, The Hair Lounge Salon and Family Favorites Kitchen Café.
His businesses reflect the things he is generally passionate about: marketing and advertising, beauty, wellness and food.