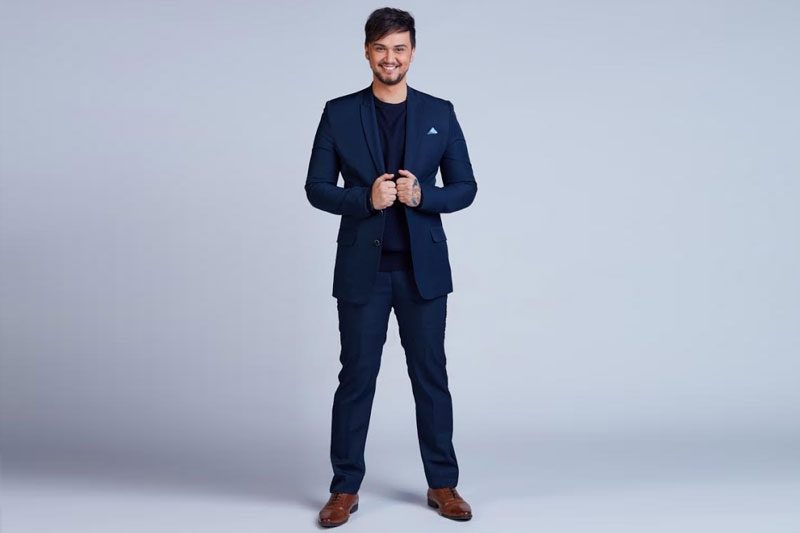 Billy Crawford holds own against Little Big Shots
Billy Crawford considers himself fortunate and blessed for being chosen to be the host of "Little Big Shots," the hit international kiddie talent-talk show that will premiere on Philippine television starting this Saturday (August 12) and Sunday (August 13) on ABS-CBN.
Billy will bring more joy and laughter in the show with his funny and exciting interviews with the talented kids.
"It's my first time to host a talent show where I am the only person from showbiz, because I usually work with people who are already big shots. But here, you'd be surprised by how the kids carry the show, and I'm here to let their personalities shine. All I can say is the kids featured on the show are very exceptional and they really deserve to be called little big shots," shared Billy.
The show features talented, witty and charming kids from all over the country and around the world whose skills go beyond singing and dancing.
Taking center stage are kids ages two to 12 years old who have remarkable intellect, showmanship, and abilities that will thrill viewers of all ages every week. But aside from what they can do, the show will also place in the limelight their big personalities when they express themselves through spontaneous banter.
"I grew up performing, and I know how rewarding it is to entertain people. But in 'Little Big Shots,' you wouldn't expect what the kids can do, their wit, and they are all very charming," he added.
At the show's media launch, the press got the chance to watch the pilot episode and we tell you that it is one very entertaining show. The kids featured in the show were truly amazing, awesome, and adorable. And Billy was able to hold his own against these talented kids. He was able to connect with them. Maybe because he naturally loves kids and was a child actor before.
ABS-CBN's "Little Big Shots" is the Philippine version of the show that has been adapted in 20 countries and was created by popular hosts Ellen Degeneres and Steve Harvey. Steve hosts the US version, which has aired two successful seasons on NBC.
Netizens will also get to witness the kids' impressive performances and funny antics in the program's online show, which will be hosted by Eric Nicolas.
Don't miss the talented, witty, and charming kids of "Little Big Shots," Saturdays and Sundays on ABS-CBN and on ABS-CBN HD (SkyCable ch 167). For updates on the show, like www.facebook.com/LBigShotsPH or follow @LBigShotsPH on Twitter.
***
Newcomer Mary Joy Apostol will surely make heads turn after people get to watch her in Mikhael Red's "Birdshot" which will be shown starting August 16 as part of the Pista ng Pelikulang Pilipino.
The 19-year-old Tourism student of Bulacan State University impressed the audience who had the chance to watch "Birdshot" that was shown as the opening film of the 13th Cinemalaya Independent Film Festival.
"She's a natural," said a writer-friend about Mary Joy after watching "Birdshot."
Mary Joy passed the audition conducted by director Mikhael for the film that won the Best Picture award in the Asian Future Film section of the 29th Tokyo International Film Festival.
"Nagulat po ako na ako ang napili na maging bida sa movie," said Mary Joy. "I was not expecting it and I was really surprised."
She had done a short film with Mikhael as her director. And she grabbed the chance to do "Birdshot" even if she is not really that keen at making a career out of acting.
Mary Joy portrays the role of a young Filipino teenager who wanders into the boundaries of a Philippine reservation forest and mistakenly kills a critically endangered and protected Philippine Eagle.
She did the film two years ago when she was 17. "But I had to look 14 for the role so they changed my hairstyle. Sabi nila nakita nila sa akin ang innocence that is needed for the role," explained Mary Joy who added that she got nervous upon learning she will be working with veteran theatre actors Ku Aquino, Arnold Reyes and John Arcilla.
She said they were very happy with how the Cinemalaya audience reacted to the film. "Natutuwa kami kasi nagustuhan nila ang movie," said the newbie performer who added that she will be willing to accept more acting assignments if ever there will be offers.
She described her director as "intense" and is someone who does everything to make the film look good.
"I also didn't know that I will be doing a full-length role and that the film will be entered in film festivals abroad. Nakaka-excite talaga and it is a memorable experience for me," Mary Joy gushes.