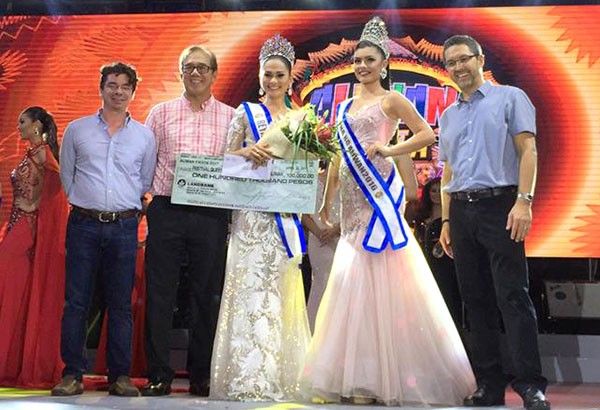 Sinulog Festival Queen 2017 Marla Pino Alforque (third from left) succeeds Sinulog Festival Queen 2016 Cynthia Thomalla (second from right) as Reyna ng Aliwan title-holder.
Photos from the Aliwan Festival Facebook page
Cebu wins 8th Reyna ng Aliwan crown
(The Freeman) - April 24, 2017 - 12:00am
Dalaguete bet also places 1st runner-up
CEBU, Philippines – After her friend backed out at the last minute, Marla Pino Alforque only had two weeks to scramble to get ready for the Reyna ng Aliwan 2017 pageant. Turns out, two weeks was all she needed.
Foregoing a Holy Week break, Alforque and the Sinulog Foundation Inc. team worked overtime to prepare the reigning Sinulog Festival Queen for the annual pageant that saw 21 other ladies from all over the country - including two others from Cebu - compete for a P100,000 cash prize and the chance to be an ambassadress for domestic tourism.
Sinulog Foundation, Inc. executive director Ricky Ballesteros had first announced that Miss UP Cebu 2014 and Sinulog Festival Queen 2015 Julienne Hazel Penserga was this year's Sinulog Festival representative for Reyna ng Aliwan.
But according to Ballesteros, Penserga had just been hired as an international flight attendant, and her contract forbade her from wearing a swimsuit in a public event. Reyna ng Aliwan has a swimsuit competition, aside from the evening gown, festival costume, production number and Q&A segments.
"Marla was hesitant at first because she wasn't ready," said Ballesteros. "But we couldn't find a replacement, so she accepted to represent the Sinulog Festival."
Ballesteros said the 20-year-old Alforque was scared to disappoint the Cebuanos, since she felt unprepared to continue the province's winning streak. Last year's winner was Cebu City's Sinulog Festival bet Cynthia Thomalla and before her were six other Cebuanas who wore the crown consecutively: Sian Elizabeth Maynard (2009), Rizzini Alexis Gomez (2010), Rogelie Catacutan (2011), Angeli Dionne Gomez (2012), Jamie Herrell (2013) and Steffi Rose Aberasturi (2014).
"I told her to just enjoy the competition because win or lose, she's still our queen," said Ballesteros.
The competition proper was held Friday night at the Cultural Center of the Philippines (CCP) Complex in Pasay City, with the winners announced the following evening.
Ballesteros, who was in Manila to lend moral support to his pageant delegate, said Alforque felt her chances of bringing home the crown were nil after she failed to nab any award.
"But I told her she had a big chance because she aced all segments, including the Q&A," added Ballesteros.
Alforque's fears were proven unfounded, for she indeed sustained Cebu's domination in the pageant by being the eighth Cebuana to have snagged the Reyna ng Aliwan title.
Her festival costume, crafted by award-winning designer Malayka Yamas, was adjudged second place in the Best Festival Costume competition.
Alforque , who stands at five-foot-six, is a native of Carcar City. She is an Education graduate from Cebu Technological University and is currently employed as secretary in the legal division of the Department of Public Works and Highways in Cebu.
Ballesteros gave credit to Yamas for providing Alforque with her gown, festival costume and swimsuit, as well as training the Pia Wurtzbach look-alike in pasarela, make up, personality development and Q&A.
In its Facebook page, the Aliwan Fiesta organization also paid tribute to Yamas as among the pageant's unsung heroes along with three others.
"We honor four individuals who have been part of Aliwan history, and whose work helped make this festival of champions what it is these past 15 years…There is Malayka Yamas - queenmaker of Cebu's Sinulog, whose magic touch has produced not just the seven Reynas from the Queen City, but also a string of ingenious festival costume winners," the post read.
Asked what his secret is for always sending winning delegates, Ballesteros shared: "We always send a girl who's a total package, and the character is also important. And they are trained, including in the Q&A, before they are sent to Aliwan."
It was a double triumph for Cebu, with Dalaguete town's Utanon Festival bet Apriel Smith finishing first runner-up of Alforque. The 22-year-old Smith (a Sinulog Festival Queen 2012 winner) was also named Best in Swimsuit and Best in Evening Gown.
Ballesteros said that Alforque and Smith were press darlings upon their arrival in Manila.
The third Cebuana who vied for the Reyna ng Aliwan 2017 crown was 17-yer-old Kathleen Mae Lendio for Danao City's Karansa Festival.
The Reyna ng Aliwan 2nd runners-up are Sangyaw Festival's Venisse Charm Costibolo, Niyogyugan Festival's Ma. Ahtisa Manalo and Tuna Festival's Arielle Jazmine Roque.
The pageant is one of the highlights in the annual Aliwan Fiesta, which gathers cultural festivals from all over the Philippines for a street dancing competition and grand float parade. —VAB