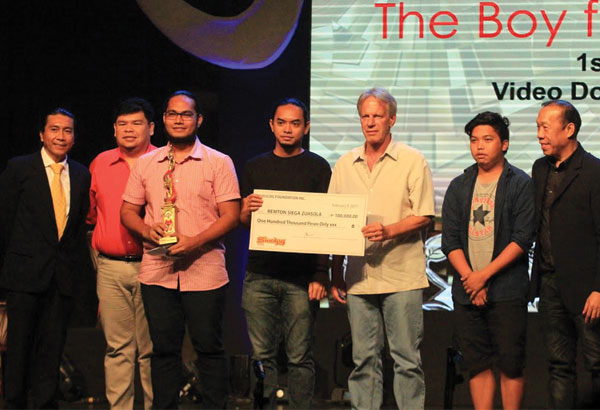 Best Short Film winner Philip Lapinid IV for 'Portal 40'
Sinulog Short Film 2017 winner offers triumph to grandpa TF fotogs nab trophies in Docu, Music Video & Photo categories
CEBU, Philippines - A story about love, forgiveness and acceptance – and one that presses the need for valuing important people in one's life – dominated the Sinulog Short Film Festival 2017 during the awarding ceremony held Saturday at SM City Cebu's Cinema One.
"Portal 40" was this year's biggest winner after being chosen Best Short Film, besting four other nominees in its category. Aside from the top prize, it also earned trophies for Best Story, Best Screenplay and Best Director for Philip Lapinid IV and Best Actor for Choi.
In his speech, Lapinid, whose entry did not make the cut when he first joined in 2013, said he offered the victory to his late grandfather .
"I didn't respect my lolo when he was still alive. I was not good to him. I regret that I wasn't able to talk to him before he died. I should have told him 'I love you.' Lo, this award is for you!'" said Lapinid.
"'Portal 40' imparts lessons about loving, forgiving, accepting and valuing our loved ones. We must not cut communication with them. Because when they are gone, we will regret not telling them how much we love them," he added.
In the same category, "Sugilanon ni Lukas" came in second. It was also a recipient of People's Choice, Best Playbill, Best Packaging and Best Supporting Actor for Niño Baldevino.
"Sa-ad" nabbed third place in the Short Film category, plus awards for Best Sound Engineering and Musical Scoring, Best Editing, Best Cinematography and Best Production Design for Franz Arrogante.
"Circle," "Lola Luz" and "Milagros" earned one award each with Best Poster for Ryan Umbaña, Best Supporting Actress for Reynalda David and Best Actress for Ligaya Rabago, respectively.
In the Documentary category, "The Boy From Mechelen" was hailed Best Documentary. It also received awards for Best Editing, Best Production Design and Best Director, all for Remton Siega Zuasola.
Zuasola's documentary narrates the origin of the Holy image of the Child Jesus which could be traced back to the city of Mechelen in 15th century Belgium.
Vicente Gloria Ozamiz's "Crossing Jordan" won second place, as well as Best Sound Engineering and Musical Scoring and Best Story. The People's Choice awardee "Tokhangyo Niño" by GMA-7 Cebu veteran reporter Alan Pacional Domingo came in third.
"Bugsay," an entry from Irene Gonzales, Peter Antonee Consul and The Freeman photojournalist Aldo Nelbert Banaynal won Best Cinematography and Best Packaging, while Clandestine Project's "Finding Niño" won Best Playbill.
"Batang Balaan," this year's Best Music Video winner, claimed the rest of the awards in the Music Video category such as People's Choice, Best Cinematography and Best Production Design (Clandestine Projects), Best Sound Engineering and Musical Scoring (Niño James Bañares and Ramonito Carbon), Best Story and Best Director (Aldo Nelbert Banaynal), Best Editing (John Lindsey Banaynal) and Best Performer (Jan Michael Banaynal).
The second and third spots were awarded to "Halad" by Frenyx Tarongoy and "Pag-ampo" by Ademar Adaza Ochotorena.
Winners for Best Short Film, Best Documentary and Best Music Video received P100,000 each, with the second and third placers taking home P50,000 and P30,000, respectively.
Best photos
The Sinulog Foundation also announced the Photo Contest winners which were: Joshue Ian Laroga, champion; Angelo Miguel Sanchez, first runner-up; and Maui Recla, second runner-up.
In the Contingent category, the top 10 winners were Ivan Perez, Ryan Bañez Ablen, Reynante Opada, Jan Kerwin Chua, Carlito Felicen, Alex Badayos, Amper Campaña, Francisco Pajares Jr, Katrina Ybañez and Teddy Uy.
Winners in the Fluvial/Solemn Procession category were (first to 10th places) Victor Kintanar, Harold Ong, Maria Elizabeth Ybañez, Maui Recla, Emmanuel Sawit, The Freeman photojournalist Joy Torrejos, Anthony Hejie Suralta, Reginald de Guia, Mark Jay Yambao and Francisco Pajares Jr.
In the Float/Higante and Puppeteers category, the Top 10 winners were Dexter Maneja, Maui Recla, Michael Lim Siy, Kim Bondoc, Daniel Ybañez, Victor Kintanar, Michol Sanchez, Jan Kerwin Chua, Teresito Ybañez and Jaypee Lanas.
For the Décor/Arc and Sidelights category, Rene Ybañez nabbed the 4th and 9th places. Other winners included Francisco Pajares Jr. (1st place), Marc Daniel Ybañez (2nd place), Victor Kintanar (3rd place), Remus Nicolas Doroon (5th place), Joy Torrejos (6th place), Leonil John Olofernes (7th place), Robo Formacion (8th place) and April Ong (10th place).
Dave Lerio led the winners in the Festival Queen category. He was joined by (2nd to 10th places) Robo Formacion, Roland Pascua, Remus Nicolas Doroon, Mikhail Arrogante, Ivan Langit, Joel Capuyan, John Harold Tan Lucas, Ferdinand Ludo and Amper Campaña.
The awarding ceremony looked like a gathering of Sinulog Festival Queens with former and current winners on-hand as presenters such as Steffi Aberasturi, Gazini Ganados and Hazel Penserga joined reigning Reyna ng Aliwan Cynthia Thomalla, Sinulog Festival Queen 2017 Marla Pino Alforque and Sinulog Festival Queen 2017 second runner-up Crystal Jane Lacida. (FREEMAN)