Tourism as Cebu's likely economic savior in 2019
January 3, 2019 | 12:00am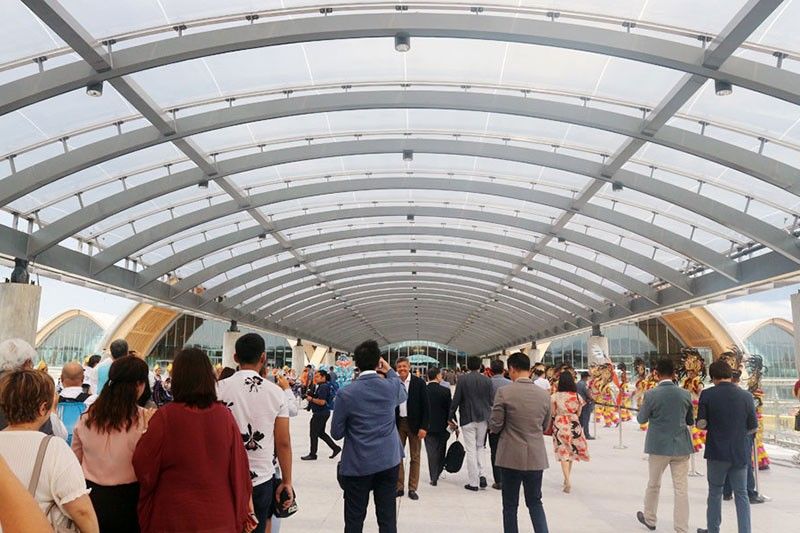 CEBU, Philippines — Tourism will be the superstar industry that will put Cebu to its strong economic resiliency, amid unpredictable interventions that may distract the economy.
Banking on its greatest "game changer" -- the opening of Mactan International Airport Terminal 2 (T2) in July last year, Cebu expects to see another face of tourism in 2019. This time, it will blow its power and start its reign in the economy—big time.
MICE
The entry of big-ticket MICE (Meetings, Incentives, Conferences and Exhibits) events to Cebu will further boost the already booming MICE business, said Department of Tourism (DOT-7) regional director Shalimar Tamano.
"DOT's goal for MICE is to benefit Cebu. We have very good gateway already," Tamano said adding that the big conferences such as the Route Asia in March 2019 and CAPA (Center for Aviation) Summit in June next year, among others are just few of Cebu's MICE hosting that will once again put Cebu the global spotlight.
Impressive R&R (rest and recreation) packages are also being put in place for delegates. These will not only benefit Cebu province, but also its neighboring provinces like Bohol, Negros and Siquijor, Tamano reported.
Routes Asia, is the largest routes development forum in the region which brings together leading airlines, airports and their stakeholders to discuss air services to, from and within Asia. Tourism secretary Bernadette Romulo-Puyat urged Cebu tourism industry players to make MICE in the forefront of marketing efforts, as this is seen to become "bread and butter" of Cebu's tourism sector.
Puyat believes that Cebu's remarkable growth in tourism industry onwards will be ushered by the MICE segment, although Cebu's food tourism, beach and other usual attractions also continue to charm both domestic and foreign tourists.
Cebu is a perfect target for these big ticket and high profile events not only for its touristic lure, but for the establishment of world-class terminal, which connect to major ports of call around the world.
Countryside tourism
The role of tourism in Cebu's economy this year is also seen to empower the countryside tourism around the province, benefiting the residents in each destination.
Tamano stressed that the DOT in collaboration with Local Government Units (LGUs) is making sure that towns will be prepared for the influx of tourists, especially the throng of Chinese nationals.
Aside from Oslob, Kawasan Falls, Sumilon Island, old Churches, , beautiful diving spots, and other tourists appealing destinations in the Cebu southern corridor, Suarez said the northern part of Cebu also provides unique attractions.
Concerns on security and order are also addressed, Tamano said not only within Cebu province but also in the entire Central Visayas region.
Farms will also be further developed in the countryside areas in order to take advantage of both foreign and domestic tourists in exploring farm tourism activities.
Accommodations
With over 5,000 more hotel rooms will be added to existing inventory of Cebu's accommodation facilities, Suarez said this could already support the growth of visitors Cebu will be hosting for 2019.
"It would be another bright year for hotels," said Suarez who also reported that Cebu's hospitality sector registered an all-year-round high occupancy rate last year.
He said the length of stay among tourists has also increased to a minimum of three days due to expanded tourism packages, which includes visiting destinations in far flung towns, and even neighboring provinces.
In Mactan Island, Lapu-Lapu City Tourism officer Hembler Mendoza bared that at least 2,000 more hotel/resort rooms will be added to Mactan Island's accommodation capacity starting this years and the next two years.
This additional number of hotel rooms will aid to the existing 5,000 accommodation facilities offered by resorts and hotel establishments within the island.
This calculation only covers the ongoing construction of resort/hotel facilities such as Sheraton, Rockwell, Megaworld, Dusit Thani, Filinvest's Grafik Resort, among others.
According to Mendoza, the number of rooms is also expected rise in the short term, as more capitalists are now eyeing
Mactan as an investment playground for more hotels, resorts and condotel projects, will have about 80 hotel and resort establishments registered under the Lapu-Lapu City government. Mendoza said more are coming in few years.
Indian tourists
Aside from Chinese, Cebu is also starting its much aggressive marketing promotions to the affluent Indian travelers this year to be led by Mactan International Airport developer and management company GMR-Megawide Cebu Airport Corporation (GMCAC).
"Cebu is not popular among Indians. Not even the Philippines," said GMCAC chief executive advisor Andrew Harrison.
Aside from weak promotional campaigns, the access to flights is one of the main reasons why Indian travelers opt to travel to other countries like Thailand.
"Availability of direct lights access is a problem, as well as Visa problem," added Harrison.
This year 2019, Harrison said a group of Indian travel agents will be visiting Cebu to check on the facilities and destinations that Indian tourists that may interest Indian tourists.
"Indian travel agents want to connect with local travel agents. Visa is also problem. Easier for them [Indian] to get US visa in order to come to Philippines," he said.
GMCAC is also leading the pact in pressuring the Department of Foreign Affairs (DFA) to ease the granting of VISA for Indians traveling to the Philippines.
"Indians to go Bali, [Indonesia] because of easier VISA access," he emphasized.
Already, the Department of Tourism (DOT) announced its move to push for friendlier Visa guidelines to major markets, particularly China and India.
Indian tourist arrivals grew by 15.41 percent to 63,089 in the first half of 2018.
Tourism-related business
Any business venture that serves the wide tourism market is sure to reap good profits, assured businessman and business leader Glenn Soco. Entrepreneurs and even those who are still planning to enter into business should consider tourism-flavored ventures. This may vary from simply selling delicacies, souvenir items, to providing transportation services for tourists.
Food, coffee shops, cafes, retail, among others continue to thrive even and may surpass expectations for this year, as Cebu's tourism will reign in the economic kingdom.