Morales siblings, Daz future of Philippine karate
October 3, 2022 | 12:00am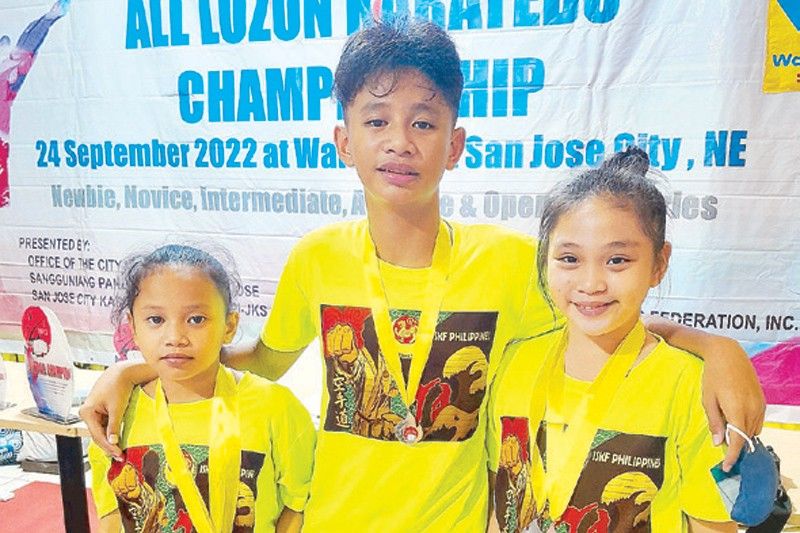 MANILA, Philippines — A bunch of kids from San Jose del Monte, Bulacan could be the next lead stars of Philippine karate.
Steven Jhudiel Morales, Solara Uriel Morales and Zemira Zaigen Gawad Daz are products of International Shotokan Karate Federation-Philippine Shotokan Karate Federation-San Jose Del Monte Bulacan (ISKF-PSKI SJDM Bulacan) who have earned stripes in their tender ages.
Steven Jhudiel Morales, 12, won gold medals in the Karate Pilipinas National Championships kata and kumite events at the Mall of Asia Arena in Pasay City recently.
He also dominated the ISKF-PSKI Olongapo Karatedo Championships last June, and the third ABR Cup Karate Championships Intermediate Kata, where he ruled the 12-13-year-old and 14-15-year-old boys divisions.
The eight-year-old Solara won the recent kata girls' division gold medal in the third ABR Cup Karate Championships and bagged silvers in the team kata and in kumite and bronze in the team kumite.
Daz, also eight, captured the silver medal in the kata 6-7-year-old division of ISKF-PSKI Olongapo Invitational Karatedo Championships last June.
She also took home the team and individual kata silver medals and individual kumite silver during the third ABR Cup Karate Championships.
"These kids will grow with a lot of potentials to become the next Junna Tsukii and possibly become world champions someday. At young age, they've really shown great improvements," said coach Mary Anne Guillermo.
Two other members of the club – 13-year-old Nicel Ezra Villegas and 14-year-old Julia Claret Bintulan – have also won medals in the Batang Pinoy national competitions in 2018 and 2019.
The campaign of the ISKF-PSKI SJDM is supported by the local government unit headed by City Mayor Arthur Robes, Dr. Dennis Booth and Luis Gutierrez.