Purefoods rules
December 6, 2021 | 12:00am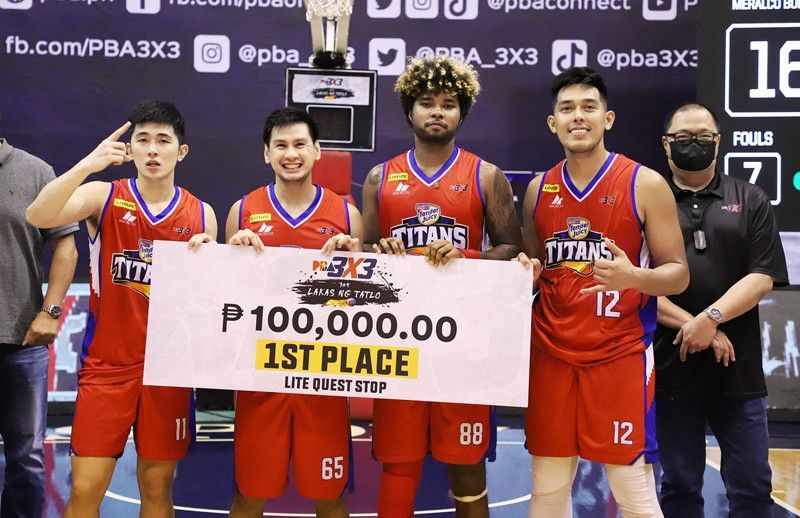 Titans beat bolts for leg 4 honors
MANILA, Philippines — Heartbreak kids no more.
After two previous failed attempts to just get past the semifinals, Purefoods finally broke through and won it all in the PBA 3x3's fourth leg last night at the Ynares Sports Arena in Pasig City.
Joseph Eriobu, Jed Mendoza, Pao Javelona and Jun Bonsubre turned in a gritty performance capped by an emphatic 21-16 clincher over Leg 2 victor Meralco as the Titans joined the winners' circle of the inaugural three-a-side competitions.
Javelona rifled in 10 big points, including a booming two-pointer and clutch close-range basket to spark a 6-1 windup that sealed it for Purefoods, which previously got stranded in the Last-4 in the first and third legs.
The Titans netted P100,000 as they matched the feats of the TNT Tropang Giga, the Bolts and Sista Super Sealers in the first three legs.
Javelona and his teammates also contributed to the winning tradition of the Purefoods franchise, owner of 14 championships in 5-on-5, including a grand slam.
"It all boils down to our desire to win," said Javelona, whose team's prior best finish was third place in the opening leg.
"Kahit ano'ng mangyari sa games, focus lang kami, bad calls man or turnovers, basta next play kami."
Eriobu backstopped Javelona with five markers in the finale while Mendoza and Bonsubre chipped in three apiece.
The Titans cleared their path to their maiden finals stint with a 21-11 rout of the Tropang Giga in the semis. Eriobu scattered eight as Purefoods exacted revenge on the squad that gave them the boot in the same stage in Leg 1.
Bolts squad Tonino Gonzaga, Alfred Batino, Dexter Maiquez and Joseph Sedurifa settled for runner-up honors worth P50,000.
TNT, which fielded Martin Gozum in place of ACL-hit Jeremiah Gray, grabbed third-place honors and P30,000 after scoring a 21-20 nail-biter over Platinum Karaoke.
Almond Vosotros provided the spark as the Tropang Giga outscored Platinum in the stretch, 11-4, to complete their podium finish via come-from-behind fashion.
The Bolts reached the finals for the third time after turning back Platinum in the quarterfinals, 21-13.
Gonzaga and Maiques took scoring cudgels with seven and six, respectively, as Meralco reasserted its mastery over the fancied guest team, which it defeated for the Leg 2 top honors.