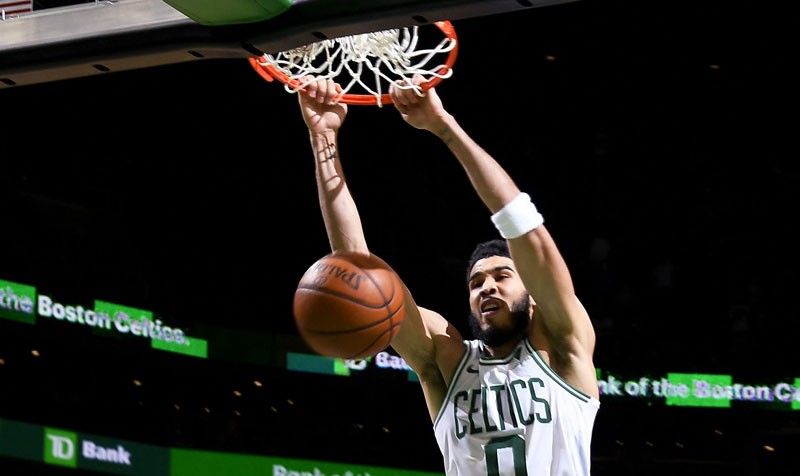 Jayson Tatum of the Boston Celtics scores on a dunk against the San Antonio Spurs at the TD Garden in Boston, Massachusetts Friday.
AFP/File
(Agence France-Presse) - May 2, 2021 - 12:00am
Celtics erase 32-point deficit vs spurs
Boston, Massachusetts – Jayson Tatum scored a career-high 60 points as the Boston Celtics stormed back from a 32-point first-half deficit for a 143-140 overtime win over the San Antonio Spurs at the Boston Garden.
Tatum's point total equalled Boston icon Larry Bird for the most points scored in a game in Celtics' history and he is the second youngest player ever in the NBA behind Devin Booker to post a 60-point game.
"It's a surreal feeling," Tatum said of owning the franchise record with Bird. "Maybe tomorrow I will realize how special it is."
The 23-year-old Tatum made four free throws in the final 12 seconds of overtime for the Celtics who roared back from a 29-point halftime deficit to level the score halfway through the fourth quarter on Friday night. Tatum's previous career best was 53 points against the Minnesota Timberwolves on April 9.
Tatum hit a three-pointer with 38 seconds left in the fourth to give the Celtics their first lead, 127-126, since early in the first quarter.
Tatum drained another free throw with 18 seconds to play to give the Celtics a two point lead, but San Antonio's DeMar DeRozan tied the game with 10 seconds to go to set the stage for a thrilling overtime.
"That was a tough one," Tatum said. "This game is what being a Celtic is all about. Never quit, never giving up. To be down 30 and come back in overtime and win, there is nothing like it."
DeRozan scored 30 points and dished out a career-high 14 assists for the Spurs, who dropped to 31-31 on the season.
Meanwhile, Los Angeles superstar LeBron James scored 16 points in his return from the longest absence of his NBA career on Friday, but the Sacramento Kings rallied to beat the Lakers, 110-106, at Staples Center.
James, who missed 20 games with a sprained ankle, finished with eight rebounds and seven assists, but he also had five turnovers in 32 minutes of playing time.
"I came out unscathed. It's a pretty good start," James said.
The reigning champion Lakers are pleased to have the four-time NBA MVP back for the Lakers stretch drive, but James will have to shake off some expected rust in order to get into playoff form.
"For my first game in six weeks, I felt OK," James said. "My ankle was a little tight at times. It was just different movements and different things I hadn't done. As the games go on that will continue to improve."