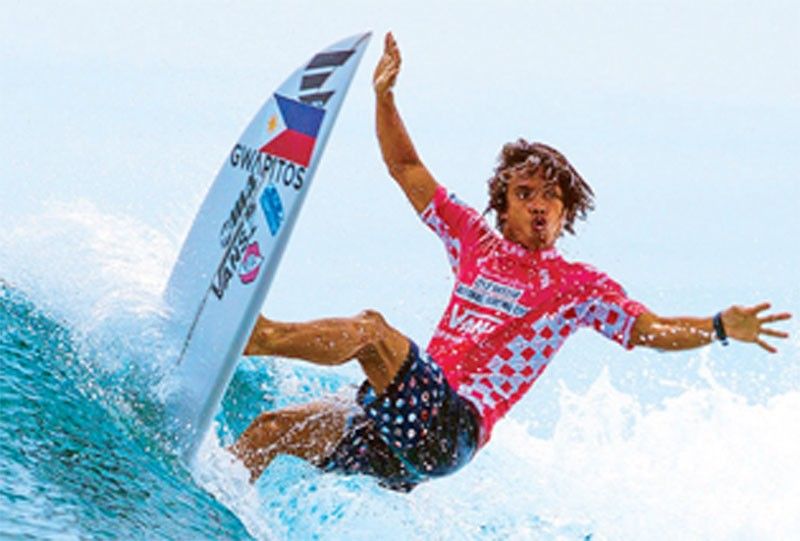 John Mark Tokong
STAR/ File
Surfers chase Olympic dream
MANILA, Philippines — The Philippine team of six surfers is vying for one Olympic ticket for men and another for women in the final qualifying event for Asia at the World Surfing Games in El Salvador on May 29-June 6 with the probability of advancing hinged on the luck of the wave. It's a tall order but United Philippine Surfing Association president Dr. Jose Raul (George) Canlas said the surfers are working hard to make it after recently receiving clearance from San Juan, La Union Mayor Arturo Valdez to resume training on Urbiztondo beach.
The team is composed of John Mark Tokong, 24, Rogelio Esquievel, Jr., 24, Edito Alcala, Jr., 33, Nilbie Blancada, 28, Daisy Valdez, 33 and Vea Estrellado, 17. Only Tokong, the country's No. 1 shortboard specialist, is not in La Union as he's been locked down in Australia since March last year but the 2019 Southeast Asian Games bronze medalist is expected back home on April 21. While locked down, Tokong was able to renew his Philippine passport at the Embassy with assistance from PSC and POC. SEA Games gold medalist and hero Roger Casugay isn't with the team because his longboard event is not in the Olympic calendar.
"Luckily, we have a national coach John Carby who was locked down in Australia like Tokong," said performance coach Ralph Tecson. "They've been training in Australia. Coach John will also be in El Salvador with our team. Tokong is married to an Australian citizen and usually competes in international surfing events in Australia from January to March." The coaches accompanying the team will be Carby, Adam Dufner and Ian Saguan. Carby has lived in Siargao the last six years, owns a school for kids, trains local surfers and levels up the quality of professional performance.
Dr. Canlas said Mayor Valdez' clearance was critical in restarting training last April 8 under strict safety guidelines laid out by the Municipal Task Force on COVID-19. "Because of lockdowns, we had to get special permission to be able to train," he said. "I think there is a bigger chance to qualify for the Olympics. The PSC and chef de mission Nonong Araneta have been very supportive." The team will undergo a pre-flight quarantine in a Manila hotel on May 15-17, fly out to El Salvador on May 17, train in El Salvador on May 19-28, compete on May 29-June 6, leave for Manila on June 8 and do a mandatory quarantine upon arrival on June 9-15.
Tecson said the only available slots for the Philippines are the single Asian tickets for men and women. "The top competitors in Asia are Indonesia's Rio Waida for men and Japan's Mahina Maeda for women," he said. "Next to Mahina would be Nilbie and Daisy at par with Thailand's Annisa Flynn and Indonesia's Taina Izquerdo. We can qualify one male and one female. If the tides turn our way, we could do it. I heard Indonesia is having a hard time obtaining visas due to the pandemic. If in any case they fail to participate, that would be luck on our side."
Surfing is making its Olympic debut at Shidashita Beach, 40 miles outside of Tokyo, and will be held over four days during the period of July 25-Aug. 1 depending on wave conditions. Two gold medals will be at stake, one for men and the other for women. There will be 20 men and 20 women in the competition with each country limited to two participants in both categories. At the last SEA Games, the Philippines delivered two golds, two silvers and two bronzes with a team of seven surfers in shortboard and longboard.