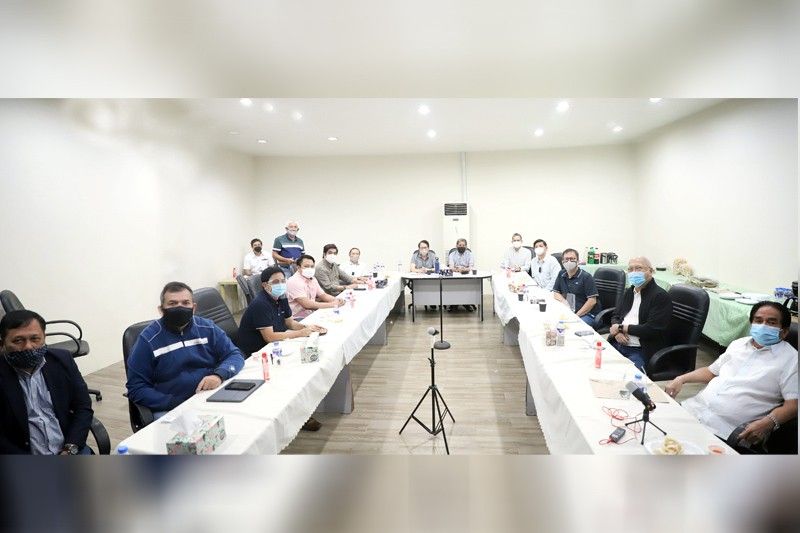 PBA commissioner Willie Marcial, board chairman Ricky Vargas and vice chairman Bobby Rosales lead league officials in finalizing their planned season bubble restart in Clark City starting Oct. 9.
STAR/File
PBA okays Clark Bubble play
Olmin Leyba
(The Philippine Star) - September 18, 2020 - 12:00am
What the NBA successfully achieved at Disney World, the PBA hopes to accomplish in Clark.
MANILA, Philippines — Taking a page from the NBA, the PBA has crafted its own bubble program in Clark as it bids to resume hostilities in the Philippine Cup subject to government approval and under strict health protocols.
"We'll have a bubble, we have our protocols in place and all we're waiting for is IATF approval," PBA chairman Ricky Vargas of TNT KaTropa said in a zoom press conference after yesterday's board meeting.
Under the plan, the teams and all PBA delegates will be strictly and exclusively holed up in Quest Hotel inside Clark for over two months for the duration of the tournament to be played at the Angeles University Foundation Gym.
The pro league hopes to get IATF clearance for the teams to start holding scrimmages – in Metro Manila or in Clark – by Sept. 26 then finally kick off competition by Oct. 9.
"If we can start tomorrow, we would start tomorrow. The Commissioner's Office has done a good job with the plans and they're ready to execute as soon as we're given the go-signal," said Vargas.
The league chair, who appeared in the presser with vice chairman Bobby Rosales and commissioner Willie Marcial, expressed optimism this will push through.
"We're all so excited to go back and (resume) play. We're also excited to show our fans that we're ready and we also want to give back to them."
Clark was picked over 19 other candidates for the bubble for its world class and safe facilities plus its testing capabilities.
Per conversation with Bases Conversion Development Authority chief Vince Dizon and Clark Development Corp. president Noel Manankil, Clark will take care of the delegates' mandatory testing requirements.
"One thing about Clark is they have a very strict protocol and they can do actual testing. They also have hospitals and laboratories there," said Vargas.
"With the assurance of Sec. Dizon and president Manankil, all these protocols will be done in Clark."
Marcial said Clark meets the requirements for training with practice sites in the hotel tents and other courts as well as recreational facilities for the bubble participants' mental well-being.
The board also approved the format, which will see double-headers held daily in the elimination round. The Top 4 will gain twice-to-beat advantage in the quarterfinals with the winners advancing to the best-of-five semis. Finals will be a best-of-seven affair.
PBA execs estimated a total of 350 people will be involved in the bubble with each team allowed 25 persons each. The league will be shouldering the staggering cost of the endeavor.
Players, in a separate meeting with Marcial, have expressed willingness to be isolated for the bubble tournament.
To discourage protocol breaches, Marcial said the board has set hefty penalties: one month without pay from the team, P100,000 fine from the PBA, plus suspension of five playing games for the next season.