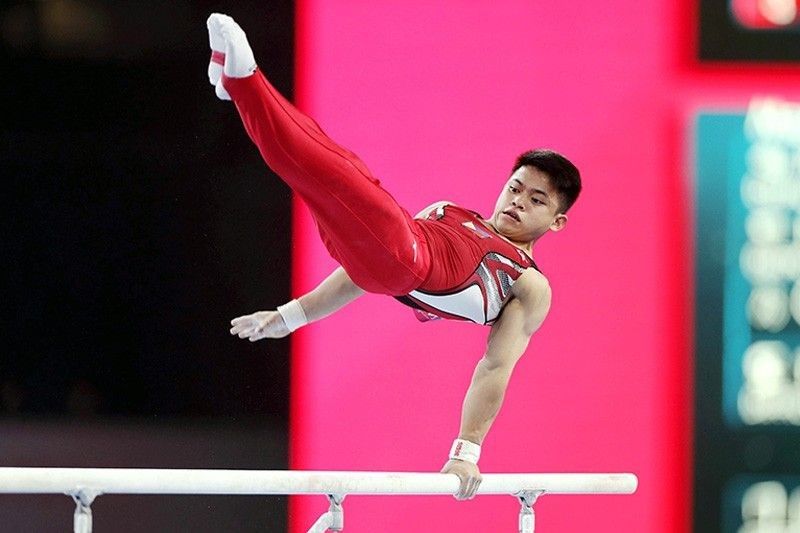 Caloy Yulo
Photo courtesy of Janet Tenorio
Caloy to compete twice before Olympics
MANILA, Philippines — Caloy Yulo will compete in the Federation Internationale de Gymnastique (FIG) World Cup in Baku, Azerbaijan, on March 12-15 and the 9th Asian Senior Championships in Tokyo on May 2-5 preparatory to the Olympics where the 19-year-old Filipino standout hopes to land a podium finish.
"It's 100 percent focus," said Gymnastics Association of the Philippines president Cynthia Carrion. "He's training in Tokyo with coach Mune (Munehiro Kugimiya) who's very strict in monitoring his progress. Before the coronavirus alarm, we asked if Caloy could train with the Chinese gymnasts in China but the federation refused. I don't know why but maybe, it's because they didn't want Caloy to know their training secrets. We also asked if we could do a training camp in Russia but the federation also declined, this time citing the coronavirus."
Carrion said despite China and Russia closing their doors on Yulo, it's not a big deal. "Caloy trains every day, except Mondays, three hours in the morning and four hours at night," she said. "In between, he goes to school at Teikyo University. He gets up early to go to the gym, attends class then ends his day back in the gym. It's a hard life but Caloy's very determined and dedicated."
Although winning the country's first Olympic gold medal is a goal, Carrion said Kugimiya isn't putting undue pressure on Yulo by raising expectations. "Coach Mune is a low-key guy," she said. "Even when Caloy won the gold medal in floor at the World Championships in Stuttgart last year, coach Mune never predicted anything. I think that's his way of calming Caloy."
In Baku, Carrion said Yulo won't compete in floor because Kugimiya wants to keep his new moves under wraps. "Caloy will do the other apparatus like vault, parallel bars and horizontal bar where he also has a chance to win," she noted. "Maybe, he'll also do the pommel horse and rings. But he'll skip the floor. He'll see what the other gymnasts are doing in floor so he gets an idea of what he'll be up against in the Olympics."
Carrion said she's arranging for two other Filipino gymnasts Ace de Leon and Jag Timbang to compete in Baku with Yulo. "Coach Mune plans to form a men's national team in artistic gymnastics so we're trying to expose our best athletes to high-level competition to get them ready," she said. "We're excited about the future of Filipino gymnastics. We're recruiting a Japanese coach for our women artistic gymnasts and a Bulgarian coach for our rhythmic gymnasts. Coach Mune himself is going to school so he's a student like Caloy. Coach Mune never stops learning and is always looking to improve. At the same time, coach Mune is an assistant professor."
Kugimiya, who lived in Manila for three years as the Philippines gymnastics coach, has taken Yulo exclusively under his wings in Tokyo. Kugimiya not only supervises Yulo's training but also his diet. Thrice a week, Kugimiya cooks meals for the 4-11 star who moved to Tokyo in 2016.
Yulo qualified for the Olympics by making the cut in the men's all-around final at the World Championships in Stuttgart last October. He's the second Filipino to clinch a berth after pole vaulter E. J. Obiena. Yulo will be the first Filipino gymnast to compete in the Olympics since Ernesto Beren and Norman Henson performed at the 1968 Mexico Games. Demetrio Pastrana and Fortunato Payao were the first Filipino gymnasts in the Olympics, marking the breakthrough in 1964. Yulo's participation in Tokyo will end a 52-year drought for the Philippines in Olympic gymnastics.