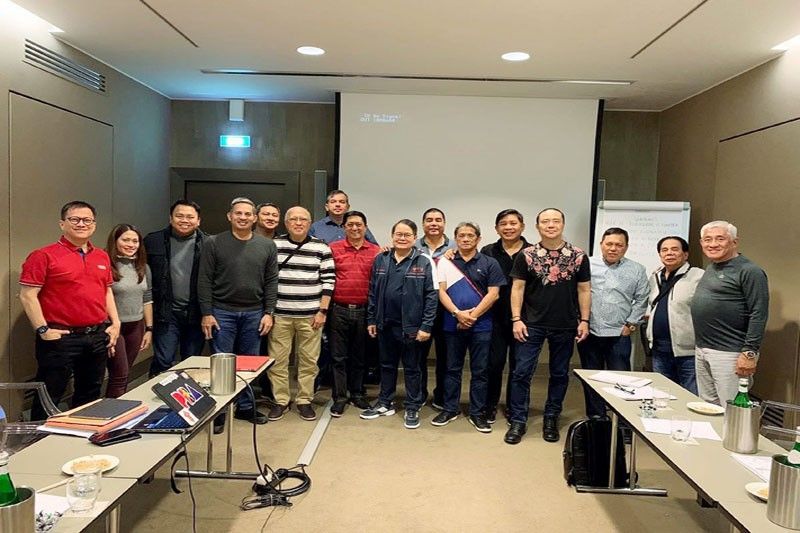 Members of the PBA board of governors led by chairman Ricky Vargas (center, in jacket) predicted a 33 percent increase in revenues for this year during their annual planning session in Milan, Italy. Also in photo is commissioner Willie Marcial, who was given a three-year extension of tenure by the PBA board.
Nelson Beltran
PBA projects income of P640 million
MILAN – PBA chairman Ricky Vargas expects the league's revenues to increase by 33 percent this year with positive indicators of growth from the TV rights fee, sponsorships and the international sector.
Vargas disclosed the projections in a media briefing after the PBA Board of Governors concluded its planning session and meeting at the Rosa Grand Hotel here Thursday. He was joined in the briefing by vice chairman Bobby Rosales of Columbian Dyip, treasurer Silliman Sy of Blackwater, Meralco governor/SBP president Al Panlilio and commissioner Willie Marcial.
Rosales declared the league "in good financial health" as Sy went through the numbers in making the first-ever presentation of detailed projections of the PBA figures. "Lower gate receipts are a reality," said Sy. "So we looked into other opportunities and focused on the digital platform as a major source of income. We're investing heavily in digital as we try to mobilize a young team to spearhead this initiative. With help from our marketing team led by Gelo Serrano, we're coming up with out-of-the-box ideas that are exciting and could give us a significant increase in revenues and our bottom line."
Vargas said there will be an incremental increase of P22 million in TV rights. From sponsorships, the estimate is an inflow of P117 million from Excite, TV5 and PBA teams. Vargas pointed to Marcial as the chief negotiator in bringing in P37 million in international rights fees.
"We expect to be up 33 percent from last year," said Vargas. "The figures will still undergo audit but we're looking at P435 million as our income for 2019. This year, we're projecting an income of P640 million."
Vargas said a big expense is venue rental, about P60 to 65 million annually. "We've been talking about the PBA owning a stadium for over 10 years but we still haven't moved forward," he said. "We're spending quite a bit on venue rental on a yearly basis. If we had our own building, it wouldn't be an expense but an investment."
Vargas said the numbers reflect the changing times. "We foresee gate receipts increasing by only four percent but there will be significant increases in TV rights, sponsorships and international rights," he said. "Last year, we spent about P6 million in capital and operational expenses when we adjusted our schedule to conform with our commitments to FIBA. This year, we're spending P5 million for a three-year package related to our replay machine where we can evaluate reviewables right away with an 8-screen system on a 32-inch monitor."
Vargas said there is a strong potential to monetize social media mileage through Facebook and YouTube. "Digital is making the PBA more relevant to the younger generation," said Vargas. "We want to reach our younger fans." The indications of growth were clear in the recent Governors Cup finals where Game 1 recorded 3.2 million livestream viewers on Sports5 and Game 5 registered 2.4 million. The triple overtime quarterfinal playoff game between No. 1 NLEX and No. 8 NorthPort pulled in 1.5 million.