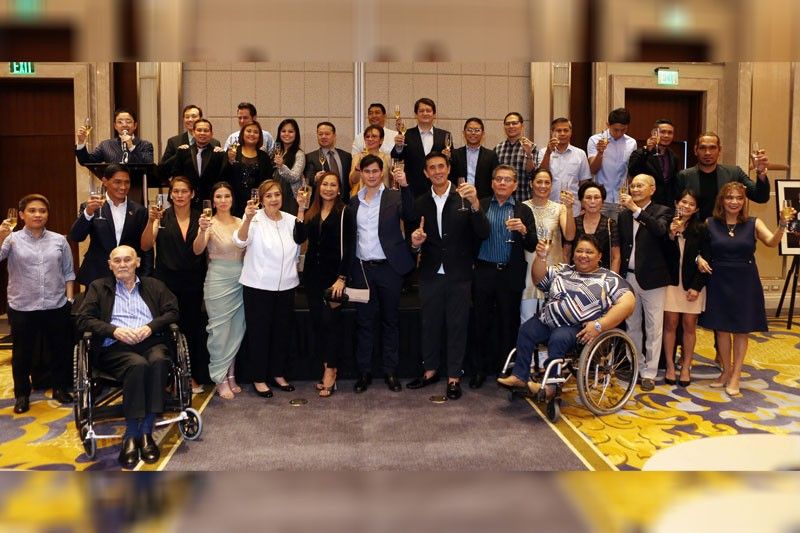 Philippines Yearbook chair/CEO Grace Glory Go, president/ publisher Vernon Go, co-authors Joaquin Henson and Bill Velasco, and guests offer a toast during the launch of the Philippines Yearbook 2020 edition at the Sheraton Manila Hotel. Joey Mendoza
Stars attend glitzy book launch
MANILA, Philippines — The stars shone brightly at the launch of the book "The 50 Greatest Filipino Athletes of All Time" as sports heroes, diplomats, captains of industry, businessmen, politicians, media personalities and collectors came to celebrate the formal unveiling of the Philippines Yearbook 2020 edition at the Sheraton Manila Hotel the other night.
Philippines Yearbook chair/CEO Grace Glory Go and president/publisher Vernon Go welcomed over 300 guests at the Ballroom. It was the first Philippines Yearbook exclusively devoted to sports since the annual started a tradition as the Fookien Times Yearbook published by Dr. James Go Puan Seng in 1936.
The book was a year in the making. In January last year, Grace Glory Go and Vernon Go broached the idea of a sports theme for the Yearbook in a meeting with co-authors Joaquin Henson and Bill Velasco. Joel Garcia and his wife Ma-Anne were tapped to produce the photographs of each athlete.
In the book launch, 20 selected photographs taken by Garcia were put on sale and Ever Bilena CEO/Blackwater PBA team owner Dioceldo Sy was first in line to buy a Sen. Manny Pacquiao portrait for P25,000. Sy, a major book supporter, came with Dr. Henry Costa of Texas, daughter Denise and son-in-law Jacob Munez.
The guest list read like a who's who. Among the VIPs who attended the launch were US Ambassador Sung Y. Kim, Singapore Ambassador Gerald Ho, Japan Ambassador Koji Haneda, Russia Ambassador Igor Khovaev, Libya Ambassador Abubarer Nusiah, Sri Lanka Ambassador Shobini Gunasekera, Morocco Ambassador Mohammed El Fassi, former Central Bank Gov. Amando Tetangco Jr. and wife Elma, SM Investments Corp. vice chair Teresita Sy-Coson, Sen. Cynthia Villar, Philippine Chamber of Commerce and Industry chairman George Barcelon, First Life Financial president/CEO Peter Coyuito, PGA Cars president Robert Coyuito III, former Supreme Court Chief Justice Art Panganiban, Ralph's Wines and Spirits president Ralph Joseph, Consul Tony Rufino, Consul General Fortune Ledesma, Consul Mellie Ablaza, Consul Helen Ong, Consul Evie Costa, Consuls Miguel and Alice Tesoro Guerrero, Gymnastics Association of the Philippines president Cynthia Carrion,
Dancesport Council of the Philippines president Becky Garcia, national artist F. Sionil Jose, Greg and Weng Domingo, Jun and Menchu Tantoco Lopez of Rustan Coffee Corp., Rustan Commercial Corp. president Donnie Tantoco, Pioneer Insurance president Lorenzo Chan and wife Jane, Manila Peninsula general manager Masahisa Oba and Richwell Trading Corp. president Myrna Yao.
Tony Genato, 90, was featured in the book as representing the Philippine team that took the bronze medal at the 1954 FIBA World Cup in Rio de Janeiro and attended with his partner Nenita Matute, daughter Rosario and son-in-law Joaquin Jordana. It was a touching scene when Allan Caidic, representing the Philippine basketball team that took the silver medal at the 1990 Asian Games in Beijing, wheeled Genato towards the stage for a photograph of the sports heroes. Genato and Caidic symbolized two generations of basketball stars.
Five-time PBA MVP June Mar Fajardo arrived early and left late, enjoying the festivities with his co-legends. Like a fan, he took pictures with wheelchair-bound 2000 Paralympic powerlifting bronze medalist Adeline Dumapong and four-time World Cup bowling champion Paeng Nepomuceno. Pacquiao was represented by MP Promotions president Sean Gibbons. PBA player Nico Elorde stood in for his late grandfather Flash Elorde. Two-time world boxing champion Gerry Peñalosa came with son Julio and four-time world boxing champion Donnie Nietes flew in from Cebu.
Bowling was represented by Nepomuceno, Bong Coo, Krizziah Tabora, Biboy Rivera and the late Lita dela Rosa's daughter Abby. Swimmer Akiko Thomson was with husband Chips Guevara. George Ramirez represented his late father Pocholo who was cited for his motor sports career while Chris Dantes attended for his late father Roland, the arnis master. The late golfer Ben Arda's daughter Rhia came. Captain Rene and Celia Barrientos represented their son Felix, the tennis standout who was abroad. Eugene Torre of chess, Cheryl Nakanishi of bodybuilding, Phil Younghusband of football (with pregnant wife Mags and sister Keri) and Rubilen Amit of billiards also attended.
Media coverage was extensive. Chino Trinidad came with a GMA-TV crew. PTV took footage and interviews. Mainstream media journalists, vloggers and sports memorabilia collectors were also at the event.
With the popularity of this year's edition hard to surpass, publisher Go said it's a challenge to conceptualize the theme for the 2021 Philippines Yearbook. It was Go who thought of the idea of creating a theme to make every edition unique, memorable and a collector's item. A possible theme for next year's Philippines Yearbook is the celebration of the arts from the human standpoint of the greatest Filipino artists.