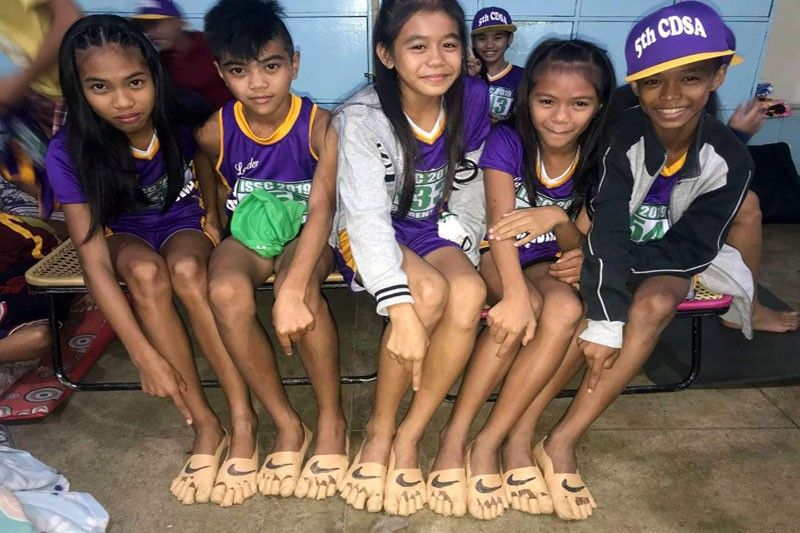 Rhea Bullos (center, wearing jacket) and track teammates point to their feet wrapped in tape with a handdrawn Nike swoosh.
Support snowballs for barefoot runner
MANILA, Philippines — A Facebook photo of an elementary school student who won a slew of gold medals in track at a recent Iloilo Schools Sports Council (ISSC) meet wearing only tape on her bare feet has gone viral and Rhea Bullos, 11, is suddenly a much-sought-after beneficiary of running shoes donated by sympathetic well-wishers.
High school athletics coach Prederick Valenzuela of Balasan posted a picture of Bullos on his Facebook account after she won the 400, 800 and 1,500-meter runs in the ISSC last month. The picture showed Bullos' toes were individually wrapped in tape and her feet were also bandaged. She wore no shoes in sweeping her events. Congratulatory comments came from Colombia, Thailand, Mexico, Brazil, India, Cuba, US, France, Italy, Greece and many other countries and there were pledges of support from all over, including politicians and basketball stars.
Bullos' coach Leone Tiosayco, who is the Physical Education and School Sports coordinator of Carles town, said since the post, the Iloilo runner has received at least 22 pairs of shoes from Nike Philippines, SM City, Nike Iloilo, Sen. Bong Go and Alaska coach/Titan co-owner Jeff Cariaso. Central Bank also gave 24 packs of school supplies, worth P600 each, to Bullos and her teammates.
Bullos, who wears size 6 1/2 shoes, is enrolled at Salvacion Elementary School in Balasan. Her father Jerry is a farmer and a part-time construction worker while her mother Concepcion is unemployed. Bullos is the middle child of three. "Mahirap sila pero natutustusan naman ang pangangailangan ng kaniyang ama," said Tiosayco who coached Bullos with Benedicto Prasas at the ISSC event. "Sa CDSA (Congressional District Sports Association) meet, magkatunggali yung team namin from Carles at ang team ni Rhea from Balasan. Nag-champion ang Carles pero nakakuha ng gold si Rhea kaya kinuha siya namin para mabuo yung aming district team sa ISSC." At the ISSC meet, Bullos bagged five golds in five events, including the 4x100 meter and 4x400 meter relays. She was the most bemedalled athlete in the elementary girls category.
Bullos got used to running barefoot on dirt tracks but Tiosayco said conditions are different when the competition is on a rubberized oval. "Ayaw nila mag-spike kaya napipilitan kaming bumili ng bandage para kahit papaano, may sapin ang paa nila," she said. "Minsan umabot ng P14,000 gastos sa bandage. Makapal kasi yung pagkakalagay pag-mainit yung rubber ng oval, mapapaso ang talampakan nila."
With the donated shoes, Bullos and her teammates are no longer running barefoot. They're beginning to realize that they can run faster with new technology lightweight shoes than heavily-bandaged feet. Besides, the shoes protect their feet from injury and the natural elements.
Bo Navarro, a Manila-born Filipino who migrated to the US at the age of five and owns a sports marketing company in San Diego, said he was moved by Bullos' photo on Facebook.
He shared the photo with a client, former NFL kicker Nick Novak who then contacted Cliff King, an endorsement agent for NFL athletes. King contacted Nike Business Running Sports Marketing director Richard Sharma who tipped off Nike Philippines country marketing head Jino Ferrer about Bullos. Before long, Bullos received four pairs of shoes, a bag pack and apparel from Nike Philippines through Ferrer and Jappy Parulan.