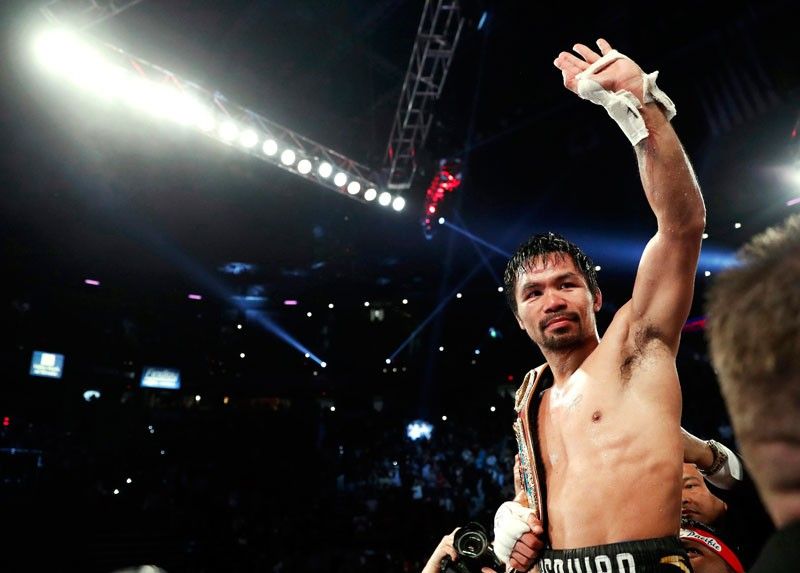 Game-changers of the decade
MANILA, Philippines — Three game-changers stood out in making a significant impact on Philippine sports over the last 10 years super WBA welterweight champion Sen. Manny Pacquiao as Athlete of the Decade, SBP chairman emeritus/ABAP chairman/MVPSF chairman/FIBA Central Board member Manny V. Pangilinan as Executive of the Decade and two-time PSC chairman Butch Ramirez as Sportsman of the Decade.
Pacquiao, 41, has been the nation's No. 1 sport hero for two decades but it was during the last 10 years, that his star shone brightest. In 2010, he outpointed Mexico's Antonio Margarito in Arlington, Texas, to win the vacant WBC superwelterweight title, his eighth world crown in as many weight divisions. In 2015, Pacquiao battled Floyd Mayweather, Jr. in Las Vegas in a fight that set records in most pay-per-view buys at 4.6 million, highest pay-per-view revenues of over $410 million and biggest ticket sales of $72.2 million.
Pacquiao closed out the decade by winning three straight bouts over Argentina's Lucas Matthysse to win the regular WBA welterweight title, Adrien Broner to defend his title and Keith Thurman to capture the super WBA crown. In the past 10 years, Pacquiao posted a 12-4 record and emerged the world's No. 8 highest-grossing athlete with earnings of $435 million spiked by 25 pay-per-view bouts that brought in more than 20 million subscriptions and $1.3 billion in revenues. While Pacquiao was busy carving his pathway to the International Boxing Hall of Fame, he also made time to give back to the country as a public servant. He served two terms as a congressman from 2010 to 2016 then was elected senator in 2016.
MVP, 73, rescued Philippine basketball from troubled waters when he formed SBP to replace BAP in 2007, ending an era of moribund leadership that resulted in the country's suspension from competing in the 2005 FIBA Asia Cup, 2005 SEA Games (which the Philippines hosted) and 2006 Asian Games. With MVP at the helm, the Philippines hosted the FIBA Asia Cup in 2013 and went all the way to the final, slaying nemesis South Korea in the process. That brought the Philippines back to the FIBA World Cup in Spain in 2014 after a 40-year wait. The Philippines returned to the FIBA Asia Cup final in Changsha, China in 2015 then finished fifth in the 2016 Asian Games with NBA Fil-Am guard Jordan Clarkson in the lineup. The Philippines survived six windows of qualifiers to make it back to the FIBA World Cup in China this year and to cap a decade of success, swept the four gold medals at stake in basketball at the SEA Games.
It was also MVP who engineered the Philippines' winning bid to co-host the FIBA World Cup in 2023 with Japan and Indonesia. The Philippines was the losing finalist in the bid to stage the 2019 FIBA World Cup but in 2017, regrouped to clinch the hosting rights for 2023. In recognition of his leadership, MVP was recently re-appointed FIBA Central Board member for a second four-year term.
As a sports patron, MVP backed his alma mater Ateneo to win six of the last 10 UAAP men's basketball championships and his other alma mater San Beda to claim eight of the last 10 NCAA titles. In the PBA, MVP's flagship team TNT captured five conference championships since the 2010-11 season. In the recent SEA Games, MVPSF delivered 78 medals, including 35 golds, from MVP-supported athletes in gymnastics, skateboarding, basketball, boxing, weightlifting, golf, cycling, rugby 7s and taekwondo. This year also marked the ascent of Nesthy Petecio as AIBA world women's featherweight champion, another milestone in ABAP's history.
Ramirez, 69, holds the distinction of being the only Filipino ever to lead the Philippines to the overall championship in the SEA Games as chef de mission in 2005 and this year. He's also the only PSC chairman to serve under two presidents, Gloria Arroyo in 2005-09 and Rodrigo Duterte from 2016 to the present. As the PSC's man-in-charge, Ramirez made it a priority to provide Filipino athletes with the financial resources to train overseas under top-caliber foreign coaches, to compete abroad in raising their standards of play, to receive proper nutrition and to be guided in their pursuit of excellence by principles of sports science. Additionally, he paved the way for a nationwide grassroots program in partnership with LGUs, a meaningful collaboration with POC and NSAs and the revival of the Philippine Sports Institute.
Under his leadership, PSC undertook the renovation of decaying sports venues like the Rizal Memorial Coliseum and Ninoy Aquino Stadium and brought to life world-class facilities in New Clark City. Because athletes are close to his heart, Ramirez upgraded dining halls, dorms and infirmary, raised meal allowances and established the groundwork for the National Training Center.
"As an undersecretary, CEO and presiding officer of the board of PSC, I consider it an honor, not a service, to do what I can to promote sports for all Filipinos," said Ramirez. "We're now halfway President Duterte's term so we have three more years to go to make more of a difference in Philippine sports. I hope to leave behind a program that will professionalize our coaching ranks, provide continuous education and create the framework for collaboration in a pyramid system where the strength of our grassroots is the strength of our elite athletes."
Six months before the start of this year's SEA Games, Ramirez said, "athletes can do the impossible … we can work a miracle in the SEA Games if we can be one." The miracle happened.