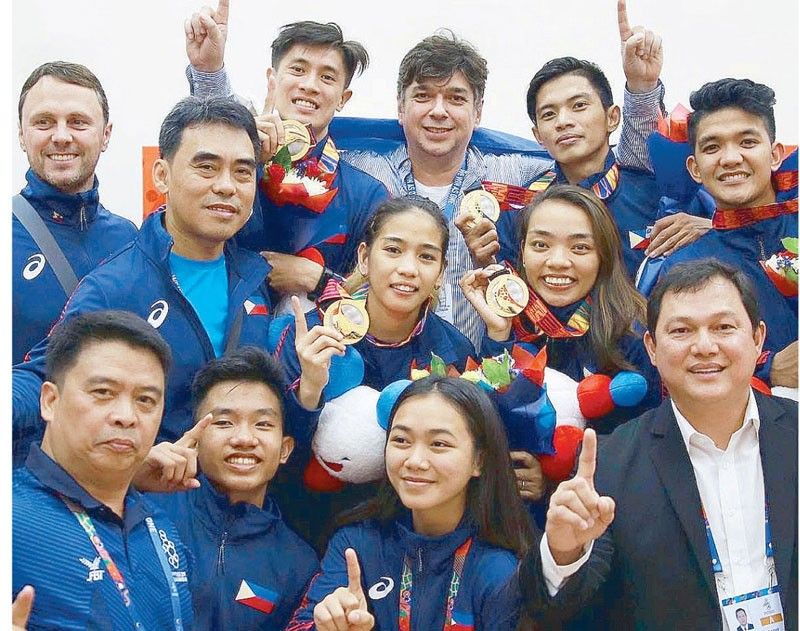 Philippine squashers celebrate the country's first-ever SEA Games gold medal in squash with PSA president Bob Bachmann, secretary-general Edgar Balleber, coaches Chad Sunde and Jun Paganpan and PHISGOC squash presentation manager Solomon Padiz.
Philippines squash nails dream top finish
MANILA, Philippines — The long wait to bag a Southeast Asian (SEA) Games gold medal in squash has finally ended for the Philippines. Since squash was introduced in the SEA Games calendar in 1991, the Philippines struggled to collect two silvers – which came only two years ago in men's team and women's jumbo doubles – and a bundle of bronzes until this year's edition.
Last Friday night, the Philippines struck gold in mixed team at the Manila Polo Club, signaling a bright future for the sport with the inauguration of the country's first public courts at the Rizal Memorial Sports Complex in March to open the doors for a grassroots program that will form the foundation of elite players in the next generation.
The Philippines took out Indonesia and Thailand in the preliminaries before blanking Singapore in the mixed team final. Each tie was a best-of-three match affair with two men's singles and one women's singles to play, meaning the winner had to take two of three matches to clinch. The Philippine team was made up of Robert Garcia, MacMac Begornia, David Pelino, Myca Aribado and Aysah Dalida. Only two men and one woman played in a tie.
Against Indonesia, the Philippines won, 3-0, as Begornia beat Agung Wilant, 11-9, 11-9, 11-5, Aribado defeated Catur Yuliana, 12-10, 11-7, 11-9 and Garcia outlasted Satria Laksana, 11-8, 5-11, 11-5, 8-11, 11-9. Against Thailand, the Philippines also won, 3-0, as Aribado swept Anantana Prasertratanakul, 11-6, 11-6, 11-5, Begornia trounced Natthakit Jivasuwan, 11-7, 11-5, 11-4 and Pelino was pushed to the limit in repulsing Poonsiri Phuwis, 11-7, 7-11, 11-9, 1-11, 11-6. In the final, the Philippines beat Singapore, 2-0 and both teams opted not to play the no-bearing third match. Aribado schooled Au Yeong Wai Yhann, 11-7, 11-7, 11-8 and men's world No. 256 Garcia crushed world No. 155 Samuel Kang, 11-7, 11-7, 11-9. In the round robin preliminaries, three matches had to be played in case of a deadlock in the standings but in the final, the third match was optional if two matches had been won.
Garcia upset Kang, 11-5, 12-10, 11-8 in the men's singles quarterfinals last Saturday as he had not beaten the Singaporean in four previous encounters. In the mixed team clincher, Garcia set the tone early by repeatedly catching Kang a step behind with reverse boasts. He controlled the T by playing deep length shots and picked up points off low crossovers. Garcia delivered the match point with a down-the-wall length drive to the right.
"Nagbunga ang pagod at trabaho namin ni Boss Bob," said Garcia, 33. Before the tie, Bachmann said he was worried about Garcia's hamstring which was strained in his four-set loss to Malaysia's Addeen Idrakie in the men's singles final. "I called the PSC's Marc Velasco who responded immediately by sending two masseuses and a PT to the athletes' hotel," said Bachmann. "My brother Dicky (Alaska PBA governor) asked the Aces PT to provide instructions for a quick fix and remedy. Then, we had a lunch meeting with the athletes. I told them I know you're tired and hurting but unfortunately, we have no replacements, just keep in mind that pain is temporary and victory is forever. The meeting was crucial and it made the difference."
It was the Philippines' destiny to win as a logistics snag by top-seed Malaysia prevented an entry in mixed team. "Malaysia was supposed to play in only four of the original six events, including men's and women's jumbo doubles which they normally don't play," said Bachmann. "But when the doubles events were cancelled due to the change in venue, Malaysia failed to include mixed team in submitting entry forms to PHISGOC. When Malaysia found out about the oversight, the deadline had passed to submit an entry. I'm not sure if it was the Malaysian Olympic Committee or the Malaysian Squash Association that blundered. Malaysia filed an appeal but it was too late."
Right after Garcia scored match point, Bachmann rushed into the court to embrace the country's No. 1 male player. "We did it," he said. Kayod Pilipinas' players and officials were in tears as they hugged each other. Aribado picked up the first win of the tie and Bachmann said she followed the game plan to the letter, proving her worth as the women's world No. 80. "The future of squash is bright," said Bachmann. "The new Rizal Memorial squash center will be opened early next year and our grassroots development program will begin."