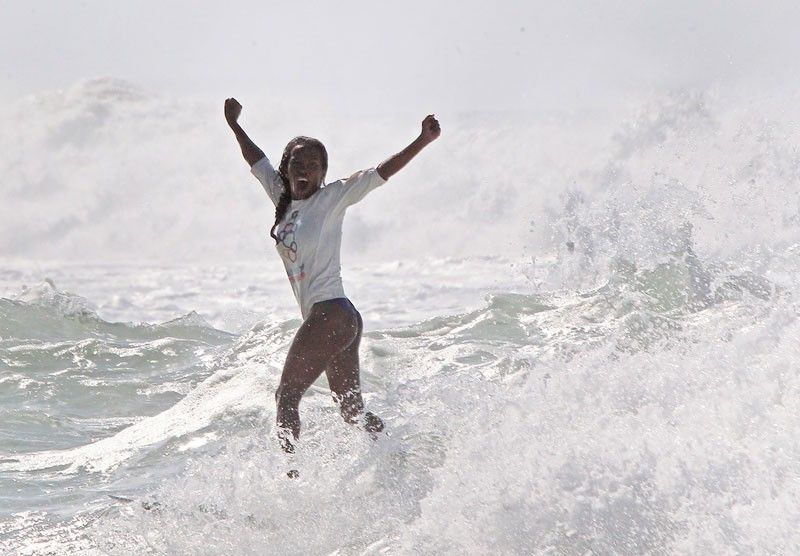 Nilbie Blancada wins the gold medal in the shortboard event.
Andy Zapata
Life-saver takes second crack at glory
Joey Villar
(The Philippine Star) - December 9, 2019 - 12:00am
MANILA, Philippines — Roger Casugay, the Filipino surfer who saved his Indonesian foe from drowning during the competition, was given another chance at SEAG medal play and took advantage of it.
Casugay won the gold in the long board event of surfing after he beat countryman Jay-R Esquivel in the finals in the 30th Southeast Asian Games in San Juan, La Union yesterday.
He earlier defeated in the semis Indonesia's Arip Nurhidayat, the same person he saved a few days ago after the latter's leash snapped, lost his board and almost drowned.
Good thing organizers put their match on hold and when it was replayed early yesterday, Casugay made sure to win it.
It was the second gold won by the Philippines with the other delivered by Nilbie Blancada in women's short board.
Also chipping in medals were John Mark Tokong with bronze in men's short board, Ikit Agudo with silver in women's long board and Daisy Valde with two bronzes in women's short and long boards.
Casugay shone brightest with his golden feat in winning mint and in saving lift.