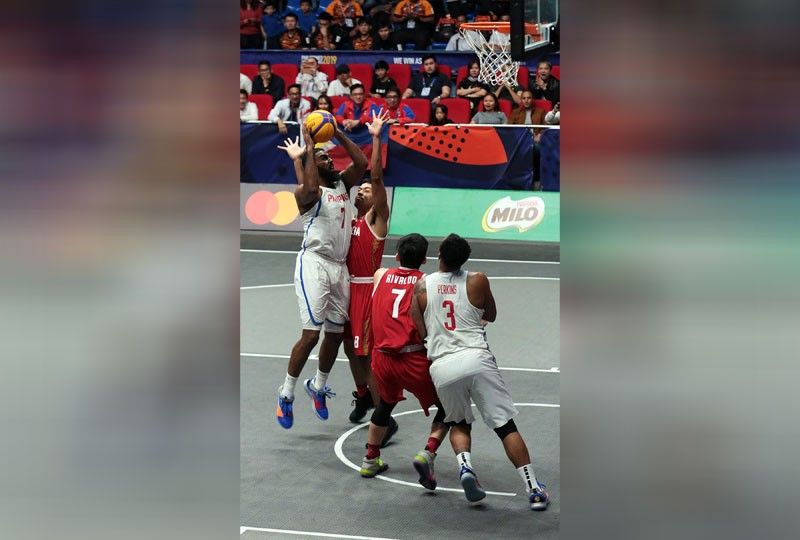 Tautuaa going strong to the hoop.
Michael Varcas
Gilas sweeps inaugural SEAG 3x3 play
MANILA, Philippines — Gilas Pilipinas achieved the first two of its four-gold target in the 3oth SEA Games basketball with its mighty sweep of the inaugural 3x3 competitions in the biennial regional conclave at the Filoil Flying V Centre in San Juan.
PBA stars CJ Perez, Chris Newsome, Jason Perkins and Moala Tautuaa simply overpowered the field in the men's event while Janine Pontejos, Afril Bernardino, Jack Animan and Claire Castro overcame a deflating loss to Thailand in the elims and rebounded with a 17-13 decision versus the same foe in the finale.
And thus Gilas scored a golden double in the initial SEAG 3x3 play, with the Gilas men and women hoping to duplicate the feat in 5-on-5 set to start at the MOA Arena tomorrow.
Perez and Co. steamrollered their way to a top-podium finish, capped by a 21-9 rout of Indonesia in the finale. In the semis, they blasted the Thais, 21-11.
Making good impression even in the recent FIBA World Cup in China, Perez was an unstoppable force in the SEAG, highlighting his show with a 10-point explosion in the gold-medal match.
The Columbian Dyip super rookie soared for a thunderous jam, touching off a 10-1 tear as Gilas ripped the Indons apart.
It was a coast-to-coast win for Team Phl with Perez scoring on a drive then on a two-pointer to open the game, and Tautuaa also firing a twinner to seal the race-to-21-point tiff.
The Gilas belles, meanwhile, went through anxious moments before gaining the distinctions as the queens of the first-ever SEAG 3x3.
Barely holding a two-possession lead in the finale, the Filipinas eventually secured the match on a defensive gem by Bernardino.
Earlier in the day, the Filipinas suffered a heartbreaker in their last match in the elims, bowing to Thailand for a 4-1 eliminations record.
They also faced stiff challenge versus Vietnam in the semis.
But at 5-8, the Gilas belles launched a 16-4 blast to win the game and set up a title match with the Thais.