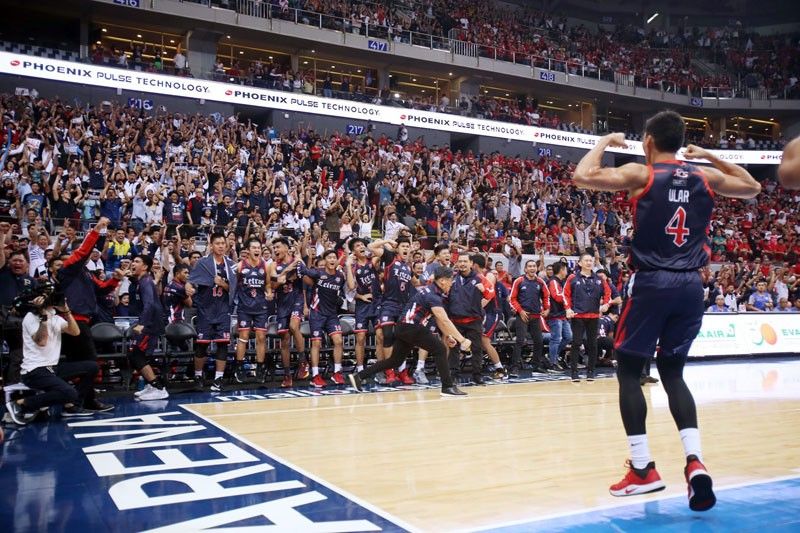 Ato Ular of Letran flexes his biceps as the rest of the Knights and their fans whoop it up in the dying seconds of Game 3.
Joey Mendoza
Joey Villar
(The Philippine Star) - November 20, 2019 - 12:00am
MANILA, Philippines — When Jerrick Balanza got hold of the NCAA Season 95 basketball schedule, the first thing he did was mark Letran's games against archrival San Beda and, in capital letters, wrote the words, "THIS IS WAR." And war Balanza fought.
In a Game 3 that is not for the weak, Balanza came out with the bravest of hearts and dished out the game of his life in powering Letran to a nerve-wracking 81-79 victory over a fancied San Beda to claim its first title since winning it four years ago.
Playing before a season-high 19,876 fans, Balanza hit the biggest shots when his team needed them most, including a booming triple that gave the Knights a six-point cushion late in the game.
He deflected a potential game-sealing triple by Evan Nelle, sending the ball straight in the hands of Donald Tankoua, who couldn't launch a decent shot at the buzzer.
It was all pandemonium as Letran completed a mammoth upset to bring home its 18th championship, next only to San Beda with 22.
It was a fitting climax for Letran, which won the series opener before San Beda, undefeated in 18 games in the elims, forced the decider.
Balanza, 23, went on to finish with 27 points, including five from beyond the arc and 8-of-8 from the free throw line on top of seven rebounds, three assists and that defensive play on Nelle that sealed the victory for Letran.
Balanza's basketball career almost ended when he went under the knife to remove a brain tumor late last year.
"God is good to me because when I was down with that brain tumor last year, my only strength is believing in Him to help me stay positive," said Balanza.
"I've been encircling our San Beda games and I always bring war whenever we play them because I'm also expecting them to bring it," said Balanza in Filipino.
Balanza ended his collegiate career the way he started it – with a championship.
Game 3 also produced a lot of heroes, including Finals MVP Fran Yu and Bon Bon Batiller.
Yu battled cramps since Game 2 and wasn't spared this time. But he did most of the damage after averaging 13.7 points, six assists, 3.3 rebounds and two steals.
Batiller, for his part, redeemed himself from muffing a potential game-winning reverse lay-up in Game 2. He finished with 19 points on top of five boards, three dimes and two steals before cramping out with 5.4 seconds to go.
"Hindi na dumulas yung bola sa kamay ko (The ball didn't slip from my hands this time)," he said.