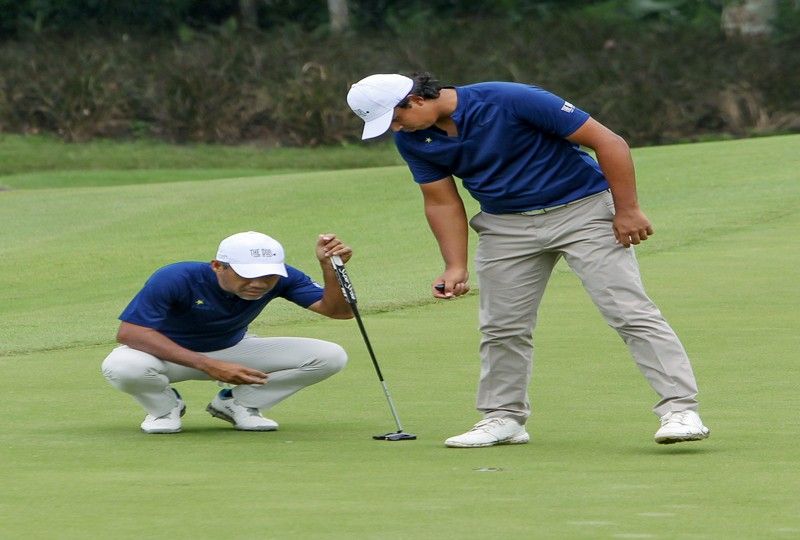 Gerald Rosales (left) and Keanu Jahns help each other out on the greens to help ensure their second straight victory for Team North.
Singles shoot-out up as North strikes back
Dante Navarro
(The Philippine Star) - November 15, 2019 - 12:00am
STA. ROSA, Laguna, Philippines — This Duel couldn't have headed to a more thrilling finish.
Stung by South in four-ball, North hit back in foursomes, hacking out its own version of a 4-2 victory to force a tie at six points and turning today's 12 singles matches into a shootout at Sta. Elena here today.
The Northerners proved better in the tougher alternate shot format event with the Keanu Jahns-Gerald Rosales and Justin Quiban-Eric Gallardo tandems, which saved the team from South's 4-2 charge in the four-ball Wednesday, sustaining their form to blast the Elmer Salvador-Reymon Jaraula and Arnold Villacencio-Rene Menor pairs, 3&2, and 4&2, respectively, and remain unbeaten in the country's Ryder Cup-style format event.
Mars Pucay and Ira Alido, meanwhile, rebounded from a four-ball defeat to Salvador and Jaraula with a 2-up escape over Zanieboy Gialon and Jerson Balasabas while Michael Bibat and Eric Concepcion likewise bounced back from their previous losses with different teammates by combining for a 4-3 victory over Rufino Bayron and Jhonnel Ababa.
That actually gave North the lead with one match left in another calm day at the well-kept par-72, 6960-yard layout. But the defending champions missed completing a big rout as James Ryan Lam and Joenard Rates blew a 3-up lead after nine holes and lost steam at the finish, enabling Tony Lascuña and Nilo Salahog to hack out with a 2-up victory, their second straight, and salvage a key point for South.
Jay Bayron and Albin Engino provided the other win for South via a 6&5 roll over Jobim Carlos and Jun Bernis.
With six points apiece in team play, the title chase comes down to individual skills with South out to exploit its edge although North has the materials to slug it out shot-for-shot and putt-for-putt with its fancied rivals in the singles tipped to go down to the last pairing.