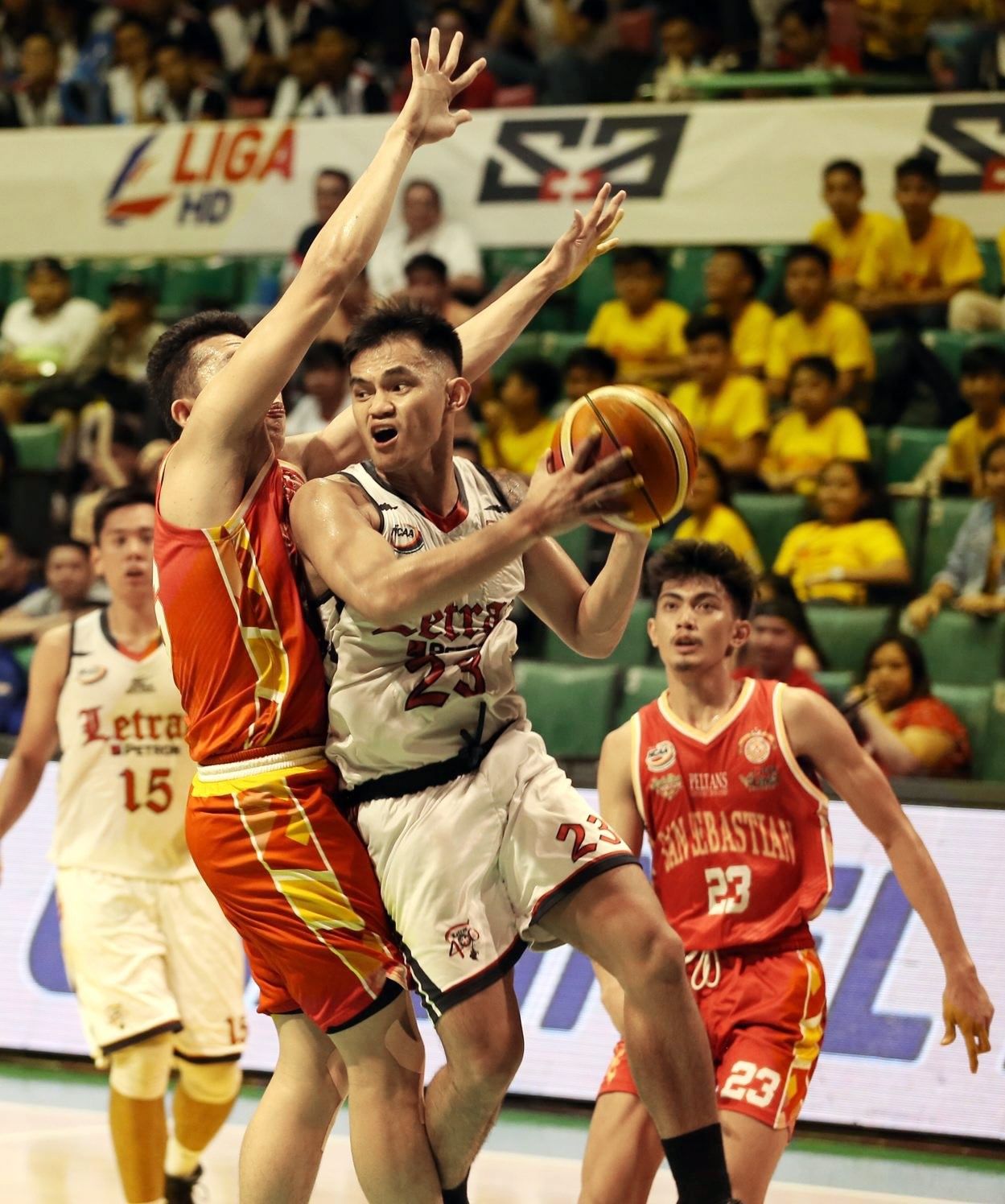 Letran's Edson Bataller looks for an open teammate in a tight spot versus San Sebastian defenders Rommel Kalahat and Ken Villapando (23). JOEY MENDOZA
It's finals or bust for LPU, Letran
Joey Villar
(The Philippine Star) - November 8, 2019 - 12:00am
Games today (Cuneta Astrodome)
1 p.m. – San Sebastian vs. LPU (Jrs)
4 p.m. – Letran vs. LPU (Srs)
Lyceum of the Philippines University looks to arrange a third straight title showdown with San Beda while Letran shoots a return trip to the finals since missing the last three as the two collide today in the second stage of the NCAA stepladder semifinals at the Cuneta Astrodome in Pasay City.
The Knights outlasted the San Sebastian Stags, 85-80, in the stepladder opener Tuesday, and hope to ride the momentum of that morale-boosting win in search of an upset of the second-seeded Pirates in their 4 p.m. tussle.
The winner of the match gets to challenge reigning three-peat champion San Beda, an automatic finals qualifier following its 18-game sweep in the elims.
Game One of the best-of-three finale is Tuesday at the MOA Arena. And Letran coach Bonnie Tan hopes to be there with his troops doing the Last Dance with the Lions.
"We've achieved the initial target of making the Final Four. Now we're going for the second one, which is to make the finals," said Tan.
Tan admitted though that it will be a tall order beating an LPU team that swept them in their two elimination-round duels, dropping the first one, 80-84, in the league opener on July 7 at the MOA Arena and the other, 90-97, last Sept. 27 at the Flying V Centre in San Juan.
"We will be making adjustments and we're also hoping to ride the momentum of our win against San Sebastian," said Tan.
Jerick Balanza, one of the four remnants of the Letran squad that bucked overwhelming odds to snare the NCAA crown four years ago, wants a title crack one final time.
LPU, which ended up at No. 2 after racking up 13 wins against five losses, is eyeing to challenge San Beda for the third straight time after two failed attempts.
And the Pirates' bid may well hinge on the health condition of Mike Nzeusseu. The 6-7 Cameroonian has been hobbled by an injury the whole season.
In juniors' action, San Sebastian and LPU go at it one final time with the winner in their 1 p.m. showdown clashing with San Beda in the finale.
The third-seeded Staglets trounced the second-ranked Junior Pirates, 85-74, Tuesday to live for another day.
The Cubs booked the first finals ticket following an 82-79 win over the St. Benilde-La Salle Greenhills Junior Blazers.