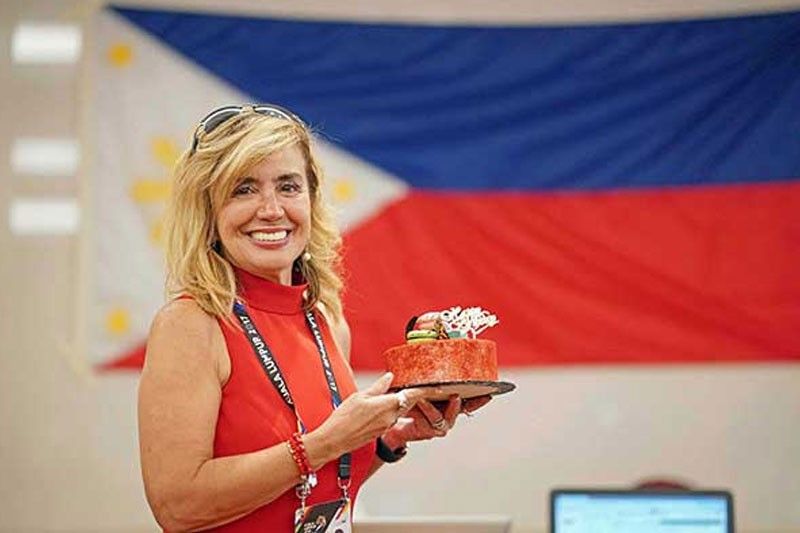 Carrion knew it all along
MANILA, Philippines — Gymnastics Association of the Philippines (GAP) president Cynthia Carrion had a strong feeling deep down inside that her protégé Carlos Yulo would clinch the gold medal in the men's floor exercise at the International Gymnastics Federation (FIG) Artistic Gymnastics World Championships in Stuttgart, Germany, last weekend.
For over three years, Yulo trained with coach Munehiro Kugimiya and therapist Jumpei Konne in Tokyo, enduring isolation to sacrifice living away from his family. He would return home only for brief trips to celebrate his birthday or take a Christmas holiday break or compete in the PNG. The training regimen took six to eight hours a day, six days a week. Carrion also arranged for Yulo to enroll at Teikyo University and it's a continuing sports scholarship.
Yulo was only seven years old when his grandfather took him to Rizal Memorial, looking for someone to check if he had a gymnast's potential because of his love for tumbling. He was a "walk-on" and for a while, the little kid was ignored until Carrion came along.
"I spotted Caloy when no one did," recalled Carrion who was in Stuttgart with Kugimiya and Konne to witness Yulo's historic feat. "I got Mune and paid him to coach Caloy for a year until the PSC, then under Richie Garcia, decided to put him on the payroll. It was a struggle as no one paid attention to gymnastics."
Carrion said the tripartite partnership of Kugimiya, Yulo and herself wouldn't take a step back. "Mune gave Caloy the discipline and skill," she said. "Caloy was determined to succeed to give his parents a better home and his passion for the sport was incredible. For my part, I provided the finances and international PR. Honestly and in all humility, without any one of us, there would be no gold or world recognition."
In the dark days, Carrion had to appeal for sponsors to enroll Yulo at Teikyo and bring Konne along for international competitions because the PSC budget wouldn't allow for a therapist. Carrion had to dig into her own pockets before sponsors started to notice Yulo. Luckily, she said the MVP Sports Foundation has been a strong ally in backing Yulo's campaign.
Now that Yulo has qualified for Tokyo with his gold finish in Stuttgart, it will end a 52-year absence by the Philippines in Olympic gymnastics. The last Olympics where the Philippines competed in gymnastics was in Mexico in 1968 with Ernesto Beren and Norman Henson. The only other Olympics where the Philippines was represented in gymnastics was in 1964 with Demetrio Pastrana and Fortunato Payao in Tokyo.
"Caloy not only needed to be physically strong and skillful," said Carrion. "He needed to be mentally, emotionally and most importantly, spiritually strong. I gave him prayers to say every day. I've been in Stuttgart since Oct. 5 and I scheduled my flight to come home after the final because I knew Caloy would be in the final."
Carrion said FIG president Morinari Watanabe of Japan has been a strong supporter of gymnasts from all over the world. Yulo was particularly singled out as the only foreigner trained by Japanese gymnastic experts. "Mr. Watanabe has never attended the Southeast Asian (SEA) Games but he will come to Manila to witness the coming SEA Games for the first time," she said. "He will be in town on Dec. 3-5 with FIG vice president Vassily Titov of Russia."
When Yulo took the bronze in the floor exercise at the World Championships in Doha last year, he promised to win the gold in the next edition. Carrion believed him and never doubted it would happen. In Stuttgart, Carrion said Yulo performed beautifully. "I was seated in the VIP section with the FIG family," she said. "When Caloy won, I felt I went to 7th heaven and back. He was ranked seventh in the 8-man competition. All the FIG officials ran to me to congratulate me. I felt like the athlete who won."
Carrion said Yulo's road to Tokyo wasn't easy but she knew his time had come. She predicted Yulo to capture the gold in Stuttgart and this early, Carrion is forecasting a gold in the Tokyo Olympics to mark the Philippines' first ever since its debut in the 1924 Games. With hopes high for boxing or weightlifting or both to bring in the country's first gold medal, it's an unexpected possibility that gymnastics could beat both sports in the race. But for Carrion, it's really no surprise.