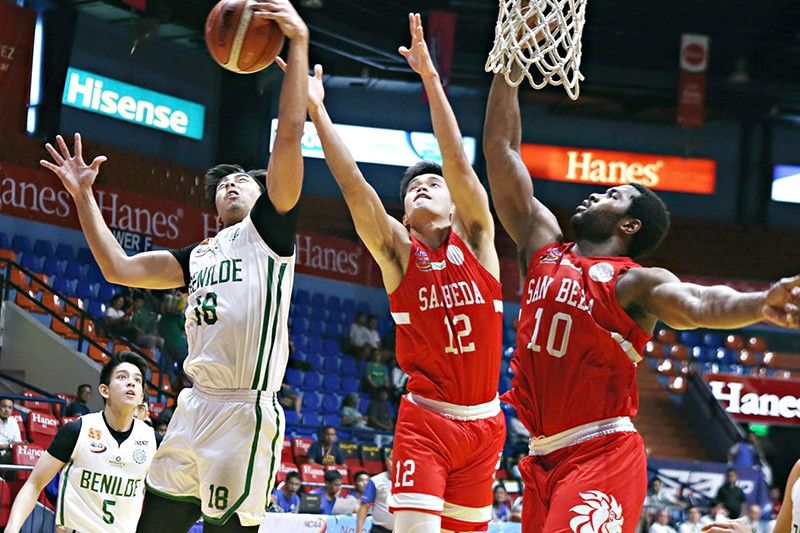 St. Benilde's Justin Gutang beats San Beda's JB Bahio, left, and Donald Tankoua in a rebound play.
Joey Mendoza
Oftana propels Lions to win No. 17
Joey Villar
(The Philippine Star) - October 11, 2019 - 12:00am
A heartbeat away from sweep
MANILA, Philippines – Calvin Oftana went on a scoring tear in the second half as San Beda overpowered St. Benilde, 95-73, to move a win shy of a double-round sweep in the NCAA basketball tournament eliminations at the Filoil Flying V Centre in San Juan yesterday.
Hit hard on the chin by CSB's Justin Gutang early in the third quarter, Oftana turned his anger to positive energy and personally torched the Blazers in an impressive scoring show to lead the Red Lions to their 17th straight victory.
The reigning three-peat titlists shoot for win No. 18 against Lyceum of the Philippines University next week.
A win and an elims sweep will automatically catapult the Red Lions to the best-of-three finale.
Gutang incurred his flagrant foul on Oftana in the last 7:24 mark with SBU trailing 45-50.
But the incident appeared to just switched on an Oftana rampage.
Oftana sparked a vicious run that turned their five-point deficit to a 72-58 lead at the end of the third. And Oftana sustained his hot pace until San Beda was already safe.
Oftana finished with a game-high 29 points, including 22 in a stretch bridging the third and fourth quarters. He also collected nine rebounds, five assists and two steals in an effort that impressed his coach.
"He really played huge for us. We really needed that run," said San Beda coach Boyet Fernandez.
CSB, which was led by Gutang's 23 points, skidded to 7-9 (win-loss).
In the second game, Mapua routed San Sebastian, 90-73, to stay in Final Four contention with an 8-8 mark.
The Stags sputtered to 9-7.