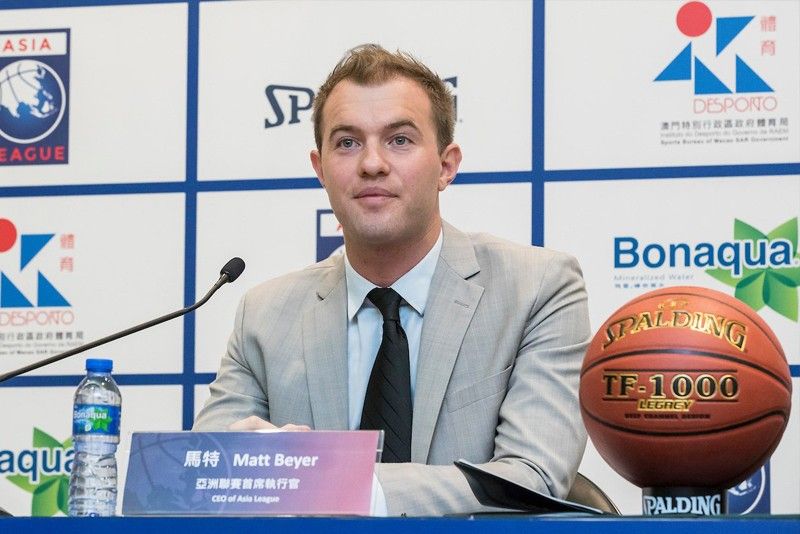 "As iron sharpens iron, so one top club sharpens another," said Beyer, a University of Wisconsin graduate of Chinese studies and journalism now living in Hong Kong.
Asia League Photo
Matt Beyer says it's no Macau vacation
MANILA, Philippines — East Asia Super League CEO Matt Beyer said yesterday every team is taking the Terrific 12 tournament seriously with no intent to enjoy a vacation in Macau as hostilities pick up on the second day of action showcasing four games at the Tap Seac Multi-Sports Pavilion.
Today's quadruple bill pits the Jeonju KCC Egis of South Korea against Utsunomiya Brex of Japan at 3 p.m., Chiba Jets of Japan against Blackwater at 5 p.m., Liaoning Flying Leopards of China against Niigata Albirex of Japan at 7 p.m. and Ryuyku Golden Kings against the Shenzhen Aviators of China at 9 p.m. Taking the day off are the Seoul SK Knights of South Korea, San Miguel Beer, Zhejiang Guangsha Lions of China and TNT.
"As iron sharpens iron, so one top club sharpens another," said Beyer, a University of Wisconsin graduate of Chinese studies and journalism now living in Hong Kong. "The top professional clubs from China, Japan, South Korea and the Philippines have all assembled their star local and foreign players to compete for lucrative cash prizes and the Terrific 12 crown. We're thrilled to host so much talent, including nine national team players who just competed at the FIBA World Cup in China and nine former NBA foreign imports spread across the participating teams."
Beyer described the FIBA-sanctioned Terrific 12 as "the premier pre-season tournament event of the summer." Beyond the yearly Terrific 12, Beyer plans to organize an eight-team East Asia Super League starting in September next year with two slots allotted for PBA teams to join the home-and-away competition that will feature a "low-impact" schedule of a game a month. The East Asia Super League champion will pocket the first prize of $1 million.
Aside from jousting on the court, Beyer said teams will also get a chance to experience Macau during the six-day Terrific 12 tournament. "We want teams to enjoy their stay, see some local sights and enjoy Macau," he said. "But don't get us or them wrong. They're here to play, compete, put on a show for fans and go for the title. This is no vacation." There will be a one-day break on Friday before the semifinals begin.
"Our latest practice went until 10:30 p.m. last Monday," said Beyer. "Teams are eager to compete and have come to win. In fact, some teams opted to arrive a few days early and get adjusted. Every team has been trying to schedule more and longer practices."
Beyer said ticket sales are brisk. "The local response has been incredible," said Beyer. "So many fans have been greeting us and players. We have huge NBA stars like Lance Stephenson and the PBA teams have drawn huge crowds of passionate fans even for arrival alone. Tickets have sold extremely well and we're expecting some great stadium atmosphere."
Fresh from seeing action at the FIBA World Cup, the national players in Macau are China's Sun Minghui of Zhejiang, Japan's Kosuke Takeuchi and Makoto Hiejima of Utsonomiya, South Korea's Choi Jun-yong and Kim Sun-hyung of Seoul. the Philippines' June Mar Fajardo, R. R. Pogoy and Troy Rosario and Tunisia's Salah Mejri of Liaoning.
San Miguel team manager Gee Abanilla said Fajardo is in the Beermen lineup but it's a day-to-day assessment if he'll play. "June Mar's ankle is still swollen from his injury in the World Cup," said Abanilla. "Marcio (Lassiter) is also with us in Macau but he's continuing his rehab."