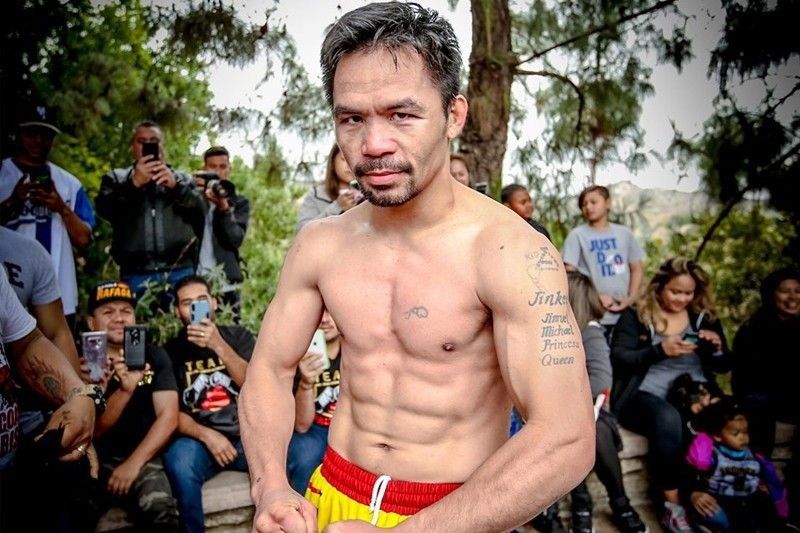 Sen. Manny Pacquiao
Manny Pacquiao FB Page
Either Garcia in line for Manny
MANILA, Philippines – It appears that either Danny or Mikey Garcia is in line to fight super WBA welterweight champion Sen. Manny Pacquiao with the bout likely to be held in Las Vegas in March or April next year.
That's the word from MP Promotions head Sean Gibbons who left Manila for the US last Monday and is busy working on several world title matches for Filipinos. Gibbons said if given the choice, he prefers Mikey over Danny to battle Pacquiao who's coming off a win over Keith Thurman by split decision to unify the WBA super and regular welterweight titles in Las Vegas last July. The Garcias aren't related.
Pacquiao, 40, would rather take on unbeaten Floyd Mayweather Jr. in a much-awaited rematch but it takes two to tango and the Money Man has so far not answered the call. Mayweather, 42, has dropped some subtle hints that he's thinking of facing Pacquiao once more. However, nothing official has come out of Mayweather's camp. Maybe, after Pacquiao's next fight or when his bank account needs another big deposit, Mayweather will be ready to rumble.
Meanwhile, there is talk that Mayweather will be back in action early next year in China and a press conference is reportedly set this Wednesday to confirm it. "The details are not 100 percent confirmed yet," said The South China Morning Post, quoting a spokesperson for the exhibition. "We are in the process of negotiating details with Mayweather's management. The match aims to enhance the friendship between two powerful nations through boxing."
The Hong Kong newspaper said Mayweather's latest comeback may not involve Pacquiao. The Filipino ring icon's convincing win over Thurman could have influenced Mayweather to look the other way. "Pacquiao reconfirmed himself as the No. 1 welterweight on the planet," said The Post. "But the win may not have been a good thing in regards to Mayweather. Performing so well could have been the catalysts for Mayweather deciding on a China exhibition rather than a money-spinning pay-per-view rematch."
Without Mayweather in the picture, Pacquiao may take on either Garcia. Whether it's Danny or Mikey, the fight has the makings of another barn-burner. Both are 31, former multiple world champions and tough-as-nails. Danny has a 35-2 record, with 21 KOs and started his career on a 33-0 surge. His biggest paycheck was for $2 million in losing to Thurman in 2007. A fight against Pacquiao should deliver a higher purse. Aside from Thurman, Danny has battled three other former Pacquiao opponents and beaten them all – Brandon Rios, Lucas Matthysse and Erik Morales twice.
Born to Puerto Rican parents, Danny learned how to box when he was 10. His father Angel was a former boxer. Danny posted a 107-13 record as an amateur before turning pro. He has held the WBC/WBA lightwelterweight and WBC/WBA welterweight titles. Danny is now the WBC silver welterweight champion. His all-time boxing idol is Puerto Rican Carlos Ortiz who twice defeated Filipino legend Flash Elorde.
Mikey totes a 39-1 record with 30 KOs. He's the former WBO featherweight, WBO superfeatherweight, IBF/WBC lightweight and IBF superlightweight champion. His brother Robert is a well-known boxing trainer and former IBF superfeatherweight titlist. His father Eduardo was former world champion Fernando Vargas' trainer. A switch-hitter, Mikey is two inches shorter than Danny at 5-6 and is coming off a loss to IBF welterweight king Errol Spence on points last March. His only common opponent with Pacquiao is Adrien Broner. Mikey has fought one Filipino in his career, Bernabe Concepcion whom he stopped in seven rounds in Puerto Rico in 2012.
Paul Wheeler of London's Boxing News described Danny as "an intelligent and composed punch-picker who connects with well-timed counters." He added, "Danny employs a fine jab which he tends to follow up with effective body shots…his honey punch is undoubtedly his devastating left hook…Garcia is primarily a sharp boxer-puncher (with) one-punch power."
Mikey's dream is to be recognized as one of the best in the business. "I've won world title belts across four different weights," he said, quoted by Chris Walker in Boxing News. "Titles and money are great when you haven't had either but for now, I just want to be recognized as the finest fighter on the planet. It's all about my legacy from this moment on. They all said that Broner being the bigger man would level things out against me and I hardly lost a round in that fight and I still had a lot left in me at the end. There was never any big plan to one day be a welterweight but boxing isn't really a sport where you can plan five or 10 years down the line. There's no way I can get back down to superfeather and welter is definitely my limit in the other direction."