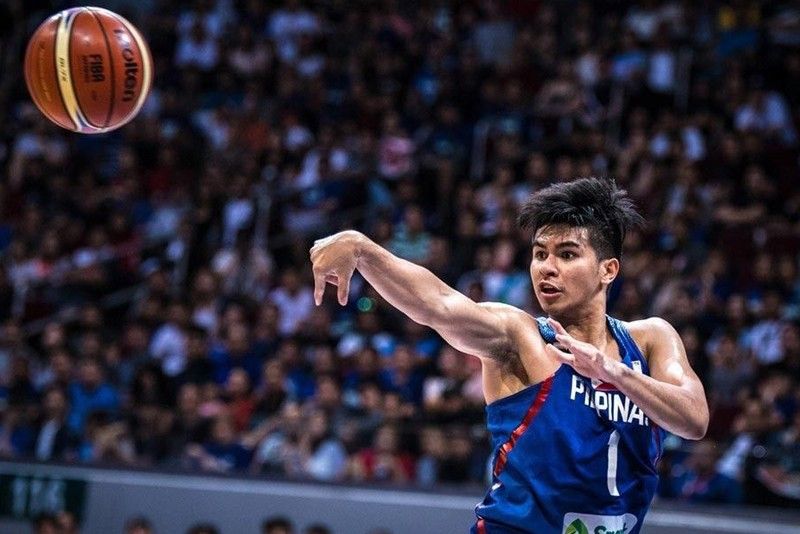 Kiefer Ravena, 25, is coming off an 18-month suspension by FIBA for unwittingly taking a performance enhancer contained in an energy drink.
File
Kiefer Ravena optimistic Gilas future
FOSHAN – Gilas point guard Kiefer Ravena said the other day the Philippines can still recover to become No. 1 in Asia despite the spate of setbacks in the FIBA World Cup but it will take a protracted period of training to reach the high level of competitiveness that is evident at the global stage.
Ravena, 25, is coming off an 18-month suspension by FIBA for unwittingly taking a performance enhancer contained in an energy drink. Although Ravena did not know that the drink he consumed had a prohibited ingredient, FIBA meted out the sanction for testing positive in a urinalysis. Ravena's transparency during the FIBA investigation and involuntary consumption resulted in a reduced sentence.
Ravena played in two of the six windows of the FIBA Asia/Oceania World Cup Qualifiers before the suspension. He had 13 points, two rebounds and five assists in the Philippines' 89-84 win over Japan in February last year. His suspension ended last Aug. 24 and he played only two practice games, one against the Australian club Adelaide and one with his PBA team NLEX, before heading to Foshan.
"I think we'll be No. 1 in Asia again," said Ravena. "We just need to be together for a long time in terms of the national team." Looking for candidates to replace Andray Blatche as the team's naturalized player is an immediate priority to prepare for the 2023 FIBA World Cup that Manila will co-host with Jakarta and Okinawa.
"I'm not sure if Kuya Dray will still play for us in 2023," said Ravena. "We owe a lot to him. He brought us to two World Cups and led us in the Qualifiers. Kuya Dray has done a lot for our country. We're very grateful for his sacrifice and hard work. But we should look at candidates for our next naturalized player as soon as possible. What kind of player to recruit will depend on the makeup of our team. If bigs like Kai Sotto, A. J. Edu and Carl Tamayo join, maybe we can get someone who can play three or four. It's difficult to foresee who'll be available in 2023. We should also determine whom among today's players will stay and whom we can recruit for the future."
Ravena said he has learned a lot from the World Cup. "It's two or three notches higher than what we're accustomed to," he said. "The World Cup has NBA and other world-class players with tons of international experience. We're learning from them, both individually and as a team. We're expanding our knowledge. We're getting better game after game. That's why we're here, to improve as a team. Ideally, we should prepare much longer but there are things that are not under our control. For 2023, we should plan for more international exposure so we can get the confidence and experience of playing with different countries. It's never too early to start."
Ravena said finally ending his suspension was a relief. He wasn't allowed to participate in any basketball-related activity and couldn't even be in an arena where a game was being played. "I'm very happy that I'm able to play for the national team again," he said. "Playing for Gilas is special because this is for our country and our countrymen."
On Gilas' performance in the World Cup, Ravena said it's nothing to be ashamed of. "We gave our best," he said. "Against Angola, we were down by 12 in the fourth quarter but we didn't give up. The Filipino crowd got really behind us and it was like playing at Araneta or MOA. We could've won it in regulation. But Angola is not an easy team to beat, they're the long-time African champions. I just feel bad that we couldn't make our countrymen happy. I also feel bad that even before coming to China, bashers and haters weren't giving us a chance and they're our kababayans. I only wish they knew what we go through, the hardships and sacrifice to play for our country."
Ravena was downcast and wept after the loss to Angola. "It was an emotional game," he said. "We were close to winning it." Angola, an 11-time African titlist from 1989 to 2013, had a big edge in experience with a nucleus that has played in the Olympics and previous World Cups. One of its players Eduardo Mingas is playing in his fifth World Cup. Despite the long years of experience, Angola nearly bowed to a Gilas team that had only a week of preparation with a full roster.