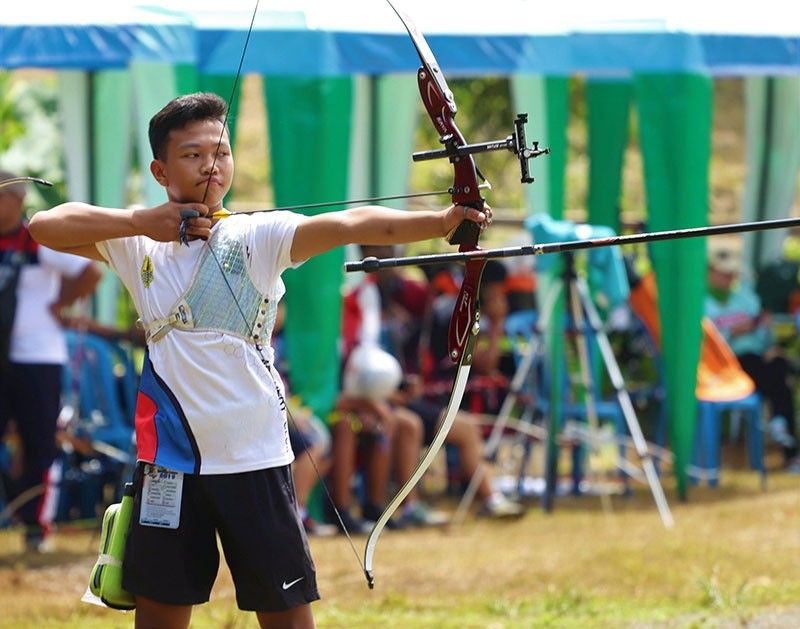 Igot hits superb mark with 8 golds
Joey Villar
(The Philippine Star) - August 31, 2019 - 12:00am
PUERTO PRINCESA, Palawan – Aldrener Igot Jr. of Cebu City swept all eight archery golds to come out as the best individual performer even as Baguio City unleashed a juggernaut in martial arts in the Batang Pinoy National Finals at the Ramon V. Mitra Sports Complex here yesterday.
The eagle-eyed Igot joined forces with Khalil Jasper Abella and Kien Zhyron Torreon in turning back General Santos' Renato Joaquin, Nino Gleam Sabile and Allyson Quiepo in an exciting shootout for the boys' team gold in this event organized by the Philippine Sports Commission and backed by Milo.
Igot then teamed up with Densil Shane Dinopol in waylaying Dumaguete's Matt Charrid Bajado and quintuple gold-medal winner Naina Dominque Tagle, 6-2, in the mixed finals to complete a magnificent sweep.
The earlier golden efforts by the eight-grader from Don Carlos A. Gothong Memorial School came from the 20m, 30m, 40m, 50m FITA and Olympic round.
Baguio, for its part, scooped 14 golds in wushu and another 10 in Muay Thai to virtually run away with their second overall title with a current haul of 48 gold, 36 silver and 51 bronze medals, leaving the rest including Cebu City in the dust.
Cebu, which led in the first few days, was left a distant second with a 27-22-29 (gold-silver-bronze) haul and will need to fend off spirited challenges by Quezon City (22-22-21), Davao City (21-23-22) and Pasig (18-19-16), which were at second to fifth places, respectively, going into today's finale.
Baguio sourced its wushu triumphs from Aleca Dumseng (female 1st set chang quan, female 1st set qiang shu and female 1st jian shu), Andrei Albert (male 1st set chang quan, male 1st qiang shu/gun shu and male 1st set dao shu), Alyna Lomibao (female 1st set nan quan and female 1st set nan dao), Verah Dulay (female 24 taiji quan), Hans Lubguban (male 24 taiji quan and Male 32 taiji jian), and Carla Tilap (female 32 taiji jian).
Jether Bab-Anga (10-11 30kg), Azreal Duping (10-11 34kg), Charlwayne Bannagao (10-11 38kg), Larstephen Canedo (12-13 44kg), Edel Ali Ngina (12-13 46kg), Aira Nicole Mendoza (12-13 38kg), Krisna Malecdan (12-13 40kg), Francine Jade Velasco (14-15 38kg), Maria Isabel Malijana (14-15 42kg) and Ashlene Malecdan (14-15 54kg) accounted for its Muay Thai wins.
Dasmarinas, meanwhile, continued to lord it over in chess – thanks to victories by Michael Concio and Jerlyn Mae San Diego in the premier 13-15 standard events.
Gladimir Chester Romero of Tanauan City snatched the boys' 12-under gold by emerging with the highest tiebreak over Olongapo's Elijah Josh Opriasa and Panabo City's James Catayas. They ended up with four points apiece.
Matthew Justine Hermosa and Jeanna Mariel Canete delivered two golds for Talisay in the triathlon event that was reduced to an aquathlon race after the bike route was deemed unplayable due to muddy fields.
In taekwondo, Nueva Ecija took three golds in the kyorugi events thanks to Sharifa Dela Cruz (junior women bantamweight), Jusztene Buan (junior men fly), and Juliana Dela Cruz (light middle).
In arnis, Cebu grabbed three from Clifford Tonilon (Cadet A boys heavyweight), Mary Fhaline Caballero (Cadet A girls heavy), Albert Estrera (Cadet B boys heavy), and Crystal Bowman (junior girls bantam).