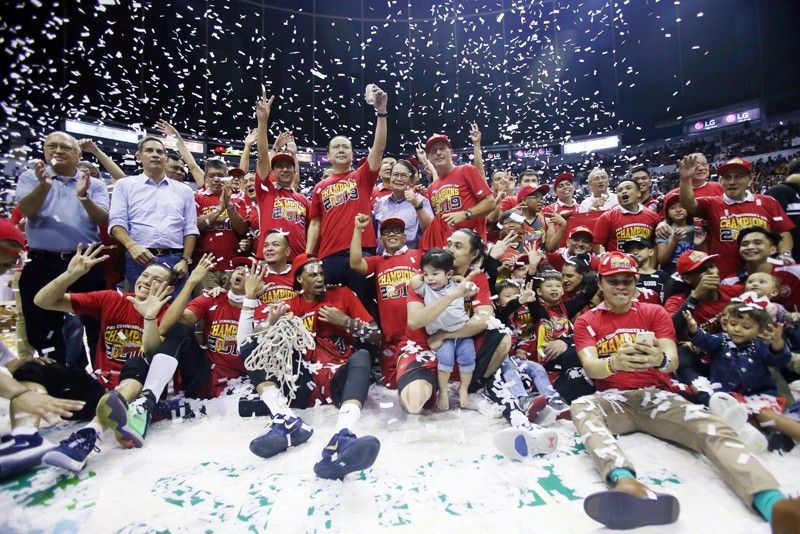 The SMB Beermen whoop it up after clinching the PBA Commissioner's Cup crown at the expense of TNT KaTropa last Friday. Joining the celebration are PBA chairman Ricky Vargas, SMC sports director Alfrancis Chua and PBA board of governors members Al Panlilio of Meralco and Rene Pardo of Magnolia.
Joey Mendoza
'Nowhere to go but grand slam'
Olmin Leyba
(The Philippine Star) - August 18, 2019 - 12:00am
MANILA, Philippines — With two-thirds of the job done, triumphant San Miguel Beer can't veer away from discussions on winning the grand slam in the 2019 PBA season.
The five-peat Philippine Cup champion annexed the Commissioner's Cup tiara after a 4-2 toppling of No. 1 TNT KaTropa Friday night. Now, they only need to win the season-ending Governors Cup to pull off the rare golden treble.
"Well, wala nang pupuntahan kung hindi doon (There's nowhere to go but the grand slam)," said SMB coach Leo Austria after his charges became the lowest seed at No. 7 to win it all.
The Beermen will shoot for the missing third jewel with NBA G League and Italian league veteran Dez Wells as import.
"We're targetting another championship in the third conference and if we win that, we'll get a grand slam as a bonus. Yan ang ina-aspire ng San Miguel fans, San Miguel management and it will really be an honor kung makukuha ito (if we achieve this). But like I said, it will be really hard. We have to take it one game at a time. A lot of teams are really competitive and we're always the target of teams in the PBA," he added.
Austria has won his eighth title in nine finals appearance, becoming the No. 5 all time among the PBA coaches.
But a triple crown, that has only been achived five times in the PBA, one by SMB in 1989, has eluded him. He came very close two years ago but things fizzled out in the season-ender.
"This is our second chance. Last time in 2017, we won the first and second conferences but unfortunately we didn't have a very good import in the third. This time, we're looking to get a good import who can match up with our opponents' import because the import really matters as shown in this conference," said Austria.
Chris McCullough fit that bill in the Commisisoner's Cup, showing he could match up well with TNT's super import Terrence Jones and leading the team to victory. McCullough came in late, replacing original import Charles Rhodes as SMB struggled with a 2-5 record, and sparked San Miguel's resurgence.
"He missed our first seven games and I thought that was the turning point. After our humiliating (36-point) loss to Magnolia (in the elims), I recruited Chris McCullough and just in time, he saved us and helped us a lot in this campaign," said Austria.
McCullough won't call himself the "savior."
"Not at all. I just came in and helped the team. That's it," said the former NBA player, who had boldly declared after Game 5 that "we're going to win this."
This latest conquest proved one of the hardest for Austria.
"Our journey to the finals and the championship is like a roller-coaster and we never thought we could still make it to the playoffs. One loss (in the quarterfinals), we're already out and we're able to make it despite facing a twice-to-beat team. The players really worked hard. They knew what's at stake in this conference," said Austria.