Thurman reissues rematch challenge to Pacquiao: 'Sign the contract, Pac!'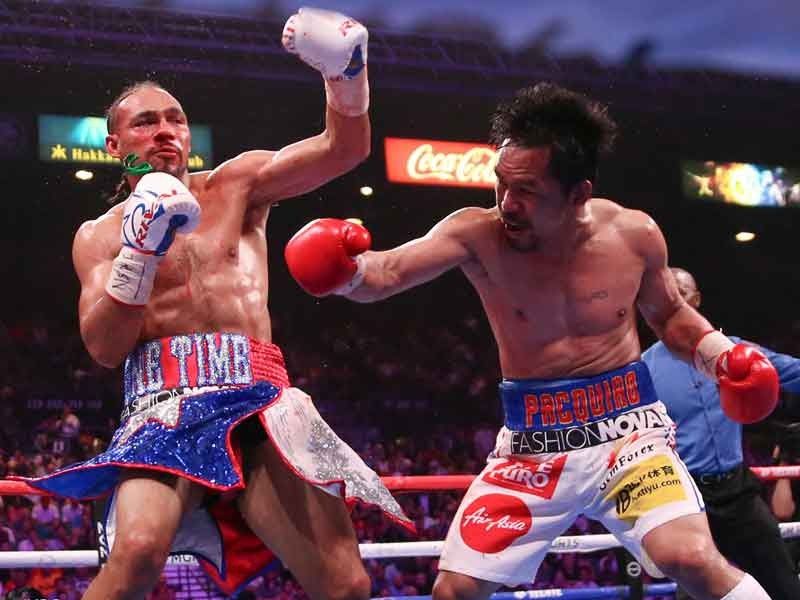 MANILA, Philippines – Keith Thurman insists he wants another shot at Manny Pacquiao.
A few weeks after their barnburner of a fight in Las Vegas, the now former WBA "super" welterweight champion said he has recovered and has trained his sights at a rematch with the Filipino icon.
"We've been good man. I'm ready for the rematch," Thurman recently told TMZ Sports.
Pacquiao came away with Thurman's title with a split-decision victory last July 21 at the MGM Grand in Las Vegas, knocking down the defending champion in the first round and having him in trouble in the later rounds.
But Thurman gave a solid account of himself, hitting Pacquiao with the most number of power blows — a total of 192 — in 43 Pacquiao fights that punch tracker CompuBox had monitored.
Even Pacquiao conceded that Thurman was his toughest opponent in a while, likening the Clearwater, Florida-based hitter to the similarly heavy-handed Antonio Margarito.
Many pundits believe the scoring gap should have been wider in favor of Pacquiao, but Thurman disagrees.
"I know it was hell of a close and sometimes it's a coin toss. It might be 50-50. But you know you gotta pick heads or tails, you know what I mean?" he continued.
"You know, I got a lot of respect for him. I still think that the fight was nothing more than a draw. You know, I don't really think that he won the fight."
Thurman said he is even willing to go to the Philippines to talk to Pacquiao in person about doing it again.
"I might have to go fly down there," he added.
Pacquiao is expected to take the rest of the year off and will likely return to the ring early next year. He will not run out of opponents, given a resurgence is his popularity and the career-high paydays he presents to those in the opposite corner.
Thurman, for his part, is ready, willing and able.
"I'm ready for the rematch, man. Yeah. Aw man, you know he just got off at a good start, I was behind and he just was a little bit calmer than I expected the Manny Pacquiao to be you know?" he said.
The ball, Thurman stressed, is now in Pacquiao's court.
"Where's the contract, Pac? Sign the contract."