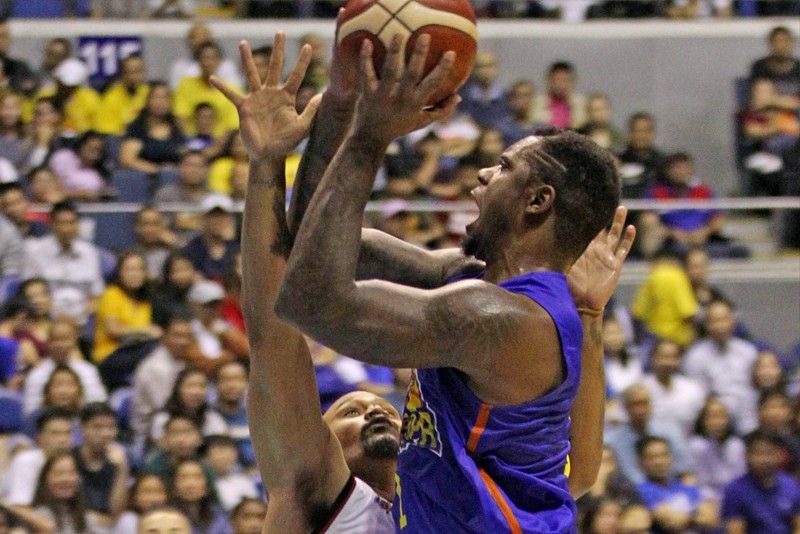 Terrence Jones of TNT KaTropa muscles his way against Kelly Nabong of SMB during Game 1 last Sunday.
Jun Mendoza
Stop Terrence Jones if you can
Olmin Leyba
(The Philippine Star) - August 6, 2019 - 12:00am
TNT message to SMB
MANILA, Philippines — There's one major question for San Miguel Beer that's begging for an answer in the PBA Commissioner's Cup finals against TNT KaTropa: How do you stop Terrence Jones?
The Beermen tried hard in Game 1, throwing defenders of all shapes and sizes from big men Christian Standhardinger, June Mar Fajardo and Kelly Nabong, to forward Arwind Santos to guard Chris Ross, but Jones still torched them with 41 big points and hauled down 12 rebounds.
When not shooting, Jones set up their gunners for long-range bombs or unmolested layups, getting eight assists for the night and lacing his performance with three blocks and deflections and intimidation in the defensive end.
The result was an emphatic victory for the hot-shooting KaTropa in the series opener, 109-96.
"As usual it's their three-point shooting that killed us. We have to contain, limit their outside shooting. But the problem is they have Jones. He really took over," said SMB coach Leo Austria.
Against SMB's defense, the TNT import knocked down 14 of his 23 shots, making four of his seven tries from beyond the arc. Four locals backed him up with twin-digit production in Jayson Castro (20), Troy Rosario (16), RR Pogoy (13), and Don Trollano (11), making it doubly difficult for the Beermen.
"He's really good. He brings a lot to their team, points, assists, defense, and rebounds," said Santos, one of the assigned Jones-stoppers.
"We have to choose: Do we like Terrence Jones to score 50 points but at the same time, limit their locals or do we try to contain Jones and allow their locals to take the burden? What happened was, Jones played well and their locals played well," he added.
Physicality was in play in defending Jones and both SMB and TNT expect pretty much the same in Game 2.
"That's pretty much the only thing that you know teams try to do to make me not be as aggressive on offense, so you know, it comes within the game and I'm ready for it," said Jones.
He had a run-in with Ross in one sequence, where he was called for an offensive foul for swaying his elbow to the latter's face.
"This is the championship so I'm definitely emotional as well. I love to play the game. I want to win. I'm here to not let anybody punk me but I'm definitely trying to stay calm and poised to make sure I stay in the game for my team," he said.
Ross accused Jones of purposely going after his nose.
"Those certainly aren't basketball plays. If we're going to play basketball, we'll play basketball. If you want to play dirty, we'll play dirty, too. We'll take note of that going to Game 2," said the SMB guard.
With a relatively longer time to prepare between games, the Beermen hope to get a solution to the Jones problem tomorrow.
"If you're up against someone so good, you want to stop him so bad, sometimes, you'll consider roughhousing. But we'll see in Game 2," said Santos. "Whoever will be tasked to match up with him defensively will really do everything to stop him."