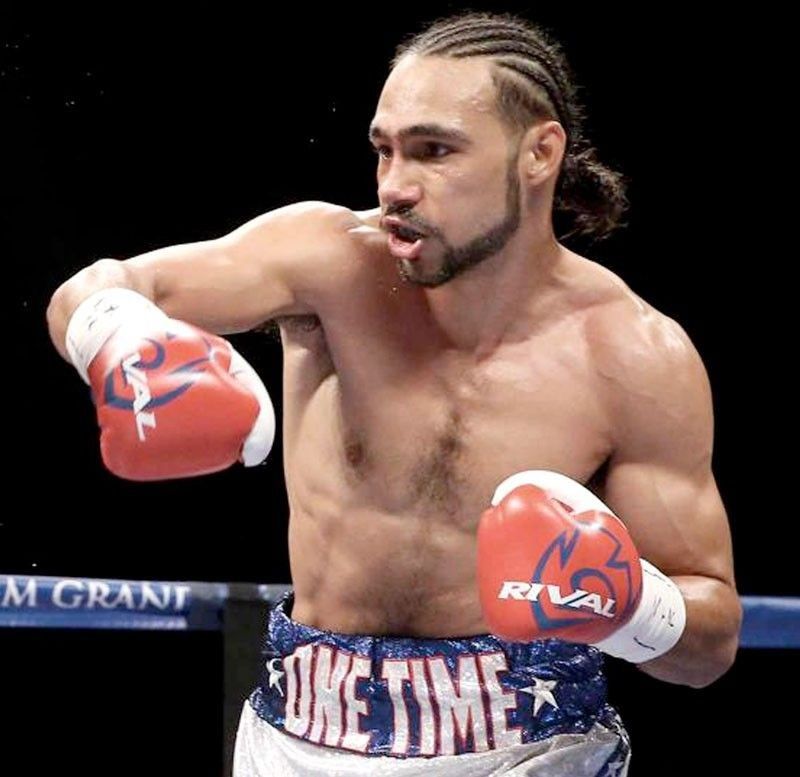 Thurman's defining fights
SPORTING CHANCE
-
Joaquin M. Henson
(The Philippine Star) - June 7, 2019 - 12:00am
"Super" WBA welterweight champion Keith Thurman lists several quality victims in his resume but the fights that cemented his claim to stardom were his wins over Shawn Porter, now the WBC titleholder, and two-time world ruler Danny Garcia. He beat Garcia on a split 12-round decision at the Barclays Center in Brooklyn in May 2017 and defeated Porter on a unanimous 12-round verdict, also at the Barclays Center, in June 2016.
However, neither Garcia nor Porter is in "regular" WBA welterweight king Manny Pacquiao's class. So Thurman may be in over his head when he battles Pacquiao in a WBA ultimate unification duel at the MGM Grand Garden Arena in Las Vegas on July 20.
Thurman's bout against Porter was postponed three months after he was involved in a car accident and suffered a whiplash. When it was finally staged, Thurman hardly looked like someone who was forced to stay away from the gym for six weeks. He promised a knockout but couldn't get it done. Porter was tougher than he expected.
The fight was a barnburner with both Thurman and Porter blasting away from start to finish in a war of attrition. Pacquiao's chief trainer Buboy Fernandez said he has studied the fight closely, trying to figure out how to break down Thurman's style. One thing Fernandez noticed was Thurman's tactic of fighting off the ropes. Against Pacquiao, Fernandez said it will be suicidal for Thurman to use Ali's rope-a-dope trick.
It was in the second round where Thurman put his back on the ropes and invited Porter to come in. Boxing News writer Jack Hirsch said Thurman later claimed it was by design. "Whether it was or not, the strategy backfired," wrote Hirsch. "Porter had him where he wanted him and went to work. Not that Thurman didn't have his moments while backed up. He countered with a right off the ropes in the third which hurt Porter who quickly came back with a hard blow of his own."
Porter exposed Thurman's vulnerability in the midsection as his body attack began to take its toll in the eighth round. "Porter's body punches were starting to make (Thurman) hold a little more in the eighth," observed Hirsch. "In the ninth, Porter appeared to shake up Thurman a couple of times and cut him in the process. In round 10, a left hook nearly dropped Porter. Thurman did more in the 11th and they both received a standing ovation as they touched gloves for the last round."
Judges Eric Marlinksi, Waleska Roldan and Steve Weisfeld concurred in scoring it 115-113 for Thurman who retained the WBA title. Thurman said the key to his victory was defense. The fight displayed his warrior mentality and durability to withstand a furious pace for 12 rounds. That's the reason why Fernandez said Pacquiao will work on speed and stamina in training camp. It's also why Pacquiao's strength and conditioning coach Justin Fortune said he's got to be 100 percent to beat Thurman.
Against Garcia, Thurman got off to a fast start. He hurt Garcia early with an overhand right. But starting the second round, Thurman wasn't as aggressive, probably realizing he couldn't risk an all-out war against Garcia. It became a tactical contest. Garcia obviously targeted Thurman's weak spot – the body – but as he charged in to attack downstairs, a left hook waited to stop him in his tracks. Late in the 10th, Thurman was shaken up by body blows and walked back to his corner slowly, like he had a load on his shoulders. Thurman didn't do much in the 11th as he faded badly down the stretch.
Judge Joseph Pasquale scored it 115-113 and judge John McKaie 116-112, both for Thurman while judge Kevin Morgan had it 115-113 for Garcia. Thurman said he eased the pressure in the late rounds because "I felt I had a nice lead (and) my defense was effective, he wasn't landing." It could've been Garcia's body assault that sapped the energy out of Thurman.
The WBA promotes its world champions to the "super" category if he has made at least five successful defenses or if he holds a world title of another governing body like the WBC, IBF or WBO. In Thurman's case, he won the WBA interim crown in 2013, retained it thrice, became the "regular" champion and later the "super" beltholder after six successful defenses of both the interim and regular titles. Pacquiao has made only one defense of the "regular" WBA crown he wrested from Lucas Matthysse last year. If and when he defeats Thurman, Pacquiao will be the new "super" WBA champion in the 147-pound division.