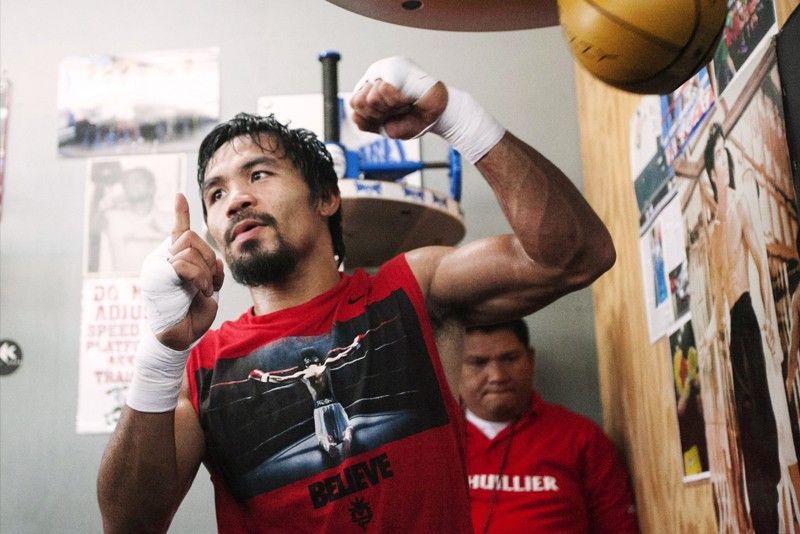 Pacquiao, Thurman face to face
MANILA, Philippines — Filipino boxing icon Manny Pacquiao and fellow WBA welterweight champion Keith Thurman, scheduled to lock horns on July 20, will have enough time to get to know each other.
The two fighters are currently in New York for a photo shoot scheduled Monday (today in Manila) and the kick-off leg of a whirlwind two-city press tour Tuesday at the Gotham Hall of the Big Apple.
Then on Wednesday, they will face members of the press at the iconic Beverly Hills Hotel in Beverly Hills, California.
Pacquiao, the senator, will board the evening flight back to Manila to try and catch the Senate sessions, which resumed yesterday.
While in New York and Los Angeles, Pacquiao, the WBA "regular" champion, and Thurman, the WBA "super" champion at 147 points, will sell their pay-per-view bout.
The venue has yet to be decided although Las Vegas, boxing's capital, remains as the most logical choice.
Pacquiao flew out of Manila Sunday evening, joined by his Filipino trainer, Buboy Fernandez, and just a handful companions. They landed at the JFK International Airport after 16 hours.
The 40-year-old Filipino was mobbed at the airport, mostly by Filipino fans, an indication that he remains a hot commodity in the sport that hasn't lost its appetite for big fights.
Pacquiao is at the final bend of his long and colorful career, and at his age, is just trying to stretch his years inside the ring, and prove that he remains in the elite circle.
Both boxers are coming off big wins last January – Pacquiao over Adrien Broner and Thurman over Joselito Lopez.
The victory over Broner was a big followup to Pacquiao's seventh-round knockout win over Argentina's Lucas Matthysse in Kuala Lumpur on July 15, 2018. It was Pacquiao's first KO win in nine years.
Thurman is 10 years younger, and remains undefeated with 29 wins and 22 knockouts. Observers say that the native of Clearwater in Florida has never been in the ring with a fighter of Pacquiao's caliber.
In the next few days, they will spend time under one roof.
It's time to size each other up.