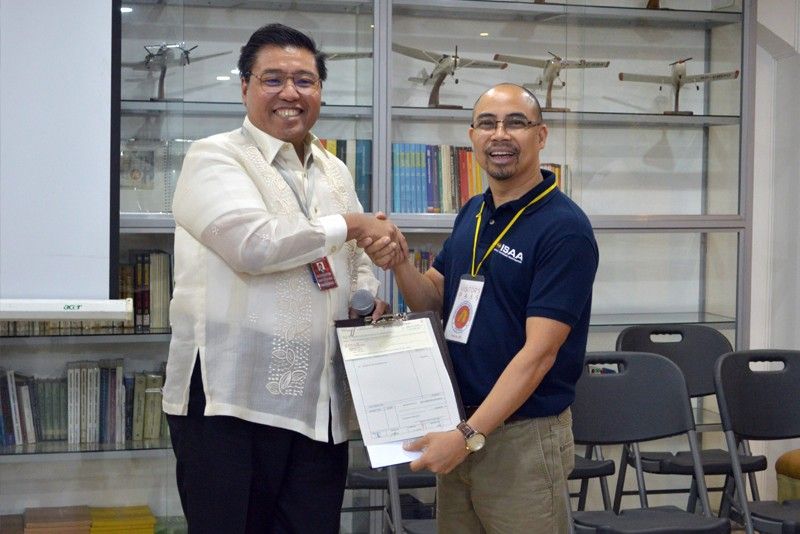 Atty. Gomeriano Amurao (left), president and CEO of ALIAC, together with Ruel dela Rosa, president of ISAA.
Air Link becomes 12th member of ISAA
(The Philippine Star) - May 21, 2019 - 12:00am
MANILA, Philippines — Air Link International Aviation College (ALIAC) Phoenix formalized its entry to the the Inter-Scholastic Athletic Association (ISAA) for its 11th season, the school announced on Friday.
ALIAC will be the 12th member of the growing ISAA family which is set to open on September at the Mall of Asia Arena Pasay.
The ALIAC squad will be joining FEATI, Immaculada Conception, La Consolacion College, Manila Adventist, Tytana Colleges, Patts, Philippine Women's University, St. Dominic College of Asia, Taguig University, Treston and Trinity University of Asia to complete the 12 schools competing for the ultimate prize this season.
No less than ISAA president Ruel dela Rosa welcomed ALIAC to their ever-growing family.
"On behalf of the board and members of the ISAA, it is with pride and with heartfelt gratitude that we welcome ALIAC in the ISAA," said Dela Rosa.
"I am very overwhelmed by the aspirations and expectations of the ALIAC with regard to the ISAA," he added. "I hope that we will not fail you as well."
For ALIAC, they vowed to exceed expectations as they look to make an immediate impact in the bustling league.
"We encourage our bright athletes to exude qualities of a sportsman and the spirit of fair play as they display their athletic skills in the arena of friendly competition," said ALIAC president and CEO Atty. Gomeriano Amurao.
"Hopefully we'll be deserving of ISAA's thrust and support not only today but in the years to come," he added. "We are praying that ISAA's thrive increases the 'aliah' spirit in the hearts of the ALIAC community."