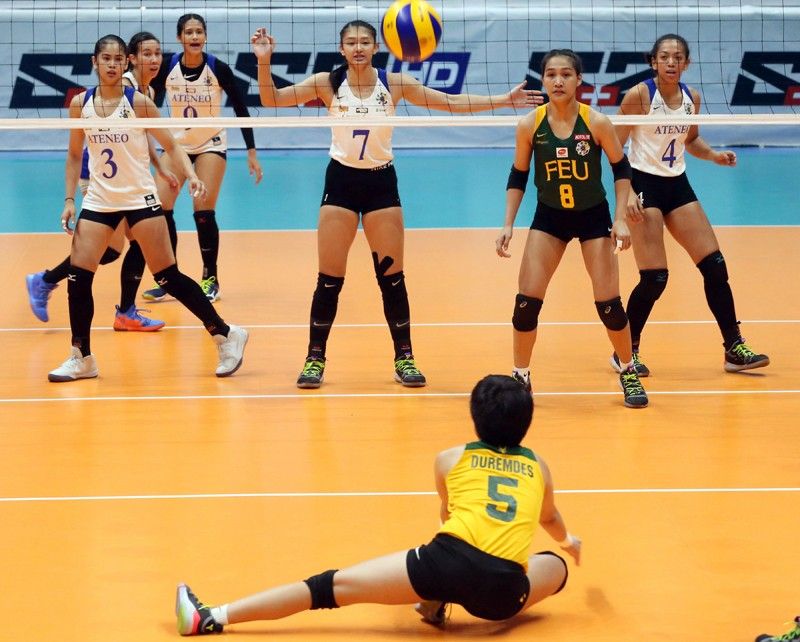 Beatriz Duremdes (No. 5) of Far Eastern University faces Ateneo defenders Deanne Wong, Miren Gequillana, Monique Gaston, Madeleine Madayag and Julianne Samonte in the opening set of yesterday's do-or-die contest.
Ernie Pen?aredondo
Lady Eagles arrange title clash with Tigresses
MANILA, Philippines — Top seed Ateneo got derailed but stood unfazed, dumping Far Eastern U, 25-20, 21-25, 25-23, 25-14, to advance to the finals in the UAAP Season 81 women's volleyball at the Filoil Flying V Centre in San Juan yesterday.
Stripped of their win-once semis advantage after falling to the No. 4 Lady Tamaraws Saturday, the Lady Eagles were unshaken in the winner-take-all match as graduating middle blockers Maddie Madayag and Bea de Leon, Ponggay Gaston and Kat Tolentino took turns in towing the squad to the title round.
Ateneo set up a Last Dance with No. 2 seed Santo Tomas, which, in contrast, used its twice-to-beat edge to the hilt in dethroning defending three-time champion and No. 3 La Salle in five sets in their side of the Final Four clash last Sunday.
"The whole time, every message we had was just trust in the Lord and His plans. Today, I just kept praying regardless where I was, be it on the bench or on the court. I just want to thank Him so much because He brought us here. It was all Him, all for Him," said Lady Eagles skipper Bea de Leon.
"Of course, with effort of our coaches and teammates who continued to fight," she added.
Tolentino paced the Lady Eagles with 19 points, nine of which came in the fourth which they dominated.
She smacked the winning down-the-line hit, highlighting her 17-spike production.
Madayag put in 12 points, including two aces, Gaston smashed 10 attacks and two blocks for 12 points while De Leon accounted for four of their game-best 12 blocks and finished with nine points.
"We haven't changed our system. We haven't changed anything coach (Oliver Almadro) taught us from the beginning. He always said to trust in God and I can see that in all the players' eyes. I can see also the trust of the players in each other. That's what also got us through that close second and third," said Tolentino.
De Leon and Madayag got it going for ADMU in the first set, manning the net with their blocks and quick attacks to gain the headstart.
ADMU never gave FEU any hope in the fourth set as Tolentino led their assault.