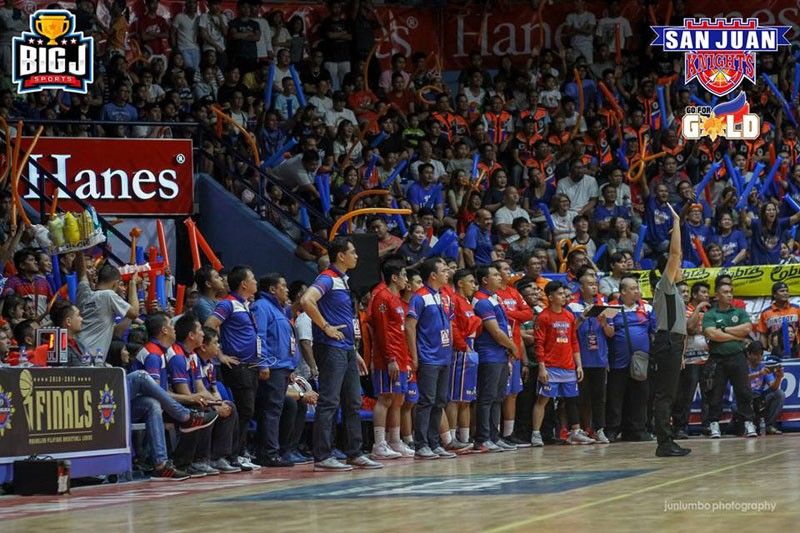 The Maharlika Pilipinas Basketball League Datu Cup reached a glorious finale with the San Juan Knights coming full circle and winning a championship on the road.
MPBL: learning from history
The Maharlika Pilipinas Basketball League Datu Cup reached a glorious finale with the San Juan Knights coming full circle and winning a championship on the road. It was also a fitting acknowledgment of the understated, underrated talent of its likable head coach, Randy Alcantara, who played on the original franchise 21 years ago. San Juan has a history of raw passion and skill, and was always a team for the masses. Now, it is also a champion.
The MPBL has done a lot of smart things in its inaugural season. It has also built a strong core following in its teams' home towns. It has done a lot of things right. Now, it's leadership has to sit down and see what works and what doesn't, and avoid the pitfalls many leagues face as they grow in size and appeal. There are many similarities to the defunct Metropolitan Basketball Association (MBA). But there are also many differences.
The main challenge going forward is addressing the multiplier effect of its size. More teams mean more games, more travel, more expenses. In the Datu Cup, each team played roughly twice a month. Players were getting paid monthly. Fans want to see their favorite team play more often; players want to play more. Owners feel they're getting their money's worth. Everybody's happy. But how do you keep a balance with over two dozen teams?
The league can divide the teams into north and south, and have them play each other exclusively in an initial phase. The previous format limited home games for southern teams to keep travel costs down. But perhaps keeping them in separate locales longer would justify the move, though it would limit the opportunities of select players to play in other tournaments like the PBA D-League simultaneously, as they were allowed to do. Still, for the league, it may increase everyone's exposure, and bring them closer to their home crowds.
One of the league's biggest challenges is the prohibitive cost of its TV coverage. If each four-hour broadcast costs roughly a couple of million pesos, how do they mitigate the cost? Equipment rental, airtime, talent fees and other ancillary costs come out to a pretty penny every time. This last conference was helped by political ads, particularly for local politicians. Now, it's time to study the long-term sustainability of the league.
For this, they could take a cautionary step back, and trim down its heavy broadcast schedule. The NBA once did it. They could have selected games and a regular highlight show, which would show the best face of the league. Other support services like web broadcasts and social media feeds would keep awareness up and costs down. They have a great product with tremendous potential. But that is only if the league's growth is controlled. Otherwise, it may eventually collapse under its own weight.
Merchandising would be a great revenue stream that many sports leagues neglect. Everyone wants to identify with a local hero, and winning teams always pull in more income. With a little creativity, teams and the league could convert viewers to regular customers and even memorabilia collectors. If each team has a symbol or leader who embodies its virtues, that provides a product platform to build on. The upside would be tremendous.
The MPBL did not invent the wheel, and as of now, hasn't reinvented it, either. But they have a grand chance to streamline and professionalize how it is managed. They can build something lasting. But it takes a lot of thought to do.