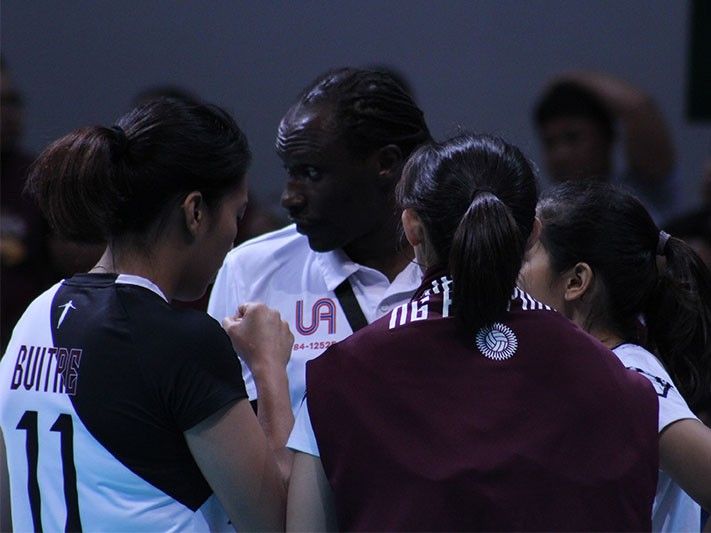 Coach Okumu wants UP to treat their next games, with or without Isa Molde, as just another day in the office
Philstar.com/Luisa Morales
Just 'another day in the office' for UP with or without Molde, says coach.
MANILA, Philippines — The UP Lady Maroons were nothing short of shaken after a freak injury to stalwart Isa Molde marred their matchup against the Ateneo Lady Eagles in the 81st UAAP women's volleyball tourney Saturday.
After a neck-and-neck opening set, the Lady Maroons crumbled after Molde's exit early in the second set.
UP head coach Godfrey Okumu subbed out his whole starting lineup in the middle of the second, hoping for a spark from the bench.
"We were able to recover, we were [down] 21-16 at some point... [but] what I think and I believe is that a soldier is a soldier. You're out there to fight," Okumu said.
"You cannot spend time grieving off a fallen fella. You just keep on and do it for them," the tactician said.
Understandably, UP dropped the second set to the league-leading Lady Eagles, 25-16.

Despite a stronger fight from the Lady Maroon side in the third, the deficit proved too much as they were swept.
After the game, Okumu emphasized the need for resilliency from his players.
"We decided [that] 'hey, this is part of it... it's ust like another day in the office'. We have collateral damage that any business will find themselves in," the Kenyan mentor said.
"Just like other teams, we share from that. FEU had a share, UST [too]. But they were able to adjust. Now it's or turn," Okumu said.
Fortunately for the Diliman-based squad, Molde did not suffer any serious injuries in her knee and ankle but will likely miss out on their game on Wednesday against UE.
But Okumu believes his team will push through.
"I believe the strength is still there, the fight is still there," he said.