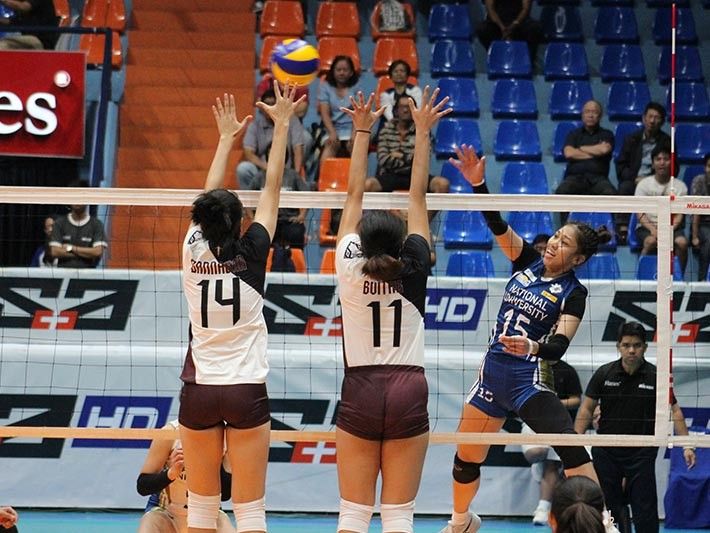 The NU Lady Bulldogs score an upset win against the UP Lady Maroons after a five-set thriller, 25-17, 15-25, 17-25, 17-15 at the FilOil Flying V Centre on Wednesday, March 13, 2019
Philstar.com/Luisa Morales
NU stuns UP in five-set thriller
SAN JUAN CITY, Philippines – The NU Lady Bulldogs handed the UP Lady Maroons their second straight loss, scoring an upset 25-17, 15-25, 17-25, 17-15 victory in the 81st UAAP volleyball tourney at the FilOil Flying V Centre on Wednesday.
The Lady Bulldogs survived four match points in the deciding fifth set to get their second win of the season.
Cess Robles and Ivy Lacsina took the reins for NU, firing up their offense with 17 and 16 points, respectively.
NU improves to a 2-4 win-loss card while the Lady Maroons now stand with an even 3-3 slate.
The Lady Bulldogs dominated early from the service line with UP suffering from receiving woes.
NU tallied nine aces in the opening set, stunning the Lady Maroons to draw first blood, 25-17.
Come the second set, the Lady Maroons seemed to have woken up. The Diliman-based volleybelles stepped up their offense and finally looked like the team that won two offseason championships.
UP was able to quickly get one back, 25-15.
Meanwhile, the Lady Bulldogs started to show their youth with the NU team racking up errors in the third set.
Despite a late effort to get back into the set, UP was still able to get the 2-1 lead, 25-17.
The Lady Maroons looked to close the doors on the Lady Bulldogs in the fourth set. UP held a three-point advantage, 21-18.
But the Lady Bulldogs didn't back down as a costly service error from Jessma Ramos sent the game into a fifth set, 25-23.
By the final canto, it was a game of catch-up for the Lady Bulldogs.
UP would pull away but NU was able to climb back up.
The match looked over as the Lady Maroons held a 14-10 lead with four match points. But the rookie-laden NU squad won't wilt.
Going on a 7-1 run, the Lady Bulldogs finally stunned UP for the win.
Birthday girl Justine Dorog and skipper Tots Carlos led the way for the Lady Maroons, scoring 15 points apiece.
NU hopes to get another win when they face the Ateneo Lady Eagles on Saturday, March 16.
The Lady Maroons, for their part, hope to end the first round on a high note when they go against Adamson on Sunday.