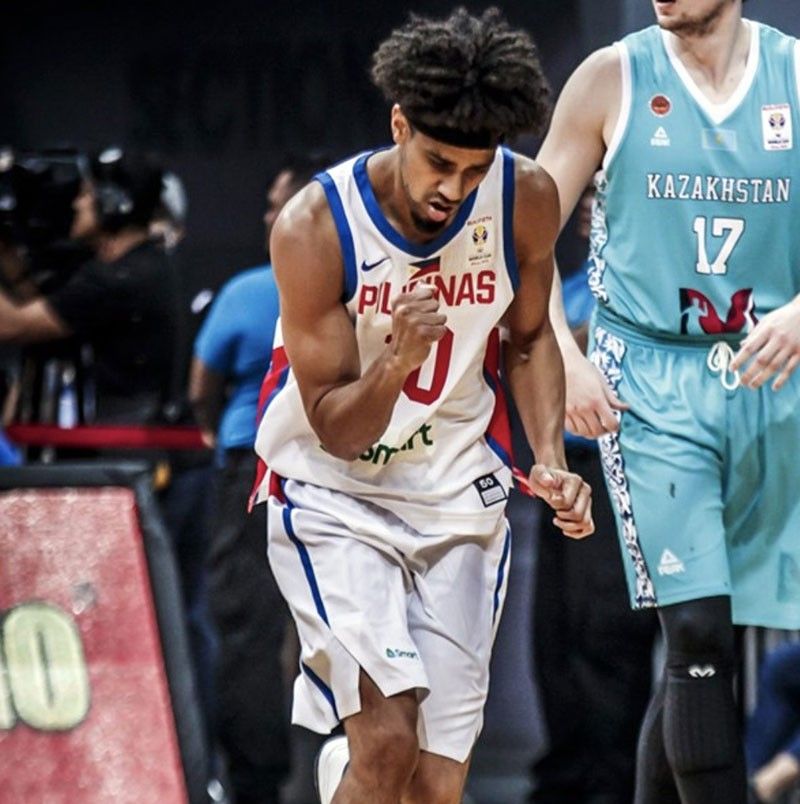 Gilas Pilipinas braces for Qatar surge
MANILA, Philippines — Gabe Norwood, the only Gilas player who has seen action in every game in five windows of the FIBA Asia/Pacific World Cup Qualifiers, is expecting a surge from Qatar when the Philippines plays the host team in Doha tomorrow.
In five windows, the Philippines has suited up 31 players with Norwood the only mainstay to see action in 10 games, averaging 5.3 points, 3.3 rebounds, 1.8 assists and 22.5 minutes. Matthew Wright and Japeth Aguilar have played in nine contests. Wright, however, is not in coach Yeng Guiao's 15-man pool for the sixth window. Aguilar, who was suspended one game by FIBA for his participation in the Australia brawl during the third window, is back in the roster.
"We know Qatar will come out with a lot of pride to protect homecourt so we need to focus on the team as a whole," said Norwood. "The energy and effort in practice have been great. Guys are communicating and pushing each other but still enjoying the experience along the way."
Guiao initially named a 14-man pool for the last two games of the World Cup Qualifiers. But since Christian Standhardinger won't play with Andray Blatche returning to the lineup, Guiao brought in collegiate star Thirdy Ravena to fill in. Standhardinger, who is considered a naturalized import by FIBA like Blatche despite his Filipino heritage, is not with the team in Doha.
Late Breaker
Reserve player Thirdy Ravena will suit up against Qatar tonight, joining Andray Blatche, June Mar Fajardo, Troy Rosario, Jayson Castro, Paul Lee, Marcio Lassiter, Gabe Norwood, Scottie Thompson, Poy Erram, Mark Barroca and Japeth Aguilar. He took the place of injured Raymond Almazan.
Chief scout and assistant coach Ryan Gregorio said twice-a-day practice started last Sunday. "All the ingredients are present in our practice sessions – commitment, enthusiasm and fun," he said. "It's not an easy typical day for us. We practice our offensive sets in the morning from 10 to 12, go back to the hotel for lunch. Viewing session is around 5 to 6 p.m. then we go back to the gym which is about 20 to 30 minutes away in the evening to practice our defensive schemes from 7 to 9. But nobody is complaining. The players are all locked in."
Gilas arrived in Doha from Manila last Saturday afternoon while Blatche flew in from China at midnight.
As of yesterday, Gregorio said he still had no idea which 12 players Qatar will deploy against the Philippines. "No idea about their roster composition yet," he said. "They submitted 24 names. We are starting our scouting on five players whom we believe are shoo-ins, Mohammed, Al-Rayes, Suliman Abdi, Elhadary and Fouda."
Gregorio referred to 6-9 Mohammed Yousuf Mohammed, 36, 6-10 Nasser Al Rayes, 24, 6-6 Suliman Abdi Khalid, 32, 5-11 Mansour Elhadary, 28 and 5-10 Moustafa Fouda. Others to watch are 6-3 Abdulrahim Saad, 22, 6-11 Emil Mujkic, 22, 6-7 Favis Avdic, 22, 6-2 Momar Gueye, 22 and 6-3 Mohammed Hassan Mohammed, 27. Al Rayes played for California Tech in the NCAA Division III. Mujkic and Avdic are from Bosnia, Gueye from Senegal and Hassan Mohammed from Egypt. Qatar will choose its 12 players from a 24-man pool earlier submitted to FIBA. Lineups for the Philippines and Qatar will be finalized at the team managers' meeting today.
Gregorio said Qatar's Serbian coach Panos Yiannara is new on the job. He replaced Tim Lewis on the Qatar bench and had his baptism of fire in the fifth window as Qatar was blasted by Japan, 85-47 and Australia, 110-59. "Based on our initial assessment, coach Panos likes to use a lot of ball-screen action and post-up plays," said Gregorio.
Assisting Guiao against Qatar are Gregorio, Caloy Garcia and Ricky Umayam. Two other assistant coaches – Ford Arao and Sandy Arrespacochaga – were assigned to scout Kazakhstan.
"We watched coach Panos' games against Japan and Australia and they tried to mix up things going to the post, using ballscreens," said Garcia. "He's just new to the team. We still don't know what lineup they have. Our team has been practicing well since we got here. We've been practicing twice a day. Camaraderie is really great right now. The guys are focused and I feel we're ready."