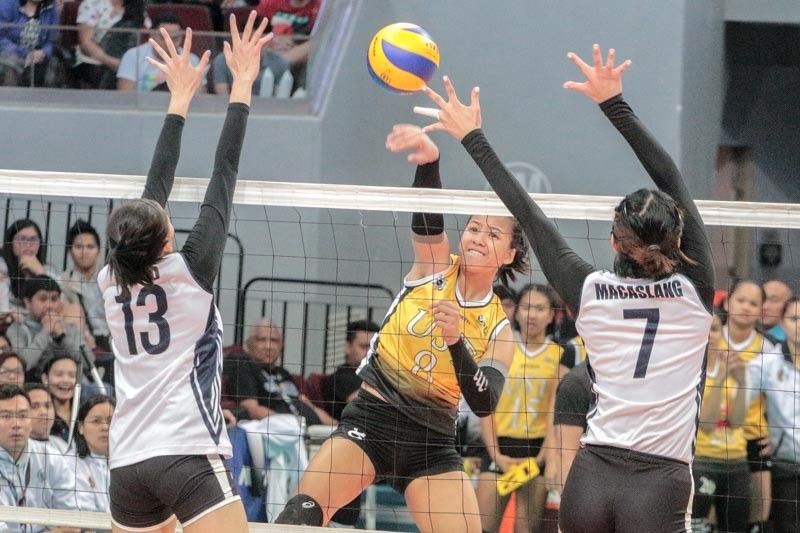 UST rookie Eya Laure goes up for a spike against the Adamson Lady Falcons in their UAAP Season 81 opener at the Mall of Asia Arena, Sunday, February 17, 2019.
Philstar.com/Efigenio Christopher Toledo IV
Eya Laure steps up as UST bests Adamson in five sets
MANILA, Philippines -- UST rookie Eya Laure didn't waste any time in shaking off rookie jitters in the Tigresses' five-set thriller against the Adamson Lady Falcons, 25-21, 25-21, 24-26, 24-26, 15-6, in their UAAP Season 81 opener at the Mall of Asia Arena, Sunday.
Explosive attacks from Laure and teammates Milena Alessandrini and Sisi Rondina paved the way for a dominant UST squad in the first two sets.
Meanwhile, Adamson was plagued with errors all-game-long and the Tigresses didn't hesitate to take advantage.
With a dominant 2-0 lead, UST looked poise to sweep the Lady Falcons, leading Adamson 16-13 in the third set.
But the San Marcelino-based squad wasn't about to take the loss lying down.
Led by skipper Eli Soyud, the Lady Falcons were able to come back in the game and find themselves at set point, 24-21.
The Tigresses gave them a scare as they climbed back to tie things up at 24, but back-to-back points for Soyud kept Adamson alive for another set, 26-24.
Riding the momentum from their third set win, the Lady Falcons stepped up on offense.
Smart attacks from the Adamson side gave them a nine-point cushion in the middle of the fourth, 15-6.
Just when it looked certain that Adamson would force a fifth set, the Tigresses went on a scorching 11-2 run to even things out at 17-all.
Adamson fumbled and gave the Espana squad three matchpoints, 21-24.
But Joy Dacoron had other plans for the Lady Falcons as she led their own 5-0 run to force the deciding set, 26-24.
Despite winning the last two sets of the match, it looked like Adamson had run out of steam come the fifth set.
The Tigresses went on an unanswered 5-0 run to start the fifth, owing three of their five points to errors from the Adamson side.
The Lady Falcons weren't able to recover from the bad start and faltered against UST to give them the set and the match.
Laure and Rondina paced the Golden Tigresses with 17 points each while Alessandrini chipped in with 15.
Bernadette Flora led the Lady Falcons with 14 markers while Soyud finished with 13.